"DEAR DOC CURMUDGEON" IS A COLUMN BY CLINT McELROY, MADE UP OF COMPLETELY FABRICATED RESPONSES TO MOSTLY FABRICATED QUESTIONS. BUT YOU KNEW THAT, DUE TO YOUR DISCERNING NATURE AND BRILLIANT MIND WHICH WOULD NEVER FALL FOR A COLUMNIST TRYING TO BUTTER YOU UP…UNLESS YOU'RE INTO THAT.
Dear Doc Curmudgeon,
Where's MY parade? Where's MY party? Where's MY 75th anniversary? Sheesh! None of this would have happened if it hadn't been for me! But you don't see any 3-d holographic wrap-around foil covers with MY mug on them! You don't see any $699 maquette statue with HARLEY QUINN rubbing her tatas on me! How about a little slice of the 75th anniversary for me? YOU GUYS OWE ME!!!
SINCERELY,
JOE CHILL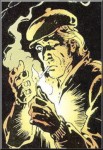 You should just count your blessings, Joey. If you had come about today you would have been hooked on meth and secretly an Inhuman.
75 years have made Batman more than an icon, he's a freakin' mythological figure! The epic story of a common, ordinary kid (blessed with amazing genetic material) rises up from the wreckage of his life (nicely lined with billions of dollars) uses the knowledge he gleans from people he encounters in everyday life (assassins, spies, detectives, mystics, immortals) and makes a few friends along with way (Kryptonian orphans, mud-based princesses, blown up sports stars).
Who couldn't identify with THAT story?
Smart-assedness aside, it is an amazing story and we are all able to tap into it with less effort than other comic book characters, because we all love the self-made bat.
But let me tell you, Batman almost didn't make it past Birthday #27.
At least not in my book.
I was at the peak of my comic loving skills in 1966. Ten years old. There had been comics thrust into my pudgy, Nestle's- stained hands for as long as I could remember. Sitting in a box under my bed was AMAZING FANTASY #15, FANTASTIC FOUR #1, GIANT SUPERMAN ANNUAL #3 and many more.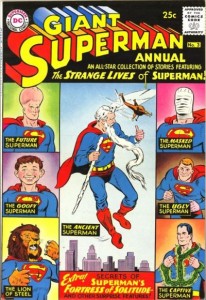 I was an ever-lovin' comic book SAVANT, baby! And did I love BATMAN.
So when I saw this in TV Guide, I flipped: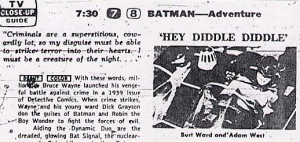 BATMAN ON TV!!!
The days were counted down with anticipation. Extra Reynolds Wrap was secured (It made the rabbit ears on the TV EVEN MORE POWERFUL!) January 12th, I was in my pajamas –standard TV-watching uniform– by 5:30, perched in front of the flickering cathode ray, which was probably warping my genetic material, BUT THAT WAS OKAY!! Because it was BATMAN!!
Only it wasn't.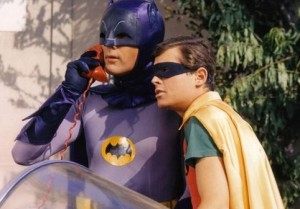 It was terrible. It made fun of everything I held dear about the Gotham Knight. He talked like he had escaped from a Shakespearean looney bin. His costume was PURPLE, for God's sake! They had giant spinning BIFF!'s and POW!'s!!!
They put a bright yellow circle ON HIS CHEST!!!
And then, it hit rock bottom. The Batusi.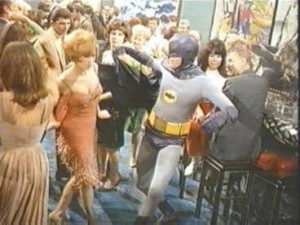 As my hero gyrated and frugged his brains out in a go-go with Jill St. John, my old man swears a single tear trickled down my round, apple-like cheek.
I was only ten, but then and there I learned a new word: Camp.
From that point on, everybody raved about the Batman TV series and the genius of making it an exercise in "camp". According to Wikipedia, 'camp' is defined as an aesthetic sensibility that regards something as appealing or humorous because of its ridiculousness to the viewer.
    But ten-year old Doc knew what 'camp' was REALLY all about. 'Camp' is when a bunch of TV executives make a show that THEY think is what comic books are, and when it turns out to be popular and people start calling it camp, they rush out, buy a dictionary, look up the word and tell reporters: "Yeah! Camp! That's right, CAMP! That's what we were going for all along, camp".
What most see as a golden age, I view as a dark time for Comics in general, and Batman in particular.
But  he is a resilient bastard, our Bruce Wayne. He came back from that. Just like he came back from having his back broken by that ultimate Lucha Libre, Bane.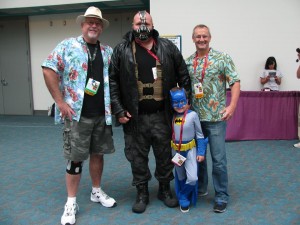 Speaking of Bane (IN WHAT WE IN THE RADIO BIZ CALL A BRILLIANT SEGUE), it was great to see his parents honored at the recent SAN DIEGO CON.
During the BATMAN IN THE 80'S AND 90'S PANEL panel, Chuck Dixon, Graham Nolan, Kelley Jones, and Brian Stelfreeze recieved the prestigious Inkpot Award for their contributions to comics and the visual arts.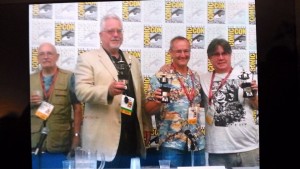 Don't ask me why three of them got trophies and one of them got a cup of ice-water instead. I wasn't there, having been banned for life for making fun of Alan Moore's beard. But grats to all of them, especially DIXON who has been, and remains, one of the best comic book writers in the business.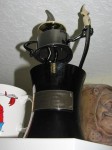 If I ever get invited to his house, I am SO swiping this.
You owe a lot to these guys, along with the other Batman creators and TIM BURTON AND MICHAEL KEATON. For giving us back a Batman we would WANT to still hang upside down with on his 75th birthday. As my birthday gift, I have to pass this mash-up along to you,which I found at–
http://minionfactory.blogspot.com/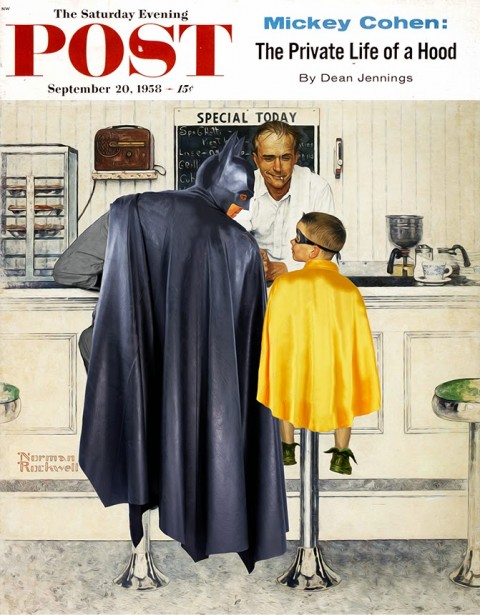 IF YOU LOVED WHAT YOU JUST READ, LEAVE A COMMENT, OR BETTER YET, SEND A MESSAGE TO [email protected]. IF YOU DIDN'T  LIKE WHAT HE WROTE, SEND A MESSAGE TO mxyzptlk@ kltpzyxm. OR, JUST FOLLOW HIM ON TWITTER @doccurm.