Dear Doc Curmudgeon,
Sorry I haven't written lately, but it's pretty busy up here in Comic Book Heaven. EVERETT harasses all the newbies by walking up to them and saying: "Yeah? I put itty-bitty wings on his ankles! You gotta problem with that?" INFANTINO has NO spare time because everybody up here asks him for sketches. And KIRBY is constantly walking around pointing at everything and saying "My design was MUCH better". I finally got a few seconds and thought maybe I would look down and catch a Marvel Annual.. You know, I worked on an annual or two myself (smile). What do you recommend?
SINCERELY,
DON HECK
I recommend you should get with KUBERT and maybe start a graduate school up there, Don. Because you don't want to waste your time with Marvel Annuals. The only thing to come of that would be EXTREME DISAPPOINTMENT.
Yes, you DID do an annual or two. One of them was one of the greatest Marvel Annuals ever–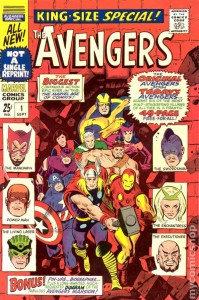 It really was a 49-page free-for-all with the Old Avengers and the New Avengers (Not to be confused with the new NEW AVENGERS, or the new OLD AVENGERS) squaring off against the Mandarin (Not to be confused with BEN KINGSLEY, or a very small, tart orange), Power Man and some of the greatest villains in the Marvel canon. Roy Thomas' story was incredible and your pencils with George Bell's ink and Artie Simek's lettering combined to stop us all dead in our tracks, that summer of 1967.
Now just give the flux capacitor a little nudge and jump ahead 47 years to NOW, the Summer of 2014, and regard the NEW AVENGERS ANNUAL #1.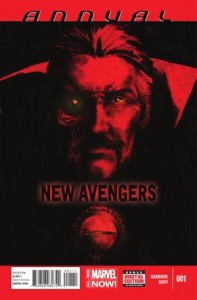 Don't waste your celestial viewing allotment by looking down on this thing, Don, because it might make you want to smite something.
It's awful.
First and foremost, the book is not about the Avengers. It's a DOCTOR STRANGE solo story. Not another Avenger in sight! And calling Doc Strange an Avenger is applicable only because EVERY CHARACTER IN THE MARVEL UNIVERSITY is, has been, or soon will be an Avenger.
The story is a complete throw-away that steals from –oh, I'm sorry,"Pays Homage To"– everything from Skyrim, Game of thrones, Doctor Who, ("I am..the Doctor"…not once, but twice? Really?)…and swings wildly from boring, mundane dialogue between mundane boring characters, to the corniest, most hackneyed stuff I've seen in a long time–
"Where are your taunts now, demon?!"
At least they didn't trot out "by the Hoary Hosts of Hoggoth"
I stand corrected.
The artwork? The first visual take-away is that Stephen Strange used to be a dead-ringer for Freddie Mercury. From there, it's all over the place.  It looks like somebody's portfolio they took in to be reviewed at Comic-Con
Which is appropriate.
Marvel Annuals used to be important.
Now they are try-out books.
It seems the process goes like this: Show your stuff to someone at a Comic-Con. Get assigned a Marvel Annual.
There's nothing wrong with that. As a matter of fact, this industry has a proud tradition of artists and writers getting a break with a book..
BUT NOT A FREAKIN' ANNUAL WITH A $4.99 PRICE TAG!!
Hey, Marvel! Quit expecting consumers to subsidize your minor-league system.
Marvel Annuals should get back to being important:
Or:
How about: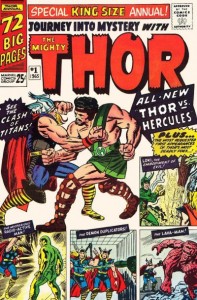 I miss you Don. I miss Jack, and Bill, and Joe, and Carmine. But most importantly, I miss the comic book industry back when it was its own medium and not just an audition stage for movie studios and toy manufacturers.
What part of "Curmudgeon" did you not get when you read the title, people?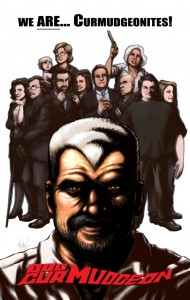 "DEAR DOC CURMUDGEON" IS A COLUMN MADE UP OF COMPLETELY FABRICATED RESPONSES TO MOSTLY FABRICATED QUESTIONS. BUT YOU KNEW THAT, DUE TO YOUR DISCERNING NATURE AND BRILLIANT MIND WHICH WOULD NEVER FALL FOR A COLUMNIST TRYING TO BUTTER YOU UP…UNLESS YOU'RE INTO THAT. IF YOU LOVE WHAT HE WRITES, SEND A MESSAGE TO [email protected]. IF YOU DON'T  LIKE WHAT HE WRITES, SEND A MESSAGE TO mxyzptlk@ kltpzyxm. OR, JUST FOLLOW HIM ON TWITTER @doccurm.