"DEAR DOC CURMUDGEON" IS A COLUMN BY CLINT McELROY, MADE UP OF COMPLETELY FABRICATED RESPONSES TO MOSTLY FABRICATED QUESTIONS. BUT YOU KNEW THAT, DUE TO YOUR DISCERNING NATURE AND BRILLIANT MIND WHICH WOULD NEVER FALL FOR A COLUMNIST TRYING TO BUTTER YOU UP…UNLESS YOU'RE INTO THAT.
Dear Doc Curmudgeon,
    I am so steamed at Ike Perlmutter! I wanna knock his block off! I don't care if he IS the CEO of Marvel! Who does he think he is, cancellin' our book, just cause  he's mad that Fox Studio won't play ball his way on the new Fantastic Four movie?! I know you and him is big pals and all, Doc, so I'm givin' fair warnin': Talk some sense into the palooka or else me and the Yancy Street Boys are gonna march up to the corporate office and then IT'S CLOBBERIN' TIME!!
SINCERELY,
BENJAMIN JACOB GRIMM
Are you saying you are going to make a big "Thing" out of this, Benjy?
…See what I did there? I –never mind…
To be honest, I had a big laugh when I read Rich Johnston's piece on BLEEDING COOL because that sounds JUST like the Ike I knew when we were kids. I remember beating him at Hungry Hungry Hippos and he got cheesed and swallowed all the marbles.
But, Ben, I have to tell you: Regardless of his motives…
I think it's a good move.
It's time for the Fantastic Four to go away.
The FF hasn't been a compelling read for a long time. I think it's time for it to come to an end. Because the ending defines a story.
"It is a far, far better thing that I do, than I have ever done; It is a far, far better rest that I go to than I have ever known" —  Last Line of TALE OF TWO CITIES by Charles Dickens
The End. Dickens wrapped  it up.  He had told his story. He knew he wasn't going to come out with A Tale of THREE Cities. He was happy with what he had created.
I'm not talking about a NEW 52-type reboot, either. It's been tried.
Future Foundation?
Fantastic Five?
Ant-Man and She-Hulk?
The Fantastic Four consists of Reed, Sue, you and Johnny. Any addition or subtraction and it's NOT the Fantastic Four. The dynamic is different. Hell, I can remember being 11 years old and furious when Wyatt Wingfoot horned in on the book!
"So we beat on, boats against the current, borne back ceaselessly into the past." — Last Line of THE GREAT GATSBY by F. Scott Fitzgerald
The ending DEFINES the work. Remember the last season of LOST? Can you remember it without belly-aching about Purgatory? That last season had more weight because the viewers knew it was coming to a definite end. Whether you liked the ending or not, it gave it importance.
"From here on in, I rag nobody." — Last Line of BANG THE DRUM SLOWLY by Mark Harris
FF has gotten away from the very thing that made it special.
The concept of Family. Because you don't have that in Comic Books.
Oh, I know: It's one of the most overused cliches in Comics. The rag-tag group of outsiders that –against all odds– find each other and band together. And towards the end of that origin one character says something along the lines of "Now we're a family"
Horse crap. You are not a family.
If you want to call yourselves a family you have to go through all the trial and tribulations, all the triumphs and treasures that a Real Family goes through, and STAYS TOGETHER THROUGH.
Dysfunctional Families dominate the comic book landscape because it's easier. Writers play off conflict, pain and disappointment. That saves you a lot of creative energy when it comes to …creating. Writing about fathers who actually love their children are not as much fun as writing about  fathers who turn out to be human-hating megalomaniac masters of magnetism.
Until recently, FF really read like a family. And it needs to go out that way.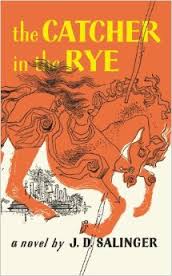 "Don't ever tell anybody anything. If you do, you might start missing everything." — Last Line of CATCHER IN THE RYE by J.D. Salinger
    Stan lee gets a lot of credit for writing Spider-Man in a way that showed real life, real problems, connecting with readers. I think he did it to an even greater extent in the Fantastic Four. The family relationships in FF were touchstones for people. Readers may not have ever built a machine that chased off Galactus, but maybe they knew what it was like to be in love with someone and not know how to tell them. Readers may not have journeyed beneath the center of the Earth to challenge Mole Men, but maybe they had been chased by a big brother they had pulled a prank on.
"I never saw any of them again – except the cops; No way has yet been invented to say goodbye to them." — Last Line of THE LONG GOODBYE by Raymond Chandler
So, Ben, I think it's time to say Goodbye. That's really tough for me to say, because you four have been my friends for almost fifty years. That's half a century of being entertained. Half a century of being amazed. Half a century of being told that it's okay to be different…you will survive.
Half a century of seeing what heroes do.
The longer FF goes without an ending, the more it diminishes the goodness of that half century.
I leave you with the immortal words of Dr. Henry Jones Senior: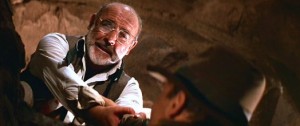 "Indiana…Indiana, let it go."
IF YOU LOVED WHAT YOU JUST READ, LEAVE A COMMENT, OR BETTER YET, SEND A MESSAGE TO [email protected]. IF YOU DIDN'T  LIKE WHAT HE WROTE, SEND A MESSAGE TO mxyzptlk@ kltpzyxm. OR, JUST FOLLOW HIM ON TWITTER @doccurm.