A great article about reading was published today and it really got me thinking about comics and how I consume them.  I love comics and graphic storytelling; have been an avid comic reader and collector since 1980.  Unfortunately it's that "collector" part that interferes with the "reader".  Here's the line that spoke the most to me from that article.
[quote]Read Conscientiously, and Take Time to Absorb and Reflect on What You Read.[/quote]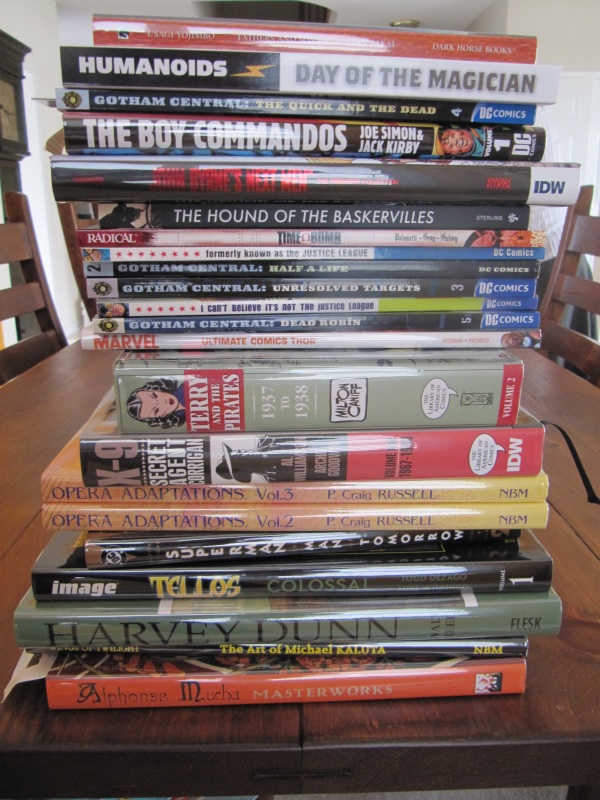 I've shown this pile of books before, when we talked about that stack of unread material I was trying to get through. Since I was nine I've had a "pull" list with a comics retailer, starting at the local flee market, the local hobby shop and then to three different comic shops.  At each I let them know in advance what I want to buy and then I go there on a weekly or bi-weekly basis and pick up those books I ordered. This allowed me to get a discount on my books and more importantly not worry about "missing out" on a title. For the last thirty years I've had a supply of comics coming into my home that I needed to consume at some point.
Around ten years ago I stopped reading comics as I bought them, getting a stack of two or three issues of a title before diving in and reading all or most of a storyline.  Last year I stopped reading monthly comic "pamphlets" and switched to trade paperbacks, hardcover collections and graphic novels. As my areas of interest increased so did my pile of unread books, to the point that I now have about 200 unread comic "books" on my shelves.  The old collector mentality had stuck with me and I was piling up books so I wouldn't miss out; 140 volumes of Marvel Masterworks and slightly less DC Archives strongly prove this to me every time I sit in my library. And since I was discovering "new to me" material that had several volumes already in print I was buying whole runs of books.
I found myself reading comics to get through them instead of enjoying them. I'd look at the piles of unread material and think "I have to get through those" so I'd breeze through the mainstream Marvel and DC books without much thought. Big art and few words make a fast read. In effect I was killing my love for this wonderful hobby.
It seemed digital would be the answer, since there was no weighty bound paper to hinder me. Alas that proved false, as I have ten volumes of Lone Wolf & Cub waiting for me on my iPad.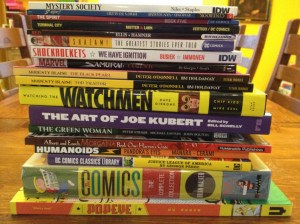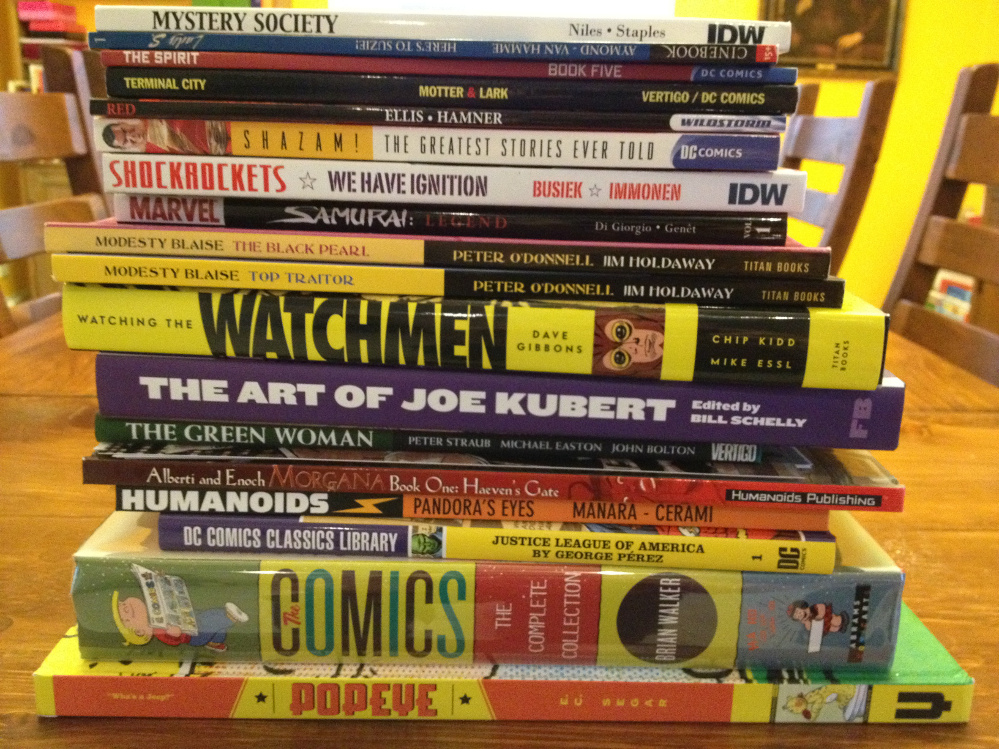 I knew I was in trouble because I was no longer rushing home to get into a book I had just bought: my purchases would languish until I had to the chance to finish what I was currently reading. It felt like work to get through something. The article mentioned above was even more poignant since last week's column about my Boxing Day purchases; another stack of books to add to the shelf. What to change?
First I've taken a look at my reading. I really enjoy newspaper comic strip reprints but find I can only read a dozen or so pages at a time before I feel overwhelmed and have to put the book down. When I read these books I absorb and enjoy the material in a way I haven't done with mainstream comics in a long time. That same outlook and mentality needs to be transferred to all my comic reading. I'm happy having three or four books on the go, and don't feel the need to complete one before moving on to another. I've had Captain Easy Volume 1 on my desk for the last six months, reading a page or two when I had the chance and thoroughly enjoying it.
Secondly I don't intend to buy more volumes in a series of books until I've read the one or ones I have.  Yes I love Prince Valiant but I have four volumes on my shelf and I've read two. Same for Modesty Blaise, Popeye, X-9 Agent Corrigan, and many more. Fortunately there doesn't seem to be sellouts of most collected comic material, other than limited editions. I'm reading, not collecting: big difference. Of course I keep all my books in pristine condition, but that's just me and it's burned into my being.
Lastly, comics are a rich visual medium. Too often I get caught up in the words and only give the images a cursory glance. I started collecting comics because of the art and thought I was maturing when I gave the story as much weight in my buying decisions. You can't have one without the other and I need to take as much time admiring and absorbing the art as I do the prose.
This means I'll probably read less now than before, but the goal is to enjoy what I'm reading and that's my focus.