This week there was a real buzz on the internet for toys.  February 10-13th was the 110th annual Toy Fair in New York.  "Toy Fair® is the largest toy and youth product marketplace in the Western Hemisphere, bringing together more than 1,000 exhibiting manufacturers, distributors, importers and sales agents from around the globe to showcase their toy and entertainment products."
Toy Fair is the annual event that gets a toy collector like me really excited.  This is our first opportunity to see what is coming out, and what we will be able to add to our collections.
If you do a quick "inter-web" search, you will be able to find many postings on forums and other news websites for a list of what is coming out.  Since there are too many toys out there to mention, I thought I would showcase the toys that I am excited for.  If you click this link to ActionFigureNews.ca, you can find a list with links to all the toys shown at Toy Fair this year.
I mainly collect G.I. Joe and Marvel figures, so here are some of the figures I have seen, that I can't wait to add to my collection.
(photos via actionfigurenews.ca, toyark.com, hisstank.com)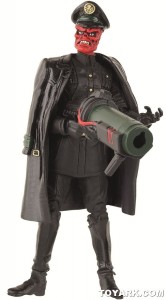 The Avengers movie toy figures were really popular in 2012.  In 2013 it looks like Hasbro will carry on with the toy line.  The one that I am most excited for is a new version of Red Skull.  Red Skull is one of the most truly evil characters in the Marvel Universe and this figure truly personifies all his evil-y goodness.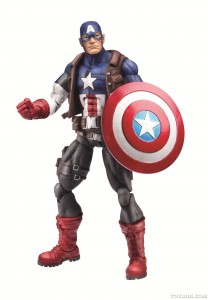 2012 Hasbro (and Marvel) had immense success with the Marvel Legends figure line.  Some of the popular figures from that series were US Agent, Heroic Age Captain America, FF Spider-Man, Punisher, Blade and Dr. Doom.  From the images show at Toy Fair it looks like the Marvel Legends will continue into 2013. Captain America is a must have for my collection.  I am a huge Cap fan and it looks Ultimate Cap will be released in 2013.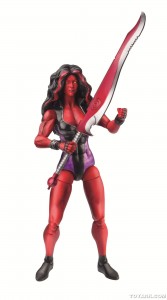 Red She-Hulk is another figure I am excited for.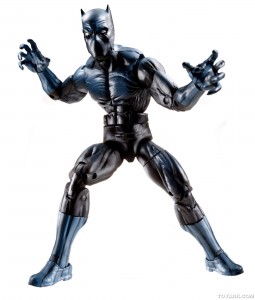 This Black Panther figure has a great sculpt and great colouring.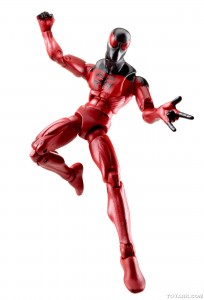 2013 will see the release of Scarlett Spider.  If you tried to collect the Big Time Spidey or Future Foundation Spidey in 2012, you know that figure was a tough one to collect.  At times the specialty market (specialty action figure retailers) were selling the figure for double or triple the retail price.  It looks like Scarlett Spidey is using the same mould.  Hopefully he doesn't sell for the same prices.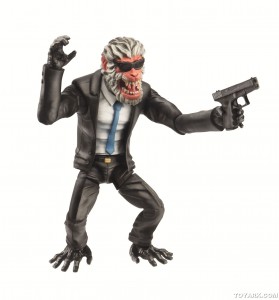 Hit Monkey… 'nuff said.  (except for it isn't clear if Hit Monkey is a stand alone figure or a build a figure.  If it is a build a figure toy, at least that wave is very strong and worth buying every character from that wave.)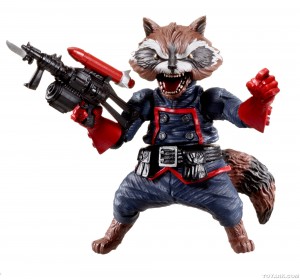 It makes sense that Rocket Racoon would be available as a Marvel Legends figure.  Drax is already available.  And with a Guardians of the Galaxy movie on the way I can see more GoG toys coming out in the next couple of years.  One question though, where's Groot?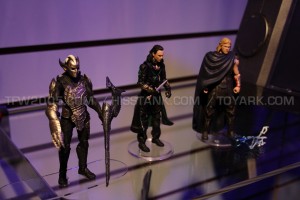 2013 will see the release of the new Thor The Dark World movie.  There will be a toyline supporting that movie as well.  I didn't get excited for the first Thor movie's toyline until I saw the images of the later waves for the line.  The later waves included the Warriors Three, Sif and The Destroyer.  In the image above we can see new Thor and Loki figures.  As well as (I presume) a Malekith action figure.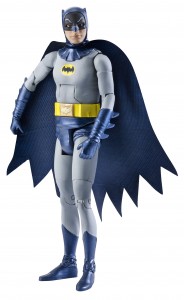 I am not a huge collector of DC action figures.  I love Batman, but I just don't buy any of the toys.  2013 will see the release of new toys based on the 60's series.  I love the 60's series and I will definitely pick this figure up.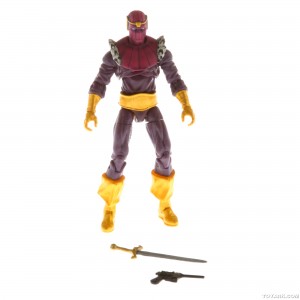 The Marvel Universe figures are the best quality figures to buy if you want to buy super hero action figures.  The line has gone through many changes over the years, and the quality is constantly improving.  The Marvel Universe 2012 San Diego Comic Con exclusive figure was Baron Zemo and the Masters of Evil.  I have seen the set for sale at different toy shows (and too expensive).  Right from the first time that I saw him I knew they would re-release the sculpt to the open market.  It came as no surprise to me when I saw this figure was coming out in 2013.  And it will be a must-have for my collection.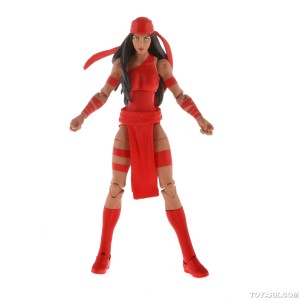 Marvel Universe has released 3 versions of Daredevil and 2 versions of Bullseye.  It was only a matter of time before we would see the release of Elektra.  My first diorama with Elektra will be the recreation of her death at the hands of Bullseye.  Followed by Elektra kicking Bullseye's ass!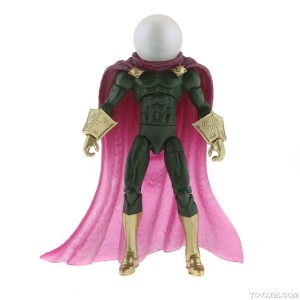 The Amazing Spider-Man movie figures were a huge disappointment, but the Marvel Universe Spider-Man figures have been unbelievable.  2012 saw the release of the amazing Kraven figure.  2013 follows it up with Mysterio.  This figure looks like it uses some basic Marvel Universe figure pieces, but what sets it apart is the cape and "fishbowl" head.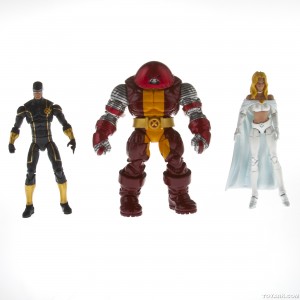 I have an X-Men rule when it comes to action figures.  I don't buy any X-Men figures, because there are too many to choose from.  Either you go all in with X-Men, or you avoid it all together.  Seeing the picture for this 3 pack, I am going to have to break my X-Men rule.  This set includes Emma Frost and Juggy/Colossus.  Just those two figures alone are worth breaking my rule.  Some of the other 3 packs that are coming out in 2013 include an Inhumans set, and a set of Asgardians which features an Executioner action figure.
Since I am a huge G.I. Joe collector, no wish list would be complete without the Real American Hero being on it.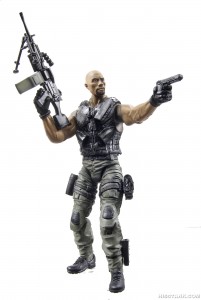 In 2013 we will finally be able to catch G.I. Joe Retaliation in theatres.  The toy aisles will see new Retaliation figures too.  Coming out in 2013 will be the Ultimate Roadblock.  This figures looks like it has better detail than the 2012 release (which was a huge disappointment).  The quality of this figure looks like it's ready to put some "boots to asses".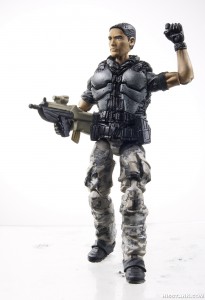 Ultimate Flint is another G.I. Joe figure coming out in 2013.  This figure has better detail that the other versions that are slated to come out in early 2013.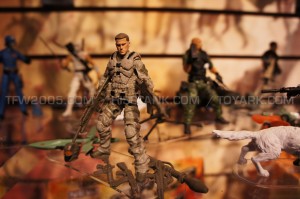 The reports have changed many times over the last 9 months.  We have heard that the release of G.I. Joe Retaliation was delayed so the movie could be converted to 3D, and that extra scenes with Channing Tatum could be added.  Now reports say that there isn't any extra scenes with Duke (who is rumoured to be killed off in the beginning of the movie).  Regardless, it looks like Duke will still be featured in future waves of G.I. Joe toys.  A definate improvement from earlier releases of the movie version of the character.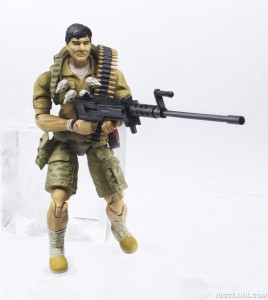 Countless G.I. Joe fans are screaming "Yo Joe!!!" with this image of Kwinn the Eskimo.  Kwinn was featured in the pages of G.I. Joe A Real American right from the beginning in 1982, and he has been a fan favourite ever since.  There was a release of Kwinn before, but the figure didn't look like this classic design.  This figure was rumoured to be released during the 30th anniversary of the G.I. Joe line, but there were also rumours that the design was scrapped.  Now Joe fans will rejoice that we will finally get a proper Kwinn figure.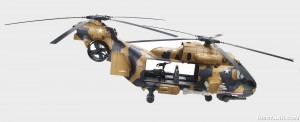 One of the most popular G.I. Joe vehicles is the Tomahawk helicopter.  2013 will see the release of it's updated counter-part, the Eaglehawk.  The Eaglehawk is a great transport helicopter which has lots of space for figures and accessories.  If you want to replace a Tomahawk that you had in the 80's, I highly recommend picking this one up.
So there is my list of what I need to keep an eye out for in 2013.  There are many more updates from Toy Fair of what is available.  If you search the web, you will probably find a toy that will suit your needs.