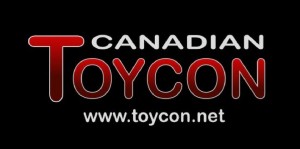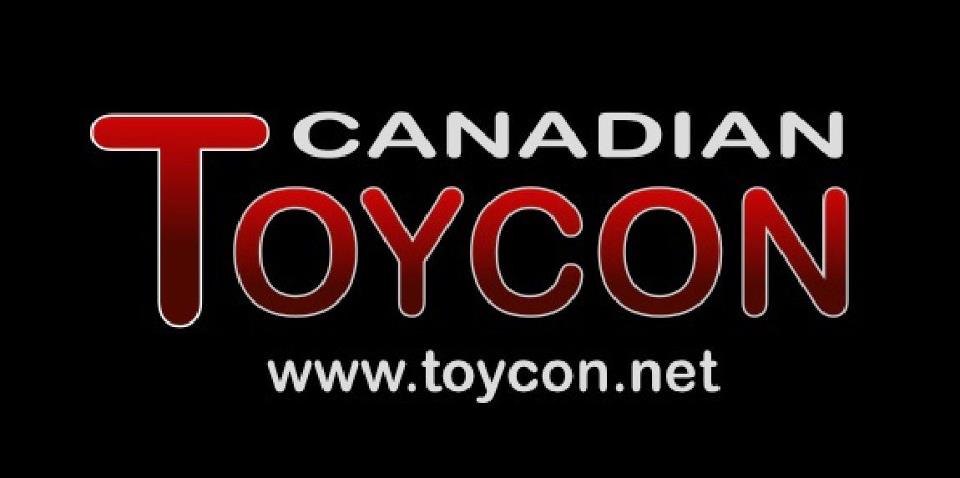 On March 17th 2013, many people were donning their favourite green attire and headed to the pub to celebrate St. Patrick's Day.  But for many people who love toys, they made their way to the Royal Botanical Gardens in Burlington for the March edition of the Canadian ToyCon.
Canadian ToyCon is fast becoming one of my favourite events on the geek calendar.  Over the years I've seen it morph from a simple toy show into a full-fledged convention with special guests, panels, a costume contest and of course… toys.
This is the second show that was held at the Royal Botanical Gardens.  The RBG has a large meeting room that can hold lots of vendors.  There were vendors set up in the main rotunda, as well as on the second level of the facility.  It felt like there were more vendors there than at the January show at the RBG.  The vendors had a large selection of toys ranging from action figures to stuffed animals to dolls, and everything in between.
My focus on the show this time was the special guests.  Some of the guests included Cosplay For a Cure, Hero Factory, X-Men of Toronto, Geek Girls, actress Ashlynn Yennie, cosplay model Shantel Knight (Zombie Bit Me), Amanda Stepto (Spike) & Stacie Mistysyn (Caitlyn) from Degrassi High and Casper Van Dien from Starship Troopers fame.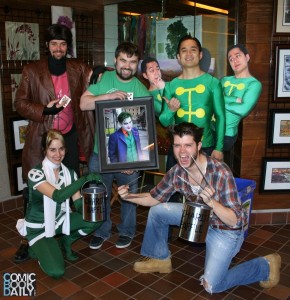 X-Men of Toronto is a cosplay group that started in January of this year.  They are quickly gaining notoriety in the Toronto area.  Their goal is to promote cosplay, help charities, promote Toronto based events and be positive role models for children and the cosplay community at large.  At ToyCon, X-Men of Toronto were raising money for "Sketch" which is an organization that is a community arts initiative engaging young people who live homeless or on the margins to build leadership, self-sufficiency, and cultivate social change through the arts.
They were selling raffle tickets on a limited edition print to help raise money for this very worthwhile cause.  Their next event will be the Cosplay Picnic , where they will be raising money for The Stop.  All are welcome to attend this event in High Park.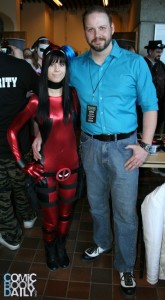 Another special guest I spoke to was Shantel Knight (aka Zombie Bit Me).  She is a cosplay model and I had a very enjoyable conversation with her about cosplay.  We spoke about some of the challenges of being a cosplayer.  She has a lot of great advice on how to become a cosplayer and I hope to chat with her again in the future about cosplaying for a future column.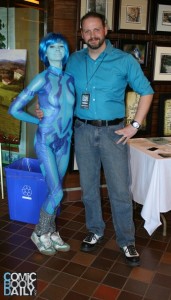 I also ran into Monica Zelak (aka TH3 Rogue).  She is a member of the website Geek Girls.  She is an avid gamer and cosplayer.  I follow her on Twitter and Facebook, and I was very happy to meet her.  She is extremely nice and it was a real pleasure to talk to her.
The very special guest I couldn't wait to meet was Casper Van Dien.  I am a huge Starship Troopers fan and I couldn't wait to meet him.  He was very active at ToyCon during the day.  He was one of the special judges for the costume contest.  Several times during the day you could hear him yell "Kill them all!"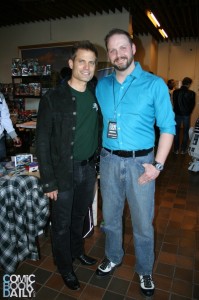 I asked him if he was having a fun time at the show, and his reply was he always has fun.  He then asked me if I was having fun, which of course I was having the time of my life.
Casper Van Dien was very nice, and I enjoyed talking to him.  I hope he is able to return to a future ToyCon with hopefully other members of the Starship Troopers cast (I'm holding out for Dina Meyer).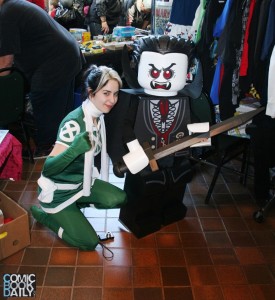 The other popular event at ToyCon was the costume contest.  There are more and more costumes showing up at every ToyCon.  It is exciting to see more people getting into the cosplay aspect of the hobby.  The winner of the costume contest (for the adults) was a Starship Troopers costume (you may want to call shenanigans on this one, Casper was one of the judges).  The winner of the children's costume contest was a Lego costume.  It was an amazing costume.
This was one of my favourite ToyCon events.  I talked to a lot of people during the day and it is very invigorating to talk to people who are interested in the same hobby.  The RBG also had a dinosaur exhibit during the ToyCon and that drew a lot of people to the facility.  Many people at the show were there for the Botanical Gardens and the Dinosaur Exhibit, and the ToyCon was just an added bonus for them.  I saw several children get excited that there were toys at the RBG on that Sunday.
The next ToyCon will be on June 2nd 2013, and it will be a "classic "throwback" event focused solely on the show and sale of both vintage and new toys, action figures and collectibles". Which will be a bit different from the last 2 ToyCon's.  It will return to its previous location, The Atrium in Burlington.  After the last two shows, which I think were 2 of the best ToyCon's yet, it will be odd going back to a throwback show.  But I am confident that the organizers will throw a terrific show, no matter where it is being held.