This is the best time of year!
Finally the drudgery of the winter is starting to fade.  The barren toy aisles that were stripped of their wares since the holidays are starting to fill.  Yes folks, it's new action figure time of year.
Toy Fare has come and gone and we got a glimpse of what is coming to the retail shelves this year.  There are a lot of great toys coming out this summer.  Here are some that I can't wait to get my hands on.
Avengers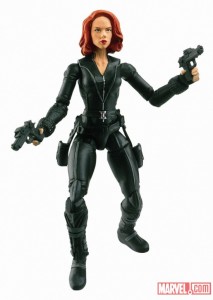 No doubt one of the biggest movies this summer will be The Avengers.  The action figures for the movie have already hit the retail shelves (there are reports that the selection in the USA is better than what we have in Canada this far).  I have looked at some of the figures that have come out and only two have grabbed my interest.
The two that I like the look of are the ultimate Hawkeye and the ultimate Thor figures.  These figures are different and new.  The rest of the figures from the Avengers line are just repaints/retooled figures from the previous Captain America, Thor and Iron Man 2 movie figures.  There are a couple of updates to these figures.  For example Captain America and Thor have new heads, and Captain America has a few slight changes to the design of the figure.  But essentially they look the same as their previous releases (which are still warming pegs as I write this).
The real excitement over the Avengers movie toys is the Quinjet.  It's design is very nice.  It even comes with a hook so Iron Man (or Thor) can snap to the side of the Quinjet and they can fly along side the other Avengers into action.  The Quinjet comes with an Iron Man figure that is a new sculpt for the vehicle.  There is some disappointment over the design of this figure.  It only has 5 points of articulation (POA).  Which means it has straight arms and legs, and only its head turns (kind of like last year's Green Lantern figures).  This is a big departure from other Marvel figures which feature more articulation with elbow and knee joints which add to the figure's poseablility.
From the rumours I have read, this change is a cost cutting move.  The limited articulation means less pieces that have to be made to construct the figure.  This should help keep the cost of the vehicle down.  I agree with the move.  I would rather have a crappy figure as the driver of my vehicle, than using a beautifully sculpted figure, that is just going to hide inside the drivers compartment.
I plan on passing on the majority of the Avengers figures.  I plan on picking up Ultimate Thor, Ultimate Hawkeye, movie Hawkeye and any Nick Fury and Black Widow figures that happen to come out.  If you didn't buy any of the Captain America/Thor/Iron Man 2 figures that came out last summer, I would suggest picking up these new figures.  I have a feeling that they will disappear off the shelf quickly.
G.I. Joe Retaliation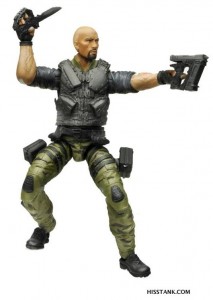 G.I. Joe 2 is coming out this summer, and all of us "Joe-Bros" have been waiting for pictures to surface of the new G.I. Joe figures.
There is a lot of buzz about the new G.I. Joe movie.  Rise of Cobra is a movie that wasn't well-loved by fans (I love it, a lot of people hate it).  The trailers from Retaliation have been a hit and they are generating good reviews.
Hasbro has released some images of the new Retaliation action figures and they look like some of the best action figures to come out in ages.  The other great news with the new line is the actor's likenesses have been used.  There were some rumours floating around that the Roadblock (portrayed by Dwayne "The Rock" Johnson) and General Joe "G.I. Joe" Colton (Bruce Willis) figures would look nothing like the actors from the movie.  The good news with the images that have been released is the figures look like who they are supposed to look like.
The G.I. Joe Retaliation line of toys will have 5 waves of figures, with a lot less figures than were released for the Rise Of Cobra line.  Also there are only going to be 6 vehicles released (from what has been shown so far).  The figures for the vehicles will also have 5 POA which has got some G.I. Joe die-hard fans upset.  Since the quality of G.I. Joe figures have increased immensely since 2007 (to coincide with G.I. Joe 3-3/4″ 25th anniversary), this is a step down in quality in some of the figures.  As I said earlier, I don't have a problem with it, if it keeps the vehicle prices down.  Plus G.I. Joe figure's heads are on a ball socket, which allows the head to easily pop off.  This makes for an easy custom figure, if you don't like the minimal articulation figure.
I think these figures will be highly sought after as well.  Some of my favourites that have been shown are Cobra Commander, Roadblock, Joe Colton, Blind Master, Alley Viper (I can never get too many of them) and Night Viper (again, one of my favourite from the Viper Corp).
With no new Transformers movie this summer, it gives G.I. Joe a perfect opportunity to capitalize on the action figure market and bring something new to the retail shelves that hopefully kids will latch on to.
Teenage Mutant Ninja Turtles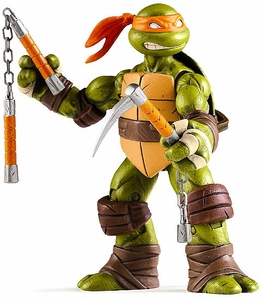 This fall Teenage Mutant Ninja Turtles will be returning to the small screen.  Since action figures and cartoons go hand in hand, we will also have a new line of TMNT action figures coming out as well.
There are going to be 2 different variations of figures.  One version will be "Deluxe Powersound FX" and the other will be the basic action figure.  I am more interested in the basic figures.  The "DPFX" figures look more cartoony, while the basic figures are, according to fellow CBD'er Anthony Falcone "a nice combo of old school throwback and homage to the comics".  I agree with Anthony on that one.
The figures are a great update to the original Playmates figures from the early 90's.
I don't know who will be snatching up all these figures, kids or adult collectors.
The Turtles are not as popular as they were during the early 90's and the kids who collected them back in those days are (hate to admit it) 25+ years older (yes… it's been that long since TMNT came out).
I think these new TMNT figures would look perfect displayed on a shelf.  Sadly for me… I don't have any space for the new figures so I will have to pass (I may pick up Michelangelo and a Casey Jones if he happens to come out).
Marvel Universe
Beta Ray Bill… 'nuff said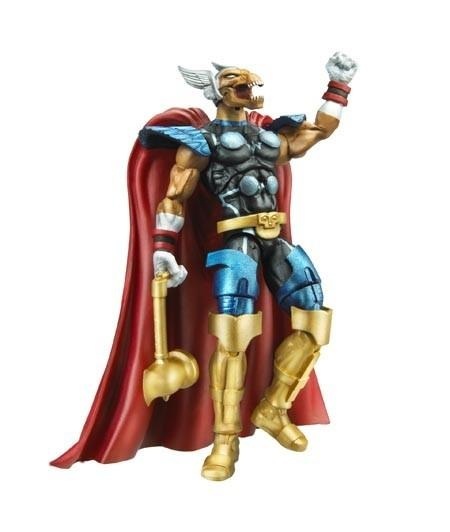 Check out the gallery of some of the figures and vehicles that I talked about in this article.  All photos courtesy of Marvel.com, Toywhiz.com and Hisstank.com