I got lucky recently.  Over the past couple weeks I have found several DC animated movies for sale in the discount bins.  I picked up Wonder Woman, Tales of the Black Freighter, Justice League: Crisis on Two Earths, Superman & Batman Public Enemies and Superman & Batman Apocalypse.  The most I paid for any one of these was $5.99 (while the least was $3.49 in a previously viewed bin).
After watching these five new movies, I started thinking about the complete DC animated collection.  There have been some great ones (while there have been some bad ones too).
So I decided I would only reflect on the good ones.  Here are my favourite DC animated movies (sort of a Pick 5 thing).
#5 Superman & Batman: Apocalypse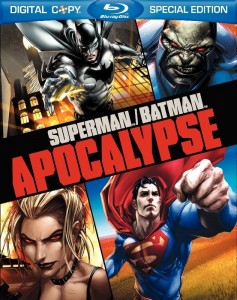 Superman & Batman Apocalypse should be watched in conjuction with Public Enemies.  Since Apocalypse is a sequel, it works better when you watch both together.  I preferred Apocalypse because of the visuals of the movie.  It didn't look too cartoony like Public Enemies.  I also preferred the movie because Wonder Woman and Paradise Island were featured in the movie.
The basic premise to the movie is Supergirl shows up on earth.  Batman (or Grumpy-Ass as Supergirl refers to him) finds her.  Batman and Superman try to figure out the best way to deal with her.  Wonder Woman trains Supergirl.  Darkseid wants her on Apocalypse.  Batman, Superman and Wonder Woman head to Apocalypse to rescue her.
The ending of the movie has one of the coolest-craziest fight scenes I've ever seen in an animated movie.  Essentially Superman, Supergirl and Darkseid destroy the Kent Family Farm.
#4 Justice League: The New Frontier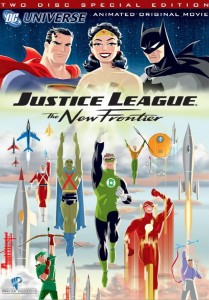 The New Frontier is a really cool looking movie.  I love the art style of it.  It has that kitschy 50's retro style to it.  Plus there are lots of reference to communists, un-American activities and McCarthyism, which who doesn't enjoy a movie with extreme 50's conservative paranoia?  Superman signs a declaration that he's a patriotic American.  Where else could that happen but the 50's.
New Frontier has one of my favourite lines in the movie from Batman.  Batman realizes J'onn J'onzz is afraid of fire.  He says "I paid $70,000 for a sliver of meteor rock to take care of the alien in Metropolis.  You, I only need a penny for a book of matches."  I love this line.  It shows that Batman has a plan for everything.  He is keeping an eye on the rest of the superheroes.
Hal Jordan's origin story is great in New Frontier.  It shows him different from other origin stories.  Him being a veteran of the Korean conflict, changed the complexion of the character.  It shows he's gone through a lot before he becomes the Green Lantern.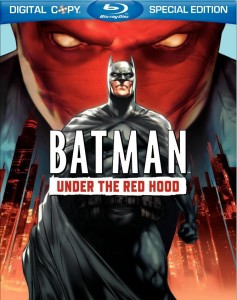 You'll see later what I think about Mask Of The Phantasm, but Under The Red Hood is as close as you can come to being as good as Phantasm.  In the past 20 or so years Jason Todd has been forgotten, or shown as Batman's greatest mistake.  Under the Red Hood shows Batman regret that he couldn't save Jason.  But also showed that he couldn't kill Joker, for the revenge of Jason.  The Red Hood is an anti-hero.  His intentions are good, unfortunately he doesn't mind getting his hands bloody to get the job done.
Under The Red Hood is a violent movie (which you'll need to do some parental guidance if your going to let the kiddies watch this one).  It features a very strong story, great visuals and voice work by NPH (Neil Patrick Harris).
#2 Wonder Woman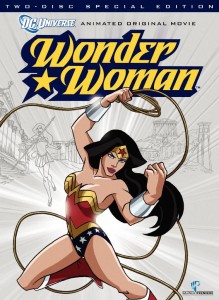 Since this is the closest we'll ever come to having a Wonder Woman feature film, I am glad they did a great job with this one.  This is an origin story for the amazon.  The details from Wonder Woman's various origins are in this movie.
Two of the most important parts in the movie are the robot plane and Steve Trevor.  I believe you can't have Superman without Lois Lane, and you can't have Wonder Woman without Steve Trevor (and Nathan Fillion voiced Trevor perfectly as well).  The robot plane was Wonder Woman's first mode of transportation (before she could fly).
Wonder Woman was a violent movie.  It was rated PG-13 and several scenes even push that boundary.  It showed Wonder Woman as a strong character, and she will kill if she has to succeed.  It is the way of the amazon.
#1  Batman: The Mask Of The Phantasm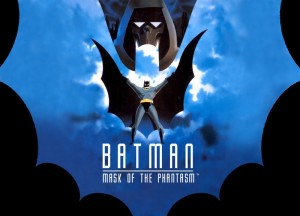 This is by far one of the best animated movies of all time, not just superhero movie.  The voice acting was superb in "Phantasm" (with a cast that included Dana Delaney, Stacey Keach, Abe Vigoda and Hart Bochner… oh you don't know who he is?  He's the guy who likes coke in Die Hard.  You know the one who gave John McClane's wife a watch in Die Hard).  Mark Hamill proved to be one of the best Jokers in Bat-History.  I want to see him do a live action version of Joker once.
Mask of the Phantasm succeeded in introducing a new love interest in Bruce Wayne's life (well his previous life), introducing a new villain (Phantasm) and creating a different previous life for the Joker as well.  This was the first of the new (at that time) DC animated movies, and it is the best.  I still believe most DC movies are compared to Phantasm.
The DC Animated movies are great.  The big reason for this is Bruce Timm.  He is the producer for the DC Animated movies.  He has the vision of what the movies will look like.  He was extremely successful creating the Batman Animated Series which led into the movies.  If it wasn't for Bruce Timm, DC Animation would not be what it is today.
The other person responsible for DC Animations quality is Andrea Romano.  She is the casting/voice director for DC.  She always picks the right voice for the character.  Even though Superman or Batman have been voiced by various actors (be it Kevin Conroy, Bruce Greenwood, William Baldwin as Batman, or Tim Daly, Kyle McLachlan or James Denton as Superman) the voice fits the movie they were in.  She also has brought in actors you would never think of doing animation, into these movies.  Some examples are Miguel Ferrer (George Clooney's cousin) as J'onn J'onzz, Keri Russell as Wonder Woman, or Oliver Platt as Hades (which is one of my favourite casting choices).  With these new voices they have brought more depth and emotions to the characters.   Which makes for better movies.