When it comes to comic books and geek culture in general, you can buy anything.  Well almost anything.
Sure you can buy t-shirts, decals, fridge magnets, action figures, coffee mugs and yadda-yadda-yadda.  But there are something's you can't buy.
When you can't buy these things you have two options.  You can either find someone who can make it for you, and pay them a load of cash for it; or you can make it yourself.  In that case you have to get crafty.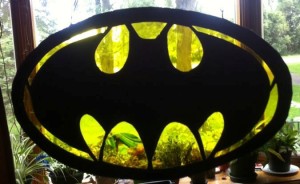 My wife is really crafty when it comes to making stuff.  She has always been interested in making crafts, and since we've been together she had turned to "geekery" with her crafts.  In the summer of 2004 we were taking our 10 month old son to Fan Expo for the very first time.  We wanted him to wear a geek t-shirt to Fan Expo.  Now you can find comic t-shirts for babies everywhere.  But in 2004 they weren't popular.  So my wife became crafty and made t-shirts herself.  She made 3 t-shirts for him.  She made a Batman, G.I. Joe and a Hulk t-shirt.  He wore Hulk to Fan Expo and it was well received by everybody.
She also took up making stained glass as a hobby.  One of her first major projects was to make me a Cobra sigil in stained glass.  It was a huge undertaking, and it took a lot of skill to cut the shapes out properly.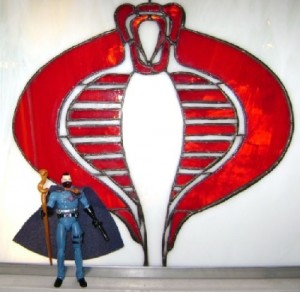 It turned out amazingly.  I am super proud of the work she did.  Two years ago at the Canadian G.I. Joe Convention she showed the picture of it to Virginia Rudat.  Who is that you ask?  Well that is Ron Rudat's wife.  He was one of the original designers of G.I. Joe.  And he is the man who designed the original Cobra sigil.  Virginia said it was awesome.  That was a huge compliment.  Especially coming from a woman who has spent most of her married life around G.I. Joe and the man who designed most of the toy line.
In the case of stained glass, it isn't something that you are going to find at your local comic book shop.  It's simply something that isn't mass produced for the consumer market.  If you are looking for something geeky, made of stained glass (for example) you need to find someone who can make it for you (which can get very expensive) or make it yourself.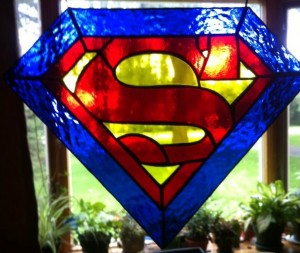 My wife has made several great pieces, that luckily she has been able to sell at our local comic book shop.  Recently we heard that one customer was so impressed by her work, they have signed up for stained glass classes to learn how to make stained glass on their own.
Comic and geek crafts are very popular.  If you have noticed, over the last couple of years there are more craft vendors at events like Fan Expo or ComiCon.  It is great that people are combining their love of geek culture, with their creative side.  It just shows that you don't just have to draw, to create an amazing work of art.