A few months back I wrote about the new action figures coming out to support the Iron Man 3 and Wolverine movies.
These figures were absolute garbage.  Low quality paint jobs, and minimal articulation were the main reasons I wanted you to avoid buying this junk.
But today I want to talk about some figures you need to buy.
These ones are *bleeping* awesome.
G.I. Joe Retaliation action figures have been plagued with problems right from the start.  Originally the movie was supposed to come out in 2012, then it was pushed back to 2013.  The first wave of figures hit the shelf in 2012, then they had to be taken off the shelves until February of this year.
The G.I. Joe Retaliation figures were not as good as the previously released 30th Anniversary figures.  Those figures were highly detailed and came out with a bunch of amazing accessories.
I can happily say that the latest wave of G.I. Joe Retaliation figures return to that very popular formula for making a great G.I. Joe figure.
These figures haven't hit your favourite "Big Box Store Retail" chain yet.  I found them at my "L.A.F.S." (local action figure store).  These figures are also available for order from the Hasbro website.
Since the price is higher at a "L.A.F.S." I was limited on the amount of figures I could buy.  But I did pick up the three figures that most collector's will want to have.
KWINN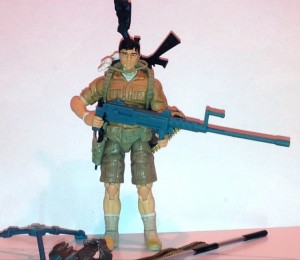 Kwinn has been a character in the G.I. Joe universe since day one.  He made his first appearance in the comic book back in 1982 in issue #2, and his character was killed off in issue #19 (a very important G.I. Joe comic).
There was an action figure released of Kwinn, but it wasn't the style most collector's wanted.  That figure that was released was Kwinn in arctic gear.  Which was just a reissue of a previously released mold of another character.
This new Kwinn figure has his "classic uniform".  Plus it includes a wide array of weapons that Kwinn was known to use.
Kwinn has the articulation that was used with the G.I. Joe 30th Anniversary figures.  There are extra articulation points at his wrists, so he can hold his weapons better.
This is a figure die-hard collectors have been waiting over 30 years for, and it is a must buy for all G.I. Joe fans (grab one if you see one, they'll disappear quick).
NIGHT VIPER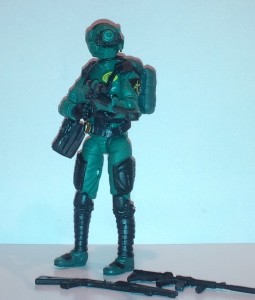 Night Viper is one of those figures that would have his own "Undervalued Spotlight".  The original figure came out in 1989, and the idea for the figure seemed far-out at the time.  It was several years later that the figure was wanted in huge demand.  The original figure came with some very cool accessories like a rifle with a carry strap, and a helmet with a night vision scope.  Unfortunately the night vision scope pivot posts were very fragile, so after very little play, the night vision scope would break off.  Finding a mint condition Night Viper is almost impossible.  Ones that are in great condition are very expensive.
During G.I. Joe's 30th Anniversary a figure called "Jungle Viper" was released.  It shared many of the Night Viper's characteristics.  There was a lot of buzz on the forums at the time, that the Jungle Viper was just a repurposed Night Viper.
Now many of those Jungle Viper pieces have been used to create the Night Viper, which is a great update on the 1989 figure.
BLIND MASTER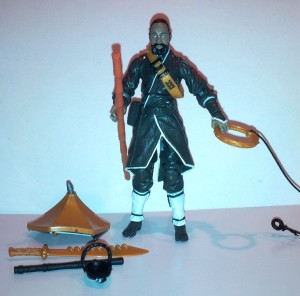 The Arashikage Ninja Clan has a long history with G.I. Joe and Cobra.  If you follow G.I. Joe at all, you know that there were 3 important instructors in the Arashikage Clan.  Hard Master (who was murdered and led Storm Shadow down a path to Cobra), Soft Master (who was killed by Scrap Iron) and the Blind Master (who in the comic world was killed by Zartan as well).
During G.I. Joe's 25 Anniversary, an action figure of Hard Master was released.  Now in support of the movie, we get an action figure of Blind Master (portrayed by RZA).  Now we need a figure of the Soft Master to complete the collection.
Blind Master comes with some awesome accessories.  His staff pulls apart to reveal a blade.  His hat will transform to reveal blades.  Even the ring he carries have tiny little blades on the inside… I'm starting to see a pattern here.
Unlike some of the other movie figures, Hard Master does look like RZA.  It is a very good likeness of the actor, and if you love G.I. Joe ninjas, this figure is a must buy.
AVENGERS ASSEMBLE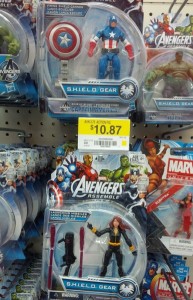 You may have seen there is a new animated series based on Marvel's Avengers.  In support of the series there is a line of action figures.
But you need to be careful with this one.
There are two toy lines based on the Avengers.
There is the Avengers Assemble "All Star" line.  Which these figures have minimal articulation, and sloppy paint jobs.  You can easily tell the difference when you compare them to the regular Avengers Assemble figures.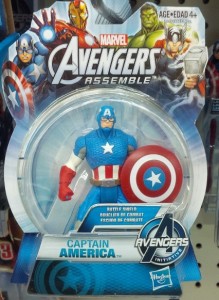 The good Avengers Assemble figures will replace the popular "Marvel Universe" figures.  Some of these figures reuse previous molds from the Avengers, Marvel Universe, Captain America and Thor action figure lines.
These are updates on figures that have come out within the last 3 years.  I have passed on some of them because essentially, I already own them.  But there was one that caught my eye.  Red Skull.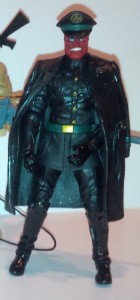 Red Skull was released with the Captain America action figure line.  This figure is just a repaint of that original.  But the added hat, coat and newly sculpted head made it a figure I just had to own.
This new Red Skull figure is menacing and dangerous.  It is one you need to buy.
There will be more of these figures released in the future, but for right now we have a good selection of core figures that you need for your collection.
It's exciting to see that some good quality toys are coming out, and I can't wait to grab some more when they hit the store shelves.