January 26/2014 was the latest Ontario Collectors Con held at the Delta Meadowvale Hotel and Conference Centre in Mississauga.  The show features vendors selling a wide variety of toys from rare collectibles to vintage and modern toys.  The OCC also featured two special guests.
Townsend Coleman, the voice actor of Michelangelo from Teenage Mutant Ninja Turtles (1987-1996) and The Tick (animated series, not to be confused with the live action version starring Patrick Warburton).
The other special guest was WWE Hall of Famer Nikolai Volkoff.  Nikolai Volkoff achieved fame during the 80s in the WWE (WWF in those days) as a Russian who quarrelled with patriotic Americans like Corporal Kirchner and Sgt. Slaughter (who was an Iraqi sympathizer at the time).  Nikolai Volkoff also entertained OCC attendees with renditions of the Russian National Anthem.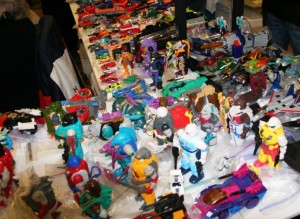 The OCC was a very well attended show, with lots of selection from a packed convention room of vendors.  At times it was tough to navigate around the room with the amount of people there.
Also noticeable at this show was the amount of children in attendance.  Toy shows are becoming more and more of an adult event, but there were lots of children there.  Many of them were making purchases of their own, and not just in tow with their parents.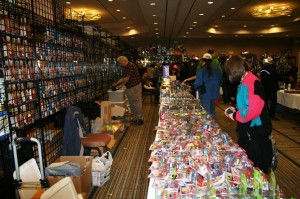 The toys at the show varied.  There were some new, hard to find toys, like the Wolverine Marvel Legends figures (for example).  I saw one vendor selling these, which was an odd sight.  This figures weren't sold in mass retail like Toys R Us or Walmart, they were saved for the specialty market like a comic book shop or games store.  I haven't seen them for sale at other shows, so I was surprised to see them at the OCC.  But there wasn't just new toys available.  There was a lot of vintage toys available at the show too.  I was able to pick up almost the complete line of Dick Tracy action figures from the movie that came out in 1990.  These figures are almost impossible to find these days.  I was lucky and picked up 8 figures still in the original packaging.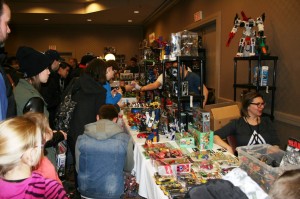 There were also old video game consoles and games available for sale too.  I saw one vendor had a large selection of Nintendo (NES) games.  Another vendor had a complete Collecovision video games system for sale.  The listed price on that system was quite reasonable compared to other prices I have seen on eBay.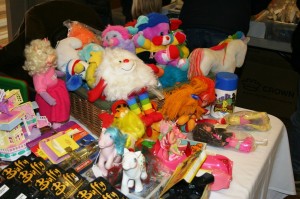 If you are looking for vintage toys, your local toy show is the best route to take. You are able to see and touch what you want to buy before you pay for it.  And it's nice to have the huge selection of different vendors in one room, so you can make sure you get the best deal for your money.
The next Collectible Toy Expo is the 80's Toy Expo, May 4th/2014, at the Delta Meadowvale.