Currently reading: Captain Easy: Soldier of Fortune Book One, Stray Toasters.
Currently re-reading: Amazing Adventures of Kavalier & Clay, American Flagg! and Stumptown.
_________________________________________________________________________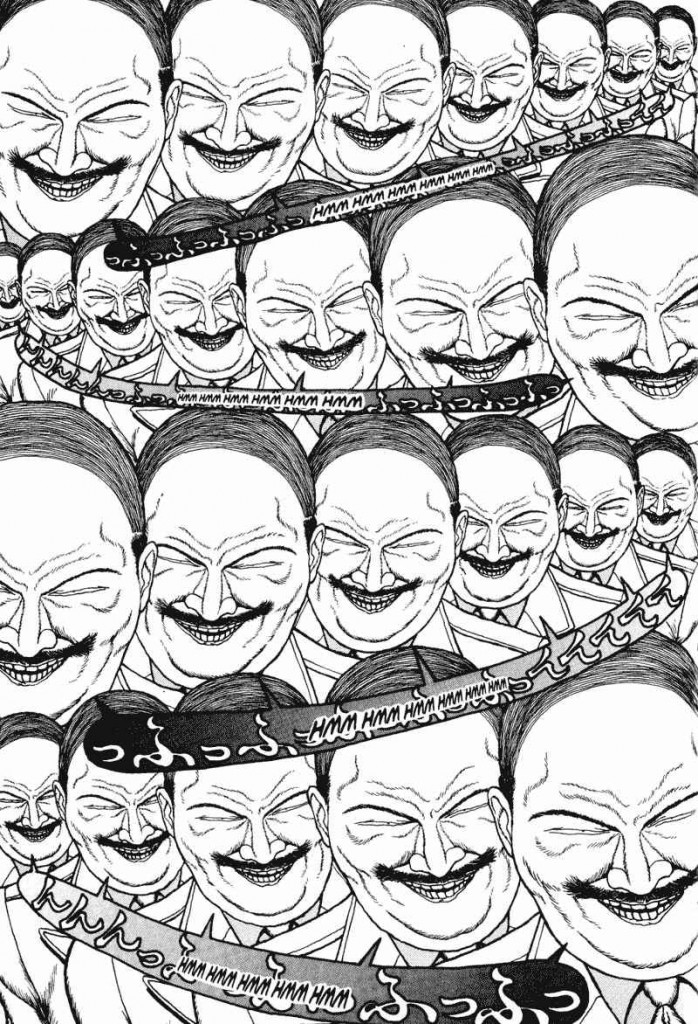 About a year ago my boss lent me the manga series Bakune Young. I don't know if you're particularly familiar with the series as it came out of Viz' PULP magazine which ran from 1997 to 2002. I'd never heard of it previously but it's creator Toyokazu Matsunaga is an amazing talent. Everything is completely over the top in an absolutely wonderful way. It flows with kinetic energy; turning the pages is a gleeful process to see how he's going to top the preceding page.
Bakune Young's plot doesn't really matter, it's an excuse to toss as many cool and innovative designs at us. The level of ultra-violence is so graphic that it's hard to really take seriously. Check out this sequence with the french ninja (wearing a hoodie with ninja written on it) taking out a yakuza heavy with a simple pen-to-the-back-of-the-head: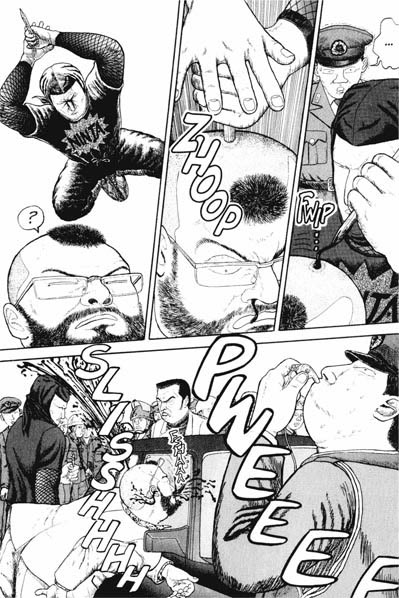 The use of sound effects in this book rival Naoki Urusawa's – a man who placement and literal translations offering one of the most engrossing reading experiences this side of Paul Pope.
Hey look at this: Farel Dalrymple draws Mister Miracle.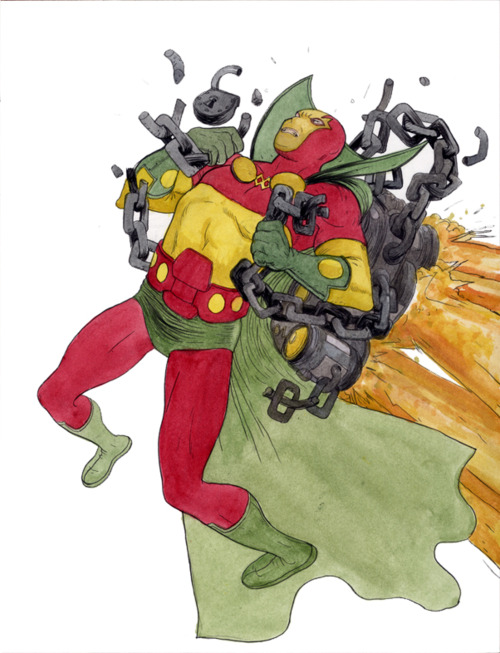 Dalrymple is one of those wonderful artists that always seems like he's about to break out to more commercial success. He draws the best, most vibrant cities injecting them as a character in their own right just as much as Will Eisner ever did.
If you haven't had a chance to see his and Jonathan Lethem's re-imagining of Steve Gerber's Omega the Unknown – I'd strongly suggest checking it out. A wonderful fever dream of a comic that showcases Dalrymple's strengths as a storyteller. Highly recommended.
Congrats to Ramon Perez: dude is in for a hell of a year. In case you were too captivated by our Wizard World Toronto coverage to check other sites for news from C2E2, you may have missed the big Archaia announcement. Looks like they've adapted A Tale of Sand, a 'lost' Jim Henson story, into a graphic novel with beautiful Ramon Perez art.
"It is always a daunting task when working on something where you hold the creator in such high regard. Growing up, Jim Henson's visions were an inspiration to my hungry imagination, and it is now an honor to be able to bring one of his unproduced manuscripts into the graphic novel medium.

Jim's script is so visually meticulous that it is a joy to conceptualize his words onto the page. The first time I sat down to read A TALE OF SAND it was akin to watching a movie in the theatre of my minds eye. The true challenge for me is translating Jim's visual language and storytelling sensibilities from film onto paper."
This on top of the fact that he recently finished a few books for Marvel, has the graphic novel The Green River Killer (based on true events) coming out through Dark Horse and well, it looks like this is his year.
Hell, pretty much all of the Transmission X crew seem to be rolling in prestige, critical acclaim and I can only guess fly hats and mink coats. Andy Belanger is DESTROYING it on Kill Shakespeare (Ardizzi took me to class explaining Belanger's layouts being some next level sh*t that, quite frankly, I'm surprised I didn't notice them earlier.. usually a good sign of storytelling.)
Pretty good time to be a comic book fan in Toronto.