So being firmly bitten by the comic book bug at age 10, and thoroughly exhausting my friends and family getting any back issues, I began to  take note of the little ads that offered back issues. For some reason the ad by Robert Bell and Michael J. Rogofsky stood out to me more than most. I sent my request, plus 25 cents (Cdn) to far off New York.
On Fridays when my Dad would go to the bank he would empty his pockets of change and I would be off to Hazelwoods Pharmacy in Port Rowan, a small lakeside community of a few hundred people on the north shore of Lake Erie, and I would  go to the magazine section. At the bottom right was where they displayed their comics. I distinctly remember buying Silver Surfer #1 as well as the 35 cent Spectacular Spider-man #1! That was as far as the pocket change would take me.
The Surfer took me to the far off world of Zenn La and introduced me to the beauteous Shalla Bal. I was immediately drawn into the world that Big John Buscema created and have been a life long fan ever since. The original Silver Surfer run has always held a special place in my heart from not only a nostalgic direction but as an inspiration artistically to the work I do today. If you haven't read the original run, especially the first 7 Giant Size issues, I highly recommend it. Surfer # 3 introduced Mephisto, and I can remember the actual fear,  yes fear, that I felt for the Surfer. Stan Lee had written a story where there was such a real life parallel between the decade of the sixties and that storyline. Check it out and you'll see what I mean. It is still as relevant today as it was then. And oh that cover!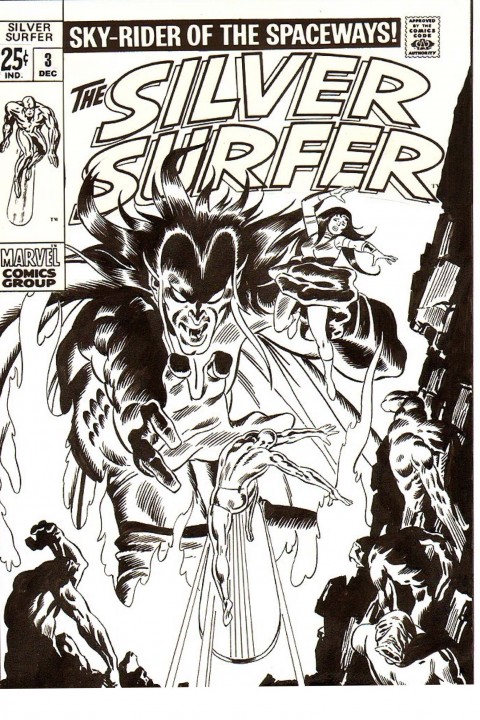 I have in recent years also discovered the Original Comic Art Market, and this article is accompanied by one of my favorite pieces of my collection, a John Buscema recreation of the cover of Silver Surfer # 3.
We will talk a bit in length about Spectacular Spider-Man #1 next time as well as whatever happened to those lists I sent away for anyway ?