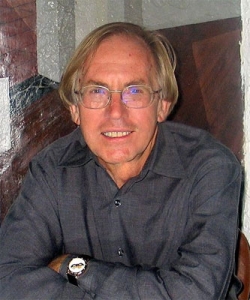 Well, I am officially an old guy. Rascally Roy Thomas otherwise known as Roy (The Boy) Thomas turned 76 on November 22nd.
Not only was Roy Stan Lee's first successor as Editor-In-Chief of Marvel comics and the carrier of the torch for Marvel Comics through the late Silver Age and then beyond, but he was the reason that Conan the Barbarian was introduced to the comic book world and thereby into the mainstream consciousness.
As a "Son of the Silver Age" I have come to the conclusion that I would be perfectly content if I never read another new comic as long as I have my collection of silver age beauties.
There are however many Bronze Age exceptions to that rule, number one among them being the Savage Sword of Conan black and white magazine.
There is no other run that I go back to for casual reading and artwork ogling than that run. Now not every issue was a winner but I do want to touch upon this title for a moment if I could.
I have always been amazed at the sheer volume of work that Roy Thomas and John Buscema put out in this title alone. It ran for 235 issues, most of that time monthly and adapted basically every Robert E. Howard story and many of the L. Sprague DeCamp stories as well. The vast majority was written by Roy Thomas and illustrated by Big John Buscema. They created literally thousands of pages of prose and artwork together on this title alone, and that does not include the regular monthly Conan comic as well as thousands more pages on other monthly titles.
When you think about it is is truly mind boggling.
How did Roy read all those Conan novels and adapt them is beyond me, and Buscema's work, though for the most part breakdowns and not finished pencils, were consistently good with the exception of some of the inkers that he had.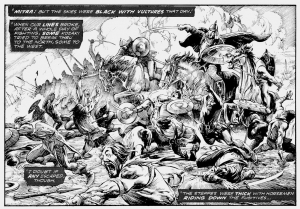 Without a doubt, the top 3 fan favorites were Alfredo Alcala, Tony DeZuniga and Ernie Chan, each who did hundred of pages if not more.
A couple of my favorites were from issue #4  "Iron Shadows in the Moon" inked by Alcala and " A Witch Shall Be Born" inked by DeZuniga.
These were really, for me anyway, the first time I really became aware of these two artists work and they were totally different styles and both uniquely and quite surprisingly complimented Big John's pencils.
It can be argued, and certainly was by Big John himself, that both inkers could be quite overpowering on John pencils. No argument there, however they also made both Alcala and DeZuniga better than they ever were on there own. And they were both very capable pencilers, but Big John was in a class all his own when it came to anatomy, storytelling and sheer dynamic energy on the page.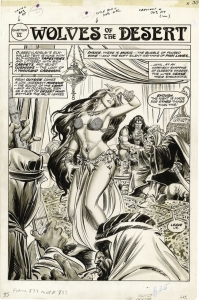 I was never a fan of the Buscema/Chan pairing as I feel Chan was especially overpowering with a heavy line that detracted from Big John's mastery.
Many varying styles were used by all three artists and I think time restraints played a big part in that as I am sure there must have been a lot of deadline pressures.
The sheer volume of line work that Alcala used in his inking would on occasion be left out and a more traditional spotting of the blacks would be used.Sometimes he would just do the main figure inking and use graphite for shading and texture.
Tony DeZuniga became quite proficient in Zip-A-Tone after about 30 issues or so and looking back on it, he was quite inventive in his use of textures to eliminate brushwork.
And again, for me , especially the longer Ernie Chan inked him, his line became heavier to the point of totally taking the John Buscema feel out of the artwork.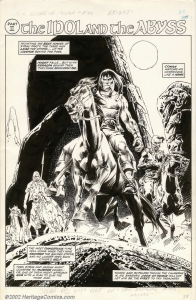 There were also other inkers , from Neal Adams and the Crusty Bunkers to Sonny Trinidad, Dan Adkins, Yong Montano, and many more.
I would very much like to hear the who and why of your favorite inkers as well.
So Happy Birthday Roy; none of the aforementioned art critique would be possible without your attention to detail of the Robert E. Howard stories and the masterful way you adapted them to comic book form!
So the next time you read a Savage Sword Of Conan, or for that matter any of the work Roy Thomas has done in his career, I encourage you to…Marvel at the sheer volume of great work he did and continues to do.
Long Live Roy (the boy ) Thomas…and continued Happy Collecting!