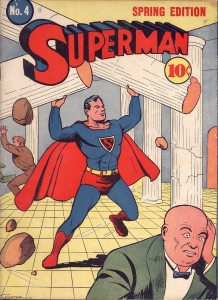 Superman #4, DC Comics, Spring 1940
Looking back I can see that I haven't had the best relationship with the Superman title. I've always thought the value of Superman #1 to be inflated versus say Batman #1 and maybe that's why I've struggled to include the title in the 300 plus Undervalued Spotlights posted to date, there's only been 3 and 1 of those was written by Mike Huddleston.
So left to me the Superman title and Captain Canuck are tied with 2 entries each. Taking nothing away from Captain Canuck I knew there were great books I've been overlooking in the epic Superman title run.
I'd like to shine this week's Undervalued Spotlight on Superman #4. While the book does not necessarily satisfy Durajlija's Equation for Iconic Golden Age Covers (DEIGAC) it does deliver on many other levels (and it is a strong cover).
Have a look at the Superman values in the Overstreet Guide and compare the 9.2 value to #3 at $33,000 to our #4 at $15,500 and even to #5 at #12,500. Superman #3 features reprints from Action Comics yet is listed at more than double the Guide value of #4, 1939 hero syndrome?Superman #5 is listed at over 80% of the Guide value of our Spotlight pick Superman #4 and all Superman #5 can deliver is the 4th Lex Luthor appearance.
Maybe I should have started by mentioning that Superman #4 is an amazing book, it features the 2nd mention of the Daily Planet and it delivers the 2nd and 3rd appearances, both with the red hair, of Superman's arch enemy Lex Luthor (there are 2 Luthor stories in the book).
Superman #4 also marks the 1st issue in the title to feature original stories, no reprints!
For me the obvious superiority of Superman #4 over Superman #3 begs the question why such disparity in value? And when comparing what #4 gives us up against issue #5 I wonder why the values are so close.
Superman #4 is where the Superman as a title really starts, delivering new content with every new issue.
I've always touted 2nd appearances, perhaps the most read Spotlight ever was all about a second appearance so if you're a book looking for respect and are going to contain a second appearance (and a third) it might as well be of a heavyweight like Lex Luthor.
There have been 2 sales in 2016, one a 7.0 and one a 6.5 and both have sold for around 80% of Guide. Comparing this to Superman #3 copies at 4.0, 4.5, 5.0 and 6.0 all selling for above Guide (a value I think a bit inflated to begin with) we see the injustice of the situation.
The 46th Overstreet price break for this book is $838/$1676/$2514/$6117 in the 2.0/4.0/6.0/8.0 grade splits.
Reasons to buy this comic book as an investment.
2nd mention of Daily Planet
2

nd 

appearance of Lex Luthor
1

st 

Superman issue to feature original stories
Markets ignoring the book right now