One of my favorite artists that exists outside of the Silver or Bronze age is Mark Schultz. He is not very prolific, by his own admission, but  his work is amazing to behold.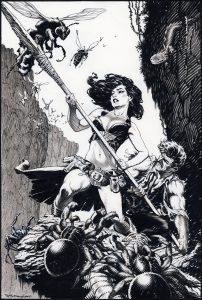 He is certainly best known for Xenozoic Tales which has been constantly on the news stands for 30 years in one form or another. The original Kitchen Sink issues were reprinted under the name "Cadillacs and Dinosaurs". This morphed into an animated series which really got the name out there and when that franchise started to falter, Mark began scripting other properties. Superman: The Man of Steel for about 4 1/2 years, Star wars under Dark Horse as well as Aliens and The Spirit, to name a few.
He was on my radar but didn't really burrow into my consciousness until the Xenozoic Artist's Edition came out! Since then I have been hooked! The quality of the AE is outstanding! It really shows off his artwork.
Since then I have loaded up on many of his available art books. Modern Masters #15 gave me my first overview of his career path followed by Carbon and Carbon 2. These two Carbon books to me show not only his versatility but his mastery of the fantastic worlds he creates.
If you are unfamiliar with Marks work, do yourself a favour and pick up these books. They are real eye openers.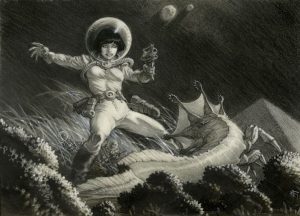 The original Kitchen sink run are very difficult to find in any grade let alone high grade! Thankfully we have these great collections.
Mark is hard at work on a new Xenozoic Tales Graphic Novel that he figures will take him another couple years to complete.
Continued Happy Collecting!
P.S. Thank you to those of you have purchased and commented so positively on my Original Graphic Novel "Splashdown".For those sitting on the fence ,I hope you decide to give it a read.I think you will enjoy it! It's available at http://www.comicdenn.com/splashdown-download for $4.99.
I am just starting on the sequel!
---