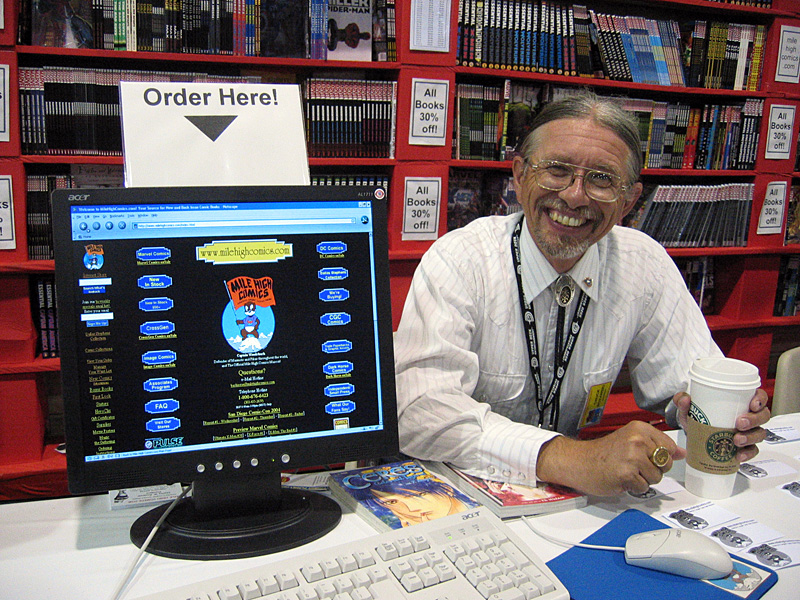 I don't really do interviews. Interviewing is not a skill that I possess. I do, however, have some great conversations with names in the industry. And then I try to remember all the awesome stuff they said. This is one of those times.
Almost everyone who has been collecting comic books for some time has, as the very least, heard of Chuck Rozanski. Arguably the most famous comic shop owner in the United States, Chuck has 40 plus years in the business and, quite literally, hours of amazing stories.
Chuck is the President and CEO of the Denver-based Mile High Comics, and even if you have never been to their store, you have probably bought something from Chuck online. A pioneer of online sales, if Chuck doesn't have it in stock he will get it for you. I have finished off quite a few of my collections by grabbing that final issue from Mile High. Now you will see some people online complaining that his prices are too high or they disagree with grading, but remember, he keeps a massive warehouse full of books to fill those orders. If you need it and can't find it Mile High will get it for you.
As my dedicated readers know I got a chance to check out the documentary Comic Con Episode IV: A Fan's Hope a few weeks ago at the Toronto International Film Festival. Chuck was one of the stars of the documentary and, as luck would have it, I got a chance to meet him at the Montreal Comic Con a couple of weeks ago. Chuck was gracious enough to chat comics with me. I cannot stress this enough: Chuck loves comics.
First we talked about the movie and the positive buzz that it is getting from fans and critics alike. The filmmakers shot over 100 hours of footage of Chuck and Ashley, his protégé, so I cannot wait for the DVD release to see more golden moments. Chuck mentioned that the experience was great, but not as easy as the final product makes it look.
He and Ashley were filmed from the time they got up on the morning from the time they went to bed at night, and all of this while prepping for the biggest convention of the year and an important sales date as well.
I asked Chuck about his portrayal in the film, that is, the sometimes conflicting sides of businessman and collector. Chuck loves comics. I told him about my "sell my collection regularly collecting style" and he faked a chest pain. He loves his collection and he loves helping others finish their collections. He talks about the medium and the hobby with such passion that it is hard not to smile as he is telling you story after story.
Here is one: in 1973 he hitchhiked to Detroit with a backpack full of comic books. The way was not full of four star hotels and fancy brunches, indeed our fearless dealer even slept under a bridge one night in Grand Rapids Michigan. Once at the con he set out and traded the books in a backpack for 3 long boxes of comics (which included his original books). He shipped the long boxes back and thumbed it home. Chuck loves comics.
After this story I told him about my quest to trade my way up to an AF 15. He smiled and told me "I could do that today if I needed to". He wasn't bragging; he was just stating the facts. After forty years of wheeling and dealing at shows you get pretty good at seeing what is undervalued in a room. Chuck gave me the advice of looking for best available book a dealer has that they don't want (or have been keeping for a long time).
We chatted about the DC#1s, Digital Comics, and I told him about my never-ending crusade to have comic shops be held to a higher standard than the dirt-encrusted dungeons that some of them are. I mentioned to him that some of his colleagues in the industry actually hate comics, or at the very least their passion is not what it used to be. Then Chuck tells me something that I will remember as long as I travel in the wacky world of comic books.
One of the main reasons that he likes doing shows is so he can meet his customers. He gets to see them face to face, shake their hand, and say thank you for all the years of support. If you think this is just a line that Chuck fed me you are wrong. He was 100% sincere. Chuck loves comics, he loves collecting, and he is very grateful to his customers. I hope that I will get a chance to talk with Chuck again at a convention soon.
I could fill up 100 columns telling stories about Chuck but I think that you should experience them yourselves. If you get a chance to see him at a convention say hello, he will be happy to talk with you about comic books, tattoos, or pottery. And if you are looking for that hard to find book check out Mile High Comics online, Chuck will help you fill in that collection.