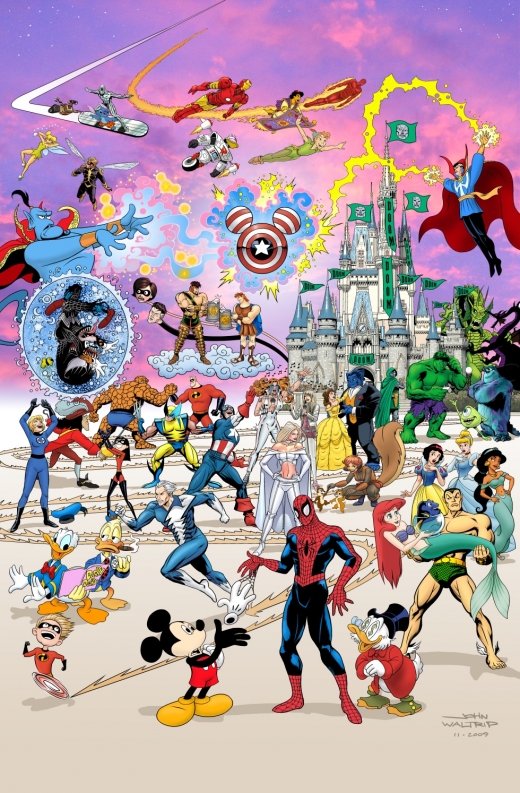 Since the announcement of Disney acquiring Marvel was made, I have been wondering when we would see some comic book action at the Disney Theme Parks. This isn't as much of a slam dunk as some might think: Universal currently holds the rights to have Marvel characters at their Florida theme park. So, in the way that Sony still controls Spider-Man and Fox controls the X-Men, various deals must be brokered to see the Avengers at the Magic Kingdom.
I was at Walt Disney World in Florida last week and was surprised at the lack of Avengers memorabilia or presence at the parks. I saw some movie posters up on the wall next to ones for Brave, and there is an Avengers themed monorail that travels to the Magic Kingdom, but that was pretty much it.
However, there are rumors abound as to when we will see some Avengers or Marvel characters at the parks and no shortage of speculation on the subject.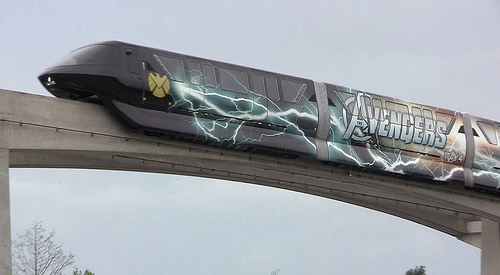 Fantasyland is currently undergoing some renovations and once they are completed Tomorrowland might be next in line for a face lift. And the buzz seems to be that the Marvel heroes would fit nicely in that section of the park.
Also, one of the more popular attractions at the parks are various meet and greet moments with the Disney Princesses. But mostly this appeals to girls and so Disney hopes to have youngsters also line up to meet Wolverine and Captain America. This would fit perfectly with the characters in the park, because if one could buy an autograph book and get Winnie the Pooh, Snow White, and Spider-Man's signatures why wouldn't you do it?
The other delay in seeing Marvel at the parks is that Disney doesn't like to rush into things for their parks. They want to have their Imagineers come up with some fantastic concepts and then they will be carefully tested before implementation. So the Hulk-coaster may need to wait a bit longer, but it will be worth it.
Disney has announced that there will be some Marvel rides at the parks but there are no timelines or opening dates noted, yet. This is one where a lot of people are looking for a great announcement and when it comes Comic Book Daily will be there, but in the mean time what are your wishes for Marvel rides at Disney Parks?