Marvel comics writer Matt Fraction took Fan Expo in Toronto to new levels of fun during various panels discussing the future of some of our favorite superheroes.
Friday and Saturday of Fan Expo, Fraction attended two Marvel panels to speak on Fear Itself and coming story lines involving Captain America, Thor, Iron Man and many other Fan Favorites. It became clear after attending said panels that Fraction is largely involved with much of the creation of the current Marvel universe.
Fraction is an Eisner-winning comic book writer best known for his work with Marvel Comics on The Invincible Iron Man, The Immortal Iron Fist and Uncanny X-Men. He's also the writer of Casanova, from Image Comics and now from Icon.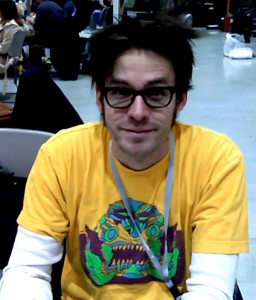 Currently Fraction is working on Marvel's Fear Itself crossover title. "It's a big book," he said, "it's a huge piece of work." He alluded to a large amount of work they've included that he couldn't talk about with the  panel.
"I have a small bug-a-boo about events that where after it goes down everyone stands around talking about it," Fraction said. "I wanted to step off the stage and give the characters the space they needed."
On James Buchanan "Bucky" Barnes' death he said: "You don't get to call a time out in a world war to bury a loved one."
The next day in the Marvel Comics Pint O'CB panel Fraction promised fans Bucky's death will be dealt with properly after Fear Itself ends. Ed Brubaker, who was writing the Bucky character prior, saw an opportunity for his death to occur organically in Fear Itself.
"I am grateful to him for that," Fraction said, of Brubaker allowing him to write the Bucky character's death.
He's really good at not revealing too much, all the while dangling the bait. He's a joker, always toying with the crowd, keeping them on their toes. During the Fear Itself panel, which featured Matt Fraction, Stuart Immonen, Fred Van Lente, C.B Cebulski and Axel Alonso, Fraction spoke the most.
He said Fear Itself is all very character driven. "It's all the stuff that makes the Marvel heroes who we know and love." The entire Fear Itself run he calls logical places to begin and end.
"There's no shortage of ideas, it's just when and were to tell the story," Fraction said of character spin-offs and developments.
Fraction was largely involved in a Marvel retreat where all the plans for Fear Itself were laid out. "It started small," he said, creating a little ball with his hands. "It just turned into what it is now," he continued, expanding his ball-shaped hands and waving them in the air.
He teased fans when he said the number of footprints on the Thor 7.2 cover did in fact have significance. "Asgardians are nothing without their numerology," Fraction said. "It is highly Google-able."
Fraction is energetic in his movements and speech, even when touching on some of the more harrowing corners of the Marvel universe. When a fan questions the panel as to whether or not they like killing off characters the panel agrees it's heavy work.
"I was part of the team of dudes who killed Nightcrawler. That was shitty," Fraction said. "it's not my cup of tea."
He assures fans that everybody at Marvel works together to synchronize and link big events together through various titles. "It's very organic," Fraction said about writing with the others.
The retreat for Marvel editorial followed a Con similar to the Fan Expo in Toronto. "We were sitting in this tiny room and it was filling with flu," Fraction said. Marvel Editor-in-Chief, Axel Alonso mentions they had to temporarily shelve some subjects because conversations would continue for hours and hours. Those subjects include Dr. Strange and any lessons on the mysterious ways of magic.
On Saturday, during the Marvel Comics Pint O'CB panel, Fraction talked a little bit about the Marvel films.
"I didn't get any special materials," Fraction said of the Captain America movie. "I found out who was in it when you found out who was in it." The treatment of the upcoming 2012 Avengers movie was slightly different. "I thought Captain America [the movie] was terrific. I got to visit the Avengers before Capt. even came out."
Fraction said his son really took to the Captain America movie. A few days after seeing it, while the two were in a bookstore, Fraction's son ran up to him with a magazine, the cover featuring Chris Evans as Captain America. "Dad! Dad! This is Captain America! FOR REAL!!," Fraction said, the audience laughing.
Finally, Fraction spoke out against comic book piracy, agreeing with the rest of the Pint O'CB panel that it's bad for the industry. "When you post and read a full comic like that you're helping that book get cancelled," Alonso said about online sharing sites like Tumblr and their overall affect.
Fraction believes though that the numbers are there to bring comic books into the digital realm of laptops and iPads. "The value and the number of books being downloaded are there," Fraction said. "I believe most people who read comics want physical editions," he said. "At least that's how I sleep at night."
In all Fraction is a friendly and enigmatic character himself. This jovial nature makes him easy to watch and listen to and it's no surprise he's has such a success at Marvel. Anyone who is as passionate about what they do, as he is, finds success. It's clear he'll be sticking around at Marvel for a while, navigating some of reader's favorite characters through the rocky path 2012 is going to bring with the end of X-Men Schism and Fear Itself.