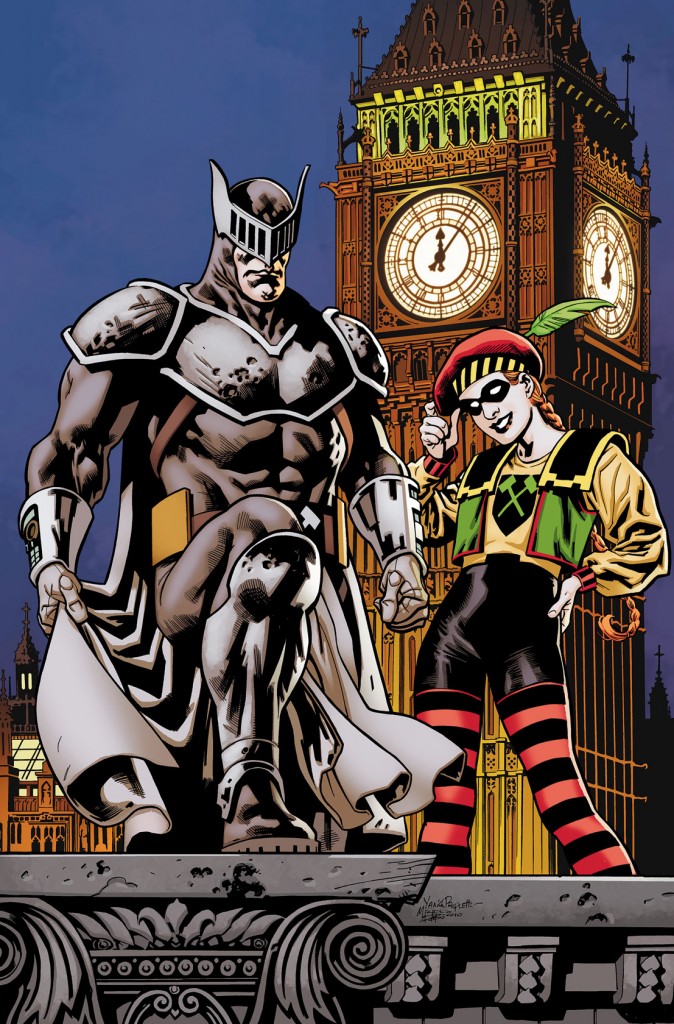 DC's offical blog The Source has been on a tear today, updating with a veritable cornucopia all sorts of juicy pre-Comic-Con announcements of new projects.
Now they've announced that Paul Cornell (he who writes of Lex Luthor and Robo Lois Lane in Action Comics) will be filling in Grant Morrison's shoes for a Knight and Squire Six Issue Mini-series. Did you hear that? That's my heart beating faster than it has any right to.
You see Paul Cornell has quickly cemented himself as one of my favourite comic book writers of the past two years. His take on Captain Britain (in the unjustly cancelled Captain Britain and the MI013) was arguably the most fun Marvel was having without being written by Jason Aaron.
Cornell will be joined by artist Jimmy Broxton and cover artist Yanick Paquette, the six-issue mini-series puts the spotlight on the London counterparts to Batman and Robin, and will hopefully revisit some of the world building that Morrison and Cameron Stewart created during their now-classic three issue Blackest Knight arc on Batman & Robin.
Cornell himself seems excited to be back in the United Kingdom, telling The Source:
"I'm delighted to be working in DC Britain! Grant always said that he added something to the Knight and Squire's world with every appearance: we'll be taking that policy, and the amount of over the top weird and wonderful zany surreal Britishness and dialling them up to eleven. If you've wanted to see a milkman fighting a dinosaur in a suit, in a pub, then this is the comic for you."
Here's hoping that the tone will be reminiscent of Alan Davis' Excalibur run – which balanced superheroics and sheer insanity in a way that makes me warm in my cockles.
No word yet on when that's starting up. Also coming up: Bruce Wayne: The Road Home, a series of eight one-shots debuting in October, effectively re-establishing the original Batman's place in the DC Universe and Gotham City upon inevitably returning to the present post-The Return of Bruce Wayne. Talent involved includes Adam Beechen, Fabian Nicieza, Mike Barr, Pere Perez, Ramon Bachs, Marc Andreyko, Cliff Richards and Bryan Q. Miller; with an eight-part connecting cover by Shane Davis.
Yes… you read that right – Mike Barr. Maybe he'll be informing us on just what the new status quo will be between Bruce and Ra's.