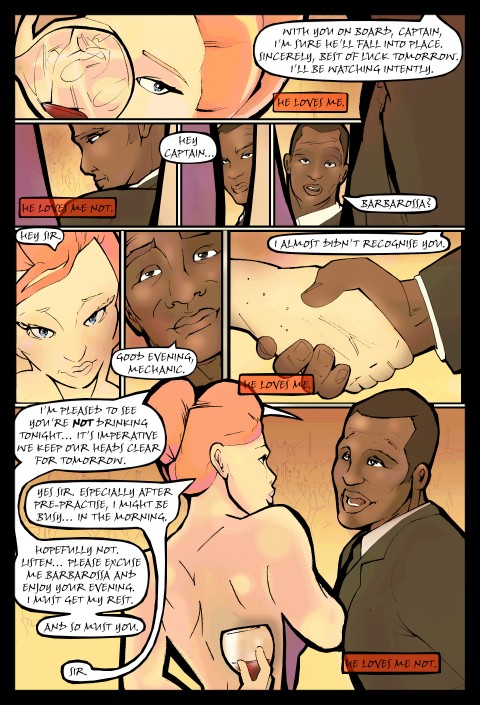 Beau Barbarossa
Mechanic
See Page 3
Avalon Cosette
Pilot-Captain
See Page 6
"Celerity's committee leaders wear big smiles at celeb party while their 'ex-criminal' racer and 'urban-pirate' mechanic binge on free alcohol hours before launch."
By DAILY CIRCUS  REPORTER – Jesse Reid
UPDATED: 00:21, Sat 27th August 2016
Comments (48)
Share
Grand Race 'stars' Aziza (32) and Barbarossa (26) were ironically labelled "guests of honour" last night at the GRA Prom along with 70 other race-crew members.  The shamed duo didn't hold back in taking full advantage of the freebies on offer at the star studied bash.  All race-crew members taking part in today's 107th Grand Race were present at the renowned event, some on their best behaviour and others… not so much.
Upon leaving the venue, an intoxicated Aziza reassured fans of his dedication to the crew "I'm… ready, I'm fine.  Get the hell out of my way."   He went on, walking away at speed but not in a straight line…  "I've got green blood now, relax.  I've got'm."   Quite what that translates to will remain a mystery to me but seemed to mean a lot to his adoring fans, some of whom had been waiting all day to catch a glimpse of the annoying heart-throb.
The recent and controversial allegations that racer: Aziza was involved in the organised robbery of 5 major jewellery stores prior to his enrolment in the GRA has had little effect on his attitude towards the press.  Meanwhile, the recent and similarly controversial un-earthing of mechanic: Barbarossa's family of  'Urban-Pirates' has caused her to shy away from all  public contact in spite of her growing support online.  Famously quoted as  saying "my father is a great man." at a press conference last year, her true feelings toward her family remain confidential.  Barbarossa's Pilot-Captain has been quite vocal in his support.  Cosette: "I stand by the committee's choices and I stand by my crew.  Barbarossa has shown a knowledge and talent for 'mechanical' that, honestly I've never seen before.  She's a vital asset to the ship and we couldn't do this without her." He said, "Her personal life is off the table."
Honestly, I expected to see all 72 race-crew members taking it easy last night and  I expected Aziza to be the only exception.  To my surprise, It seems mechanic:  Barbarossa is just as much to blame for race-crew Celerity's rock-star reputation with unconfirmed reports of her leaving the venue in an equally embarrassing state.
With GR107 just hours away now, we'll soon see how much this all really matters in the grand scheme.
Personally, I hope Celerity lose miserably.  They simply don't deserve it.
Full story @ Daily Circus online.