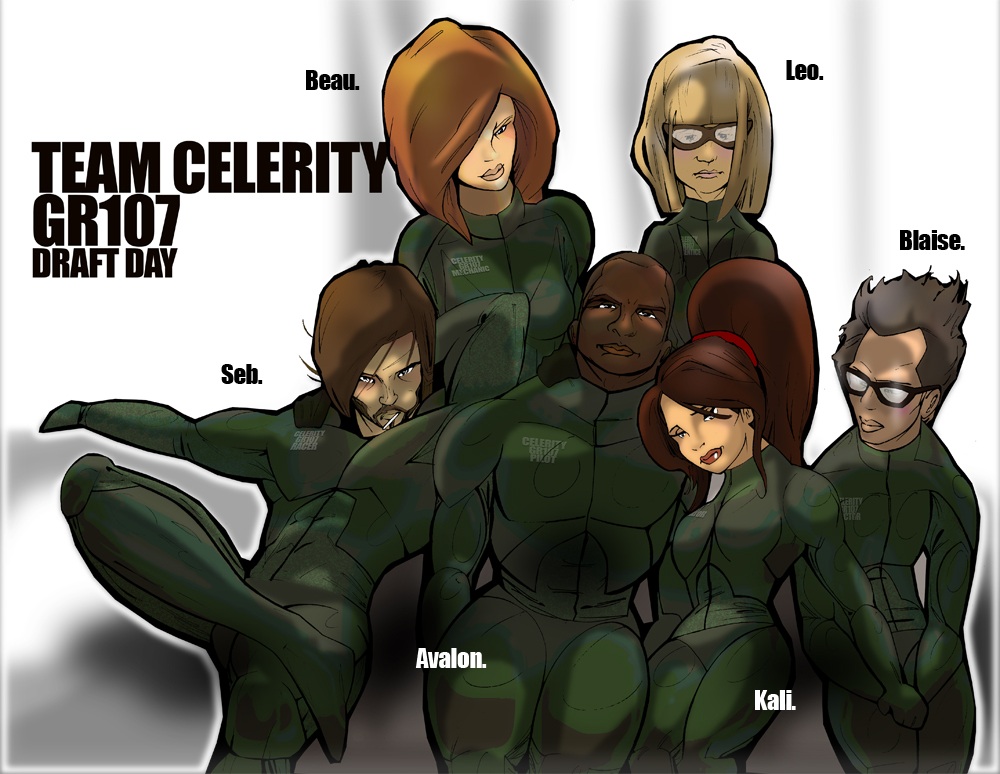 Pictured: Team Celerity – GR107 Draft Day – 1 year prior to 'lights out' (AKA Race Day).
Today, the strongest candidates in the GRA were selected by the committees to join a racing crew.   The 12th place crew from last season receives the 1st Draft pick.  Typically the Racer is selected first.
12th place crew: Celerity selected:
Racer – Sebediah Aziza
Navigator – Kalila Corliss
Mechanic – Beau Barbarossa
Doctor – Felisberta Blaise
Apprentice – Leona Dureau
The Pilot-Captain on Celerity will be former apprentice Avalon Cosette.
National press were generally shocked by some draft-picks today, with most reporting that racer: Phineas Bêtenoire should've been the 1st round pick, given his dominance throughout training.  Bêtenoire was eventually selected by Team Sabotage which should make for some interesting racing, especially in the Ocean Phase.  Team Foxy maintain their 'all female' record with 5 new female recruits joining the formidable, former apprentice — and now Pilot-Captain on team Foxy — Eleanor Aquitaine.
In a shock rejection by Apprentice cadet ***Name removed for legal reasons*** when selected by team Masquerader, a second choice pick was eventually granted by the stewards and the young Kalei Carina was promptly named.   Kalei has since been nicknamed "Lucky Seven" by fellow crew members, not to mention the worlds press due to his eventual promotion to Pilot-Captain for GR108, which will only be the 7th Grand Race for the relatively young team Masquerader.
The final year of training will now begin on board the race-ships to allow the required chemistry to develop.
Competing teams in GR107:
Masquerader
Malevolence
Enticer
Charlatan
Imposter
Grudge
Odium
Sabotage
Foxy
Sin
Decoy
Celerity