Welcome to Retailer Q, spinning 52Q's format at top Canadian comic retailers.  Comic Book Daily asks the question and our retail friends give their perspective.
[box type=question]As a comics retailer how would you characterize your sales of periodical comics versus collected editions, and what kind of life these have after the initial release? How would you gauge your comic sales in relation to format?  Are people "waiting for the trade" actually buying?[/box]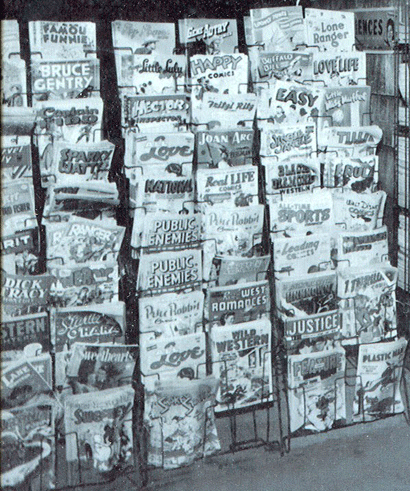 [box type=shadow]Marc Sims, owner and general manager of Big B Comics in Hamilton Ontario. Our life is comics and life is good.[/box]
Periodical sales for 2011 are about 11% higher than book format. That's pretty in line with my yearly trends. Periodicals is the number one department at both my stores and always has been. Book format is #2.
The third question is difficult to answer. The market for trades has evolved along a similar line as other departments. The publishers have flooded the market with large amounts of unsellable/extremely low demand material and I do not order large swaths of them. I used to think I needed to stock everything to be a full-line store but the excess of material has made that no longer prudent. A series that didn't sell as a comic often didn't sell for reasons not pertaining to format.
So if someone was waiting for a trade of say one of the 19 Thor miniseries from 2011 (number made up but probably close to accurate) or a Green Hornet spin off, I don't know if they bought it because there's a good chance they weren't on my shelves.
With a large number of my periodical sales in the latter half of the year coming from new DC52 titles, I can tell you that there is certainly next to no trade waiting going on in my customer base on those books, at least from what I can gather anecdotally.
[box type=shadow]Christopher Butcher, Manager, The Beguiling Books & Art.[/box]
Periodical comics haven't really been the mainstay of our business for many years now. Probably shortly after I started working here. There's been a considerable increase in overall periodical units sold thanks to DC's relaunch, we were happy to capitalize on that and periodical sales are definitely up over last year, but generally book-format product has remained strong.
There have been two or three streams of customers for the last few years, buying what they prefer. Periodical customers and sales don't come at the expense of book format customers and sales, and vice versa.
Perhaps the clearest illustration of the situation I can offer is this: We launched Little Island Comics, our kids comics store, with no periodicals, just book format stuff. The prices ranged from $6.99 to $29.99 before you started getting into the really spendy stuff, and that's a pretty wide range. After some feedback, we added all of our kids periodical comics (spinner racks, etc.) into the space, and customers were happy to see them because it gave them more choices, at more price points. The $1 comics are particularly attractive to kids on field trips.
That's what it's about, to us: a diversity of product, a diversity of price-points, making people happy.
[box type=shadow]John Tinkess, Manager and general trouble-maker, Another Dimension.[/box]
New comics and trade paperbacks account for about 70% of our business (40% comics, 30% trades) and it's really the periodicals that are the driving force behind our comic book sales. The weekly shipments are what keep our regulars coming in each week and keep the cash flowing. I find that we have very few trade-only customers as most of our trade sales are to people who also pick up single issues. With the price of most trades really not being much of a discount off the single issue price anymore, it comes down to a matter of personal preference. We stock several months worth of each title of the shelves so our customers have the option to go either way and in general, we find that super-hero books sell much better as single issues while longer, creator driven narratives like Fables or Walking Dead sell far better as trades.
[box type=shadow]Calum Johnston, owner of Strange Adventures Comix & Curiosities, Canada's oddest comic bookstores. Trying to share the comic book goodness.[/box]
Good stuff sells, quality does prevail, comix remain.
[box type=shadow]Jay Bardyla, owner/unlicensed mad scientist, Happy Harbor Comics.[/box]
We're much like John @ AD, about 80% of our stores' sales are "comics" and of that, nearly 70% is floppies. Sadly, trades carry a heavier burden on our overall inventory because if we don't sell a hardcover within 2 weeks or a softcover within 4, it seldom moves. Now there are exceptions of keystone books and lines in the superhero universe (Kingdom Come, Batman) and a the few non-superhero titles (Fables, Walking Dead) but otherwise, trades just pile up and pile up for us.
Space is a big issue. It's nice to spine books but without great presence, the vast bulk of HCs, TPs and GNs never get noticed and we can't face all the books we have in the shop. The other problem we have is the marketing of the books by publishers. Someone came in last week asking what order to read the Spider-Man books in. I had no clue as they are only labeled by story title. At least with Green Lantern I knew enough about the series to ramble off the reading order.
And the lack of ratings on indie GNs is another huge pain. If the solicitation doesn't tell me who the book is targeted at, I can't take the chance a book I think looks like is for teens is actually for adults.
Personally, I've cut back on books to focus more on floppies. I just seem to have the knack as to how they sell and I have less dead inventory on them.
[box type=shadow]Jennifer Haines, The Dragon in Guelph Ontario.  MA, B.Ed. Full-time teacher and comic store owner? Some say crazy… I say just crazy enough to work![/box]
I have a bit of a different story. Comics and graphic novels account for about 60% of my sales, with graphic novels taking the larger portion by a few percent. The majority of our tpb/gn selection is non-superhero. If we're talking strictly tpbs, then we definitely don't have a lot of movement on DC and Marvel superhero books, as customers have usually already picked up individual issues of series they're interested in. But there are a number of series which are consistent sellers for us in trades; Fables, Walking Dead, Chew, American Vampire, Echo, Kick Ass, DMZ, Northlanders, Tiny Titans, to name a few, are books that do much better as collections than as individual issues.
We devote 6 times as much shelf space to tpbs and gns, which allows us to carry a wide variety of books. It's our emphasis, more than floppies. We market this selection to the needs of the irregular or non-comic reader, and we find that while we'll always have our mainstay comic subscribers, we have a perpetual and constantly growing group of book readers, who are more interested in tpbs and gns. In fact, there would have been a bigger gap between comics and tpbs/gns without the incredible boost of the DC relaunch.
As for shelf life, most books are constant stock items; I'd say we restock about 85% of tpbs and gns.
Jay: So here's a question for everyone; is our sales structure a result of our environment or is it something we've created and our environment has adapted to?
John: I think a lot depends on how long a store has been open. It seems like older stores tend to do better with single issues but they also tend to have more of the older, die-hard readers as their customers. That's not to say that owners/managers don't also have a big influence on their store's overall sales direction too. We were early-adopters of the trade paperback format back in the 1980's when you could still fit every in print book on one bookshelf and have always encouraged our customers to go with whatever format they prefer but we still have a strong contingent of people who have been shopping with us for 25+ years that prefer the monthly format.
Jennifer: I've always adapted to suit my environment. We switched to shelving tpbs by genre for that reason. We realized that comic customers would find us, so we needed to attract the people who wouldn't ordinarily find us. So I definitely think I adapt to my environment rather than vice versa.
Jay: I used to think we adapted to our environment but I think because the majority of the staff loves floppies, we attracted a collective of floppy lovers and then continued to grow our floppy section. Ultimately I think it might be a chicken/egg scenario but it is interesting to note how much influence the staff has over the customer base we draw.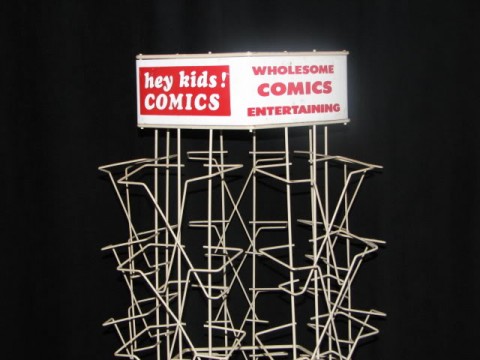 [box type=shadow]Brahm Wiseman, sequentially yours, Heroes, London ON.[/box]
At Heroes, we sell a slightly larger percentage of trades and graphic novels than individual issues. This has been at a gradual increase over the last 15 years or so, and a change that we have definitely pushed and embraced. We were always a huge supporter of TPBs and GNs because they tended to make our job easier. Who wouldn't want to be able to stock most of the best comics at all time? TPBs have facilitated keeping most of our favorite comics in stock at all time as many remain in stock for a long time helping make them accessible to new readers. Obviously, the big publishers have been writing for the trade for years now as the decompressed 6 to 8 part storyline is the norm in modern mainstream comics. Trades make ordering and stocking easier; much of the ordering of new monthly comics is speculatory. We haven't read the monthlies yet and are unable to completely judge its quality or evaluate customer response until after it has shipped and, in many cases, has already gone out of print and sold out.
There is something to be said about letting the cream rise to the top. Right now, there seems to be a glut of unnecessary TPBs and GNs collecting comics that were not overly successful as monthlies. Most floppy customers, stick with this format out of habit or to stay current. The only way to keep up on mainstream comics right now is to read floppies or avoid all spoilers and read the collections as soon as they come out.
Let's not forget the elephant in the room: digital. No doubt, there are many great things about print and we definitely won't see it completely going away, but we can't discount that the market should be changing in the next few years. Hopefully, we will see a major increase in TPB sales as more people are introduced to new comics series in digital form. Possibly, this will become the predominant way to digest many new comics and to stay current on the mainstream comic scene. This could usher in a completely new model for how comics are marketed and sold. Comics can be tested on the market digitally, leaving only those that are successful to ever see print. As an industry, it is readers of comics that are most important, not the format. At our store, we would be happy to not have to focus so much of our time on new comics. It might be nice to just focus on stocking really good comics.
[box type=shadow]Bruno Andreacchi, B.A.'s Comics in London Ontario.  Slight spine damage otherwise I'm fine to very fine.[/box]
In the last couple of years, it seems that, to me at least, the "collected edition" has just exploded in numbers. 2012 will see yet another huge increase in volumes, especially from DC's new 52. As usual, Marvel will collect every story arc and mini, be it good, bad, ugly, or indifferent. Add in Dynamite, Dark Horse, and dozens of other publishers. That, coupled with the new digital paradigm, dictates a change in ordering strategy for the future of my business.
About 95% of my customers buy "floppies". For November, that was 50% of my sales, and involved an inordinate amount of time, effort, and paperwork. Average sale was $3.75. About 25% of customers buy "books", and accounted for 20% of November sales. Average sale was $24. (Administration time included with periodicals.) Vintage comics (mostly Silver and Bronze Age) were 30% of sales, average amount was $40, and were a lot of fun to process. So, while weekly floppies and weekly non-floppies (hardies?) are my bread and butter, vintage comics are the cold glass of milk that helps it all go down.
People are staking out their reading and collecting preferences and the delineations are clear. Trade-waiting is a tiny fraction of the pie, and "digital driftees" an even smaller sliver that I couldn't care less about. Just this past week, a good customer who went digital with 50% of his (all 52) DCs with #2, switched back with #4 (and filled in all the gaps) citing frustration with the technical problems he's had with the… delivery systems. [Did I even use the proper terminology? *shrug*]
I definitely adapt to the environment, even if it means ignoring certain aspects, in order to focus more clearly on others. DC offers returnability and I order more to help me safely zero in on my Goldilocks numbers. Marvel ships twice a month and I order less for the wall. If they're only giving me two weeks to sell their wares instead of a month, I react accordingly. Rather than double my Marvel facings, I'll give more facings and space to more independents and hardcovers. (Love those 80% off sales!). And I'll spend more time working on cool Silver Age comics. I had yet another long-time customer stop all new comics and I heard the same litany of reasons why: "I'm way behind in reading. They pile up. When I do read them, I don't enjoy them the way I used to. Instead of $200 a month on over-priced and decompressed gimmicks of the month, I'd rather collect one or two vintage Steranko. Or Ditko. Or Wrightson. Or fill-in-the-blank-industry-legend."
It makes me just beam. More profit in less time. More fun and strong bones. Mmmm… milk.