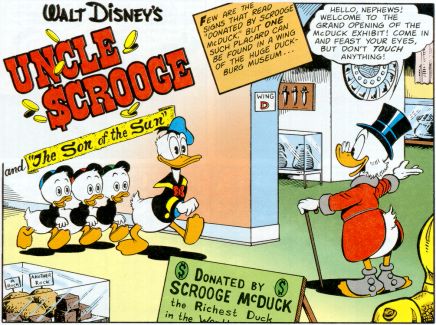 When I first started working conventions one of my big surprises was how many collectors loved Disney comics. It wasn't that I was surprised that there were Disney comics, or that there were collectors for Disney comics, but rather the level of passion that fans had for Disney comics. These collectors weren't interested in the sweet copy of Hulk 181 that I had behind the me, or the primo Batman 200. Nope, these savvy investors were looking for the best copies of Four Colour 189 that they could find, and all for the love of some ducks.
I never read any of the Carl Barks  or Don Rosa duck comics until relatively recently when Fantagraphics began releasing collected editions. I was, however, a big fan of the TV show Ducktales (which was based upon Barks and Rosa's works) and thus was already familiar with many of the denizens of Duckburg. Continuing in its tradition of bringing the best of Donald and Uncle Scrooge to the masses, Fantagraphics has released the first volume in the Don Rosa library. Here is the publisher's blurb:
"Great howling crashwagons!" The Richest Duck in the World is back — and so are noisy nephew Donald, wunderkinder Huey, Dewey, and Louie, and rascally richnik Flintheart Glomgold! Because you asked for it, we're proud to present our first complete, chronological book of Duck adventures by contemporary fan favorite Don Rosa — following in the footsteps of Disney legend Carl Barks with an exciting, lovingly detailed visual style all his own! Rosa, among the world's most beloved modern cartoonists, launched his Barksian career in 1987. Famed for his prizewinning "Life and Times of Scrooge McDuck," Rosa wrote and drew a whopping two decades' worth of ripping Scrooge and Donald yarns! Presented with sparkling color and "extras," these Duckburg epics are getting a definitive, comprehensive North American edition for the very first time — at a price even Scrooge would consider a bargain!
Author: Don Rosa
Format: Hardcover
Pages: 208
Dimensions: 8.5″ x 11″
Colors: full color
Year: 2014
Publisher: Fantagraphics
ISBN-13: 978-1-60699-742-0
Additional Details: © Disney Enterprises, Inc.
What the blurb doesn't tell you is that the extras are a series of essays and behind the scenes info written by Don Rosa himself. Rosa grew up reading Carl Barks' earlier work on Uncle Scrooge and the Disney Duck universe. When he got the opportunity to continue the tales of Duckburg in 1987 he could scarcely believe his luck. However, he wasn't some super fan that wanted to take his beloved childhood memories in new and weird directions; he wanted to keep telling Barks-style duck stories like the ones he loved growing up. Rosa's stories took place during the same decade as Barks's, referred to previous events, and expanded on universe that he already knew and loved.
It would be too easy to dismiss Rosa as fan who just copied a predecessor's work. He built upon an already fleshed out world, sure, but he had just respect and reverence for the work and the characters that he was able to create stories all his own that were both familiar and new.
For those who are looking for all-ages stories that are full of adventure this should be your next purchase. Rosa is a master cinematic storyteller, and his tales of treasure hunting, grit, and the folly of material possessions are just as captivating now as they were almost 30 years ago.
Fantagraphics has done a great job with this collection. It is a larger size than their other Duck-stories, for those of you who like that sort of thing, and art really does stand out. However, I also found the colours a bit too dark and some of the detail is lost.
These are really minor quibbles though, and you a lot of great comic for $29.99. And to all those collectors who told me story after story about your favourite Ducktale: I get it now.