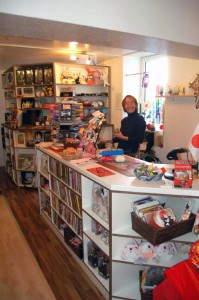 When I mentioned the other day that I had been listening to a Blaxploitation mix that I had picked up in Paris made me think about my trip (done in September 2007) to Berlin, the south of France, and Paris. I dug out this article I wrote for Big B Comics' monthly newsletter, The Informer, upon my return, detailing the outstanding comic book stores I found on that trip.
When I travel, I like to go to the local comic book stores. In my experience, this has led to a number of happy surprises – usually hard-to-find or didn't-know-they-existed finds. Whether I leave with a new acquisition to my growing collection of stuff or not, it's always nice to see what the stores are doing differently. During my time away, I had the opportunity to visit a number of different comic book shops in both Berlin and Paris.
The first shop I encountered in Berlin was Japan Shop. Devoted to everything Japanese, manga and anime (and related merchandise like toys, music, and imported snacks) dominated the main area of the store.
A couple of days later, I made it to the second shop, called Grober Unfug. While they had a fair selection of manga, the store prided itself on its extensive collection of American comics and graphic novels (some were in German but most were in English). As I was making my way through the store, I found a couple of cute little designer toys to add to my collection. There was a small room to the back devoted to new comics, two or three showcases devoted to collectables and smaller toys, and a fair selection of graphic novels (in both English and German) off to one side. The design of the store really called out to me and it was well stocked, there wasn't anything to set it apart from any other comic book shop I've been in.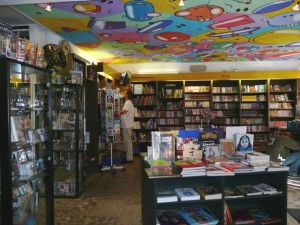 The third store was called Modern Graphics and reminded me a lot of Grober Unfug. There I found some postcards – which are still waiting to be framed and hung – and some more designer toys. I picked up a couple small books. This is a bad habit of mine – buying too many books on vacation. Over the course of my vacation, I ended up spending a small fortune shipping books back to Canada and still ended up having to pay overages on my baggage for going over weight. (What? I'm a bibliophile. I can't just NOT collect books.)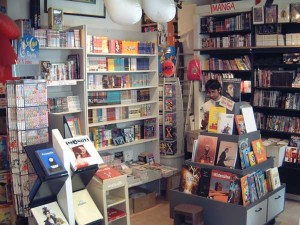 The last store was the one I found by chance, and was my favourite in Berlin. I had found it during a Berlin Walks walking tour about Jewish Life in Berlin. It was on our way to the New Synagogue on Oranienburger Strasse and it was also close to St. Hedwig's hospital in the Spandauer Vorstadt/District of Berlin.
I wish I had photos of it to show you because it was an amazing store! This "comic gallery" focused more on selling independent and alternative comics. Despite knowing very little German, I picked up a number of comic books for the art. While the shabbiest of the three, I was intrigued to discover that the store also contained a lending library for members to share their books (consisting of independent and alternative press books) with others. While it may not have been pretty, this sense of community that the store fostered made me feel quite comfortable there.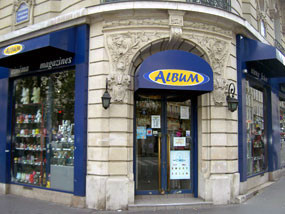 In Paris, I found a number of shops in the Latin Quarter area of the city, close to the Saint Michel Metro station and across the river from Notre Dame Cathedral. The first two stores I encountered was really one giant megastore called Album – it reminded me of London's Forbidden Planet – that had spread out over the space of the two stores.
The first shop was devoted to gaming – cards, miniatures, Heroclix, models – but had some, higher-end Disney, Asterix, TinTin, the Smurfs, Barbapapa, and Le Marsupilami toys and collectables. Its sister store was devoted to toys, action figures, and designer toys, as well as comics (both new and old), graphic novels, and manga. Both stores were well stocked (there was something for everyone) and very nicely designed (if not a little cramped), and I enjoyed joining the crush of customers (it was a Wednesday and hence, New Comic Day) in a shopping frenzy.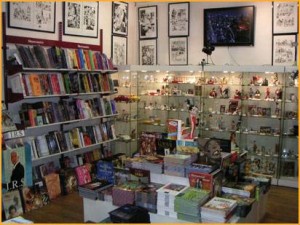 It was clear that this store dominated the sales in the area. However, I found two other, smaller stores, the Boulevard des Bulles and La Comete de Carthage – one was devoted to anime and manga, and the other was devoted to both new and old American comics – in the neighbourhood that did mange to survive, despite the competition.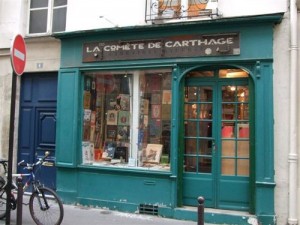 Across town, I found Super Héros, which was this awesome little comic book shop that specialized in alternative, import, and quality bande dessinée.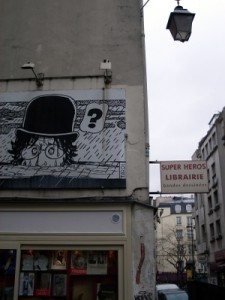 Shelley Smarz is a comic book scholar, fan, and student. Writing this article has made her travel sick and she's contemplating jumping on a plane so she can walk the streets of Paris and Berlin again.