When I think about bandes dessinées québécoises (BDQ) from the early 1970s, the main collecting strain that comes to mind involves original content that was part of the "Springtime of Quebec Comics." The majority of these comics were comedic and underground works. Eventually, several of the creators from this era of BDQ would become involved in the long-running magazine Croc.
A second collecting strain from this era involves reprints of American or British comics translated into French. This era of reprints was dominated by one company in particular, Les Éditions Héritage, which published reprints of many Marvel, DC, Archie and Charlton comics from 1968 to 1987. Certainly, other collecting strains exist from this era and there were other companies printing translated reprints, but Héritage was publishing a massive amount of these comics at this time. Since these are reprints, I have not attempted to catalogue them. That said, thanks to the Grand Comic Database, we know that Héritage reprinted thousands of translated comics during this period.
Until recently, these French reprints were looked at as valueless curiosities by collectors outside of Quebec, but this has changed over the past few years. Specifically, there are several Marvel Héritage reprints featuring first appearances of key characters. Such comics have become coveted by collectors looking for something a bit different.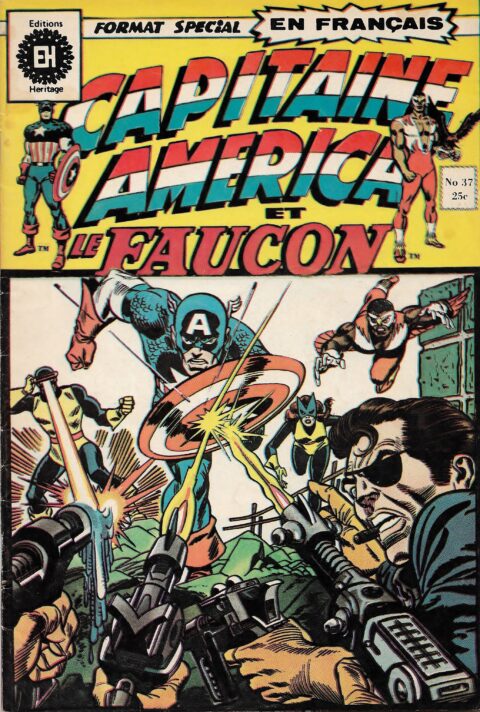 Héritage was founded in April, 1968, by Antoine Mireault, Norbert Mireault and Maurice Poirier. They sold the company to Payette & Payette later that year, which was aggressively expanding at that time. The new parent company was originally founded in 1914 in Saint-Jean-sur-Richelieu by Georges-H. Payette. Payette's printing press business quickly came to dominate its industry in the Richelieu region. This was a family business and Georges-H.'s eldest son, Jacques, became heavily involved in the company in the mid-1950s. The Payette family incorporated the company in 1956 as Payette & Payette. When Georges-H. died in 1959, Jacques became the CEO. In 1969, Payette & Payette purchased Simms Printing Co. of Granby and rebranded as Payette & Simms. The company moved its headquarters to Saint-Lambert (a Montreal suburb), housing its comic book brand under the same roof as its other printing businesses. Ultimately, Héritage was only one part of Payette & Simms' large printing press empire (which included books and newspapers). The company continued to expand throughout the 1970s.
In 1981, Jacques' son, Yves, joined the company. He would become its president in 1985. It seems as though the company is now defunct, as its website is gone and much of its fixed assets were auctioned off in December 2016 by Thomas Industries. I may explore this at some point down the road, but for today's purposes, this is a moot point (as, with the exception of Archie comics, the company stopped printing all comics in 1987). Héritage still exists today as an imprint of Dominique et Compagnie, which was started in 1997 by Jacques' granddaughter, Dominique Payette, and is one of the main publishers of children's books in Quebec. To this day they still occasionally publish BDQ, but this is well outside of the purview of my research interests and intentions.
Going back to the early years of Héritage, what few people realize is that the company also published and promoted Quebecois characters throughout the 1970s and into the 1980s. The earliest Quebecois comic printed by Héritage that I have found reference to is called Les Aventures du Guy Vincent de la Marine Royale du Canada. Unfortunately, I have not been able to locate a specimen and know virtually nothing about this comic other than that it was likely published in 1969.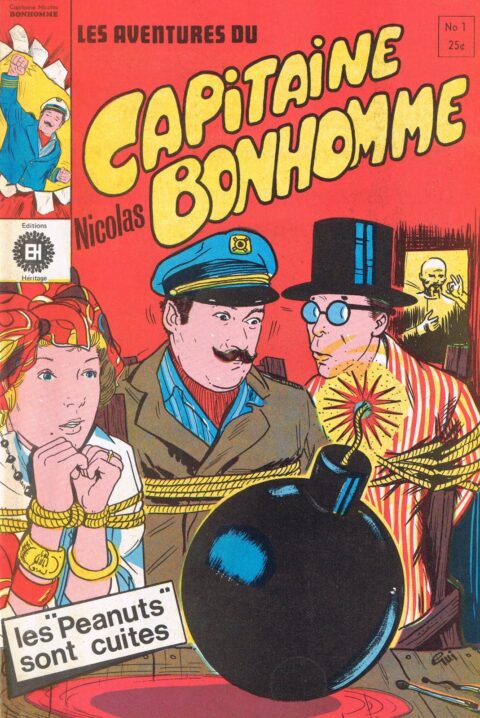 The next comic published by Héritage was 1970's Les Aventures du Capitaine Nicolas Bonhomme, which was drawn by Gui Laflamme. Capitaine Bonhomme was an extremely popular children's television and book character at the time. The character was created and portrayed by actor Michel Noël and debuted on the Télé-Métropole (now TVA) series Capitaine Bonhomme in 1962. The character appeared in a variety of children's televisions series continuously until 1982. This included the popular series Le Zoo du Capitaine Bonhomme (1963-1968) and Le cirque du Capitaine (1970-1973). The Héritage comic was released during the height of the popularity of the latter television series. Le cirque du Capitaine also featured the debut of the popular clown character, Patof, who would also appear in several television series, children's books and BDQ (which were published by rival company Mirabel).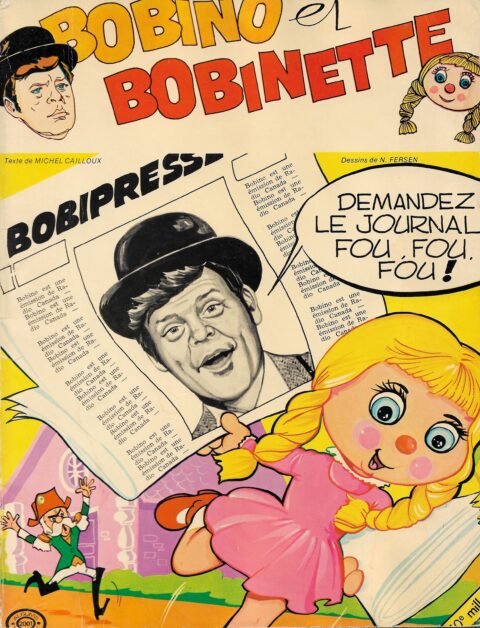 Héritage would release its next comics based on a popular Quebecois children's program in 1973: Bobino et Bobinette. This two-issue series was released in album format and featured the characters made famous by Guy Sanche and Paule Bayard with the debut of the television series Bobino on Radio-Canada in 1957. The series featured animated shorts and puppetry. Stories revolved around the kind gentleman, Bobino (played by Sanche), and his sister, the puppet Bobinette (voiced by Bayard from 1961-1973 and Christine Lamar from 1973-1985). The television series is one of the most famous of its kind in the history of Quebec, running for twenty-eight seasons and producing 5,170 episodes.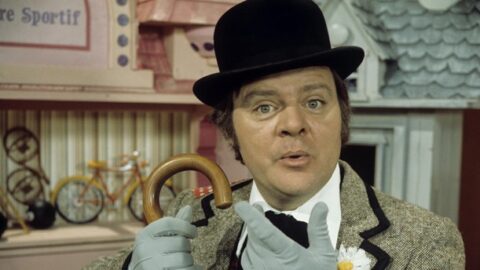 Perhaps the most interesting of these early Héritage originals debuted in 1974: Robert Hénen's three-issue series Sharade Aventurière de L'espace: Le Grand Silence. An original, science fiction epic starring a female lead character (which had become a popular genre in Europe by this time due to Barbarella), Le Grand Silence is an early example of this genre in the French-Canadian context. Hénen was born in Verviers, Belgium, in 1931 and completed his formal education in 1951 in Liège. After finishing his then mandatory military service, he worked as a decorator at a department store in his hometown. He emigrated to Canada in 1959. By the late-1960s, he was working as a designer and concept artist for various advertising agencies in Quebec. He also worked as a concept artist for Expo 67 before creating his best-known series, Bob et Lili, which debuted in the December 12, 1971 issue of Safari Montréal-Matin. He used the pseudonym "Okapi" for his work on Bob et Lili. After Le Grand Silence, he left comics altogether. He would spend the rest of his life living in Canada prior to his death in Laval in 2011.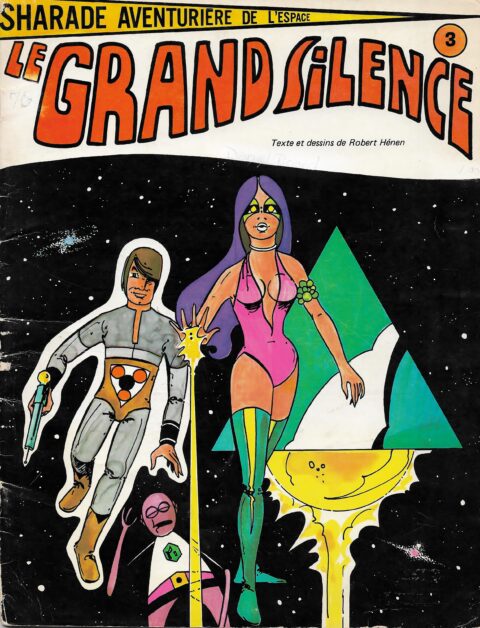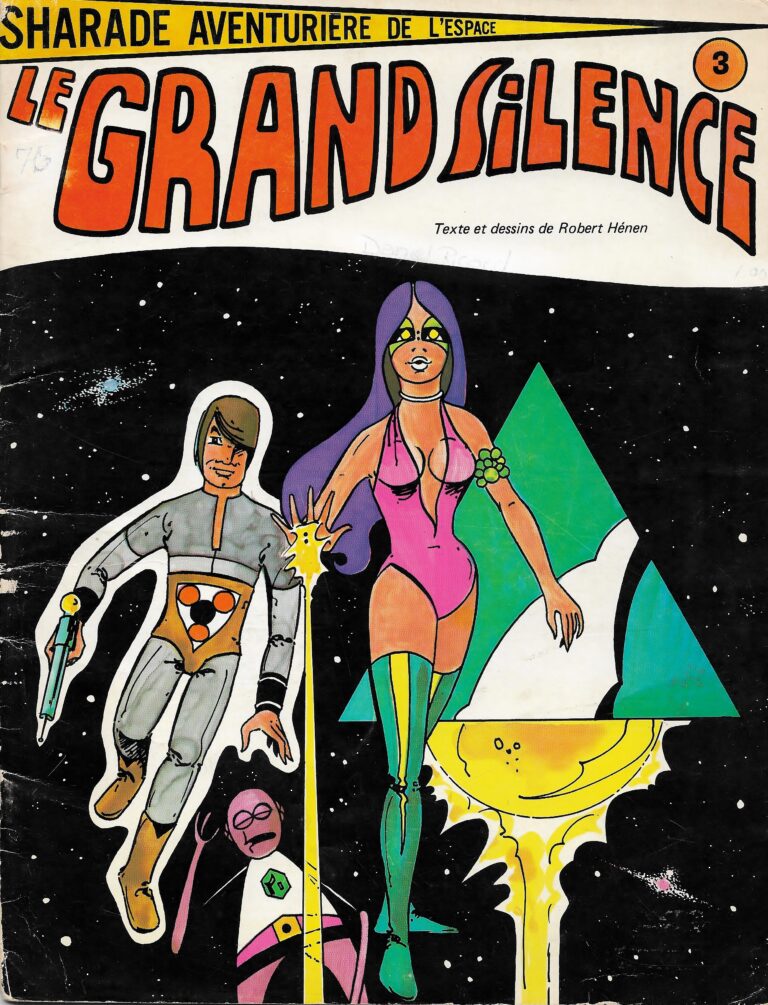 Concerning original BDQ, the company hit its stride in the late 1970s after hiring another Belgian, Henri Desclez. Desclez studied fine art in Brussels and embarked on a career in comics in the late 1960s when he had his first work appear in Pilote. Afterwards, he worked on several series in Belgium, including doing backup stores in famed comics like Tintin and Spirou. Eventually, he would briefly become the editor of the Belgian version of Pilote in 1975. Along the way, he helped to carve a path for a variety of creators working in Franco-Belgian comics.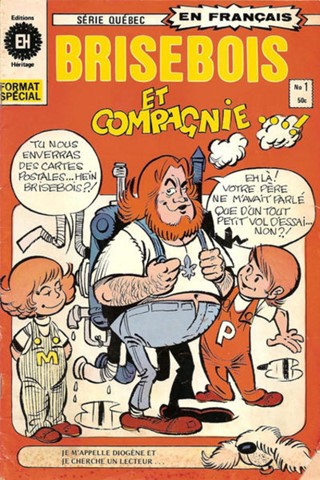 He moved to Quebec in 1976 and quickly formed a partnership with Héritage, where would create several series, including Brisbois et Compagnie, Nic et Pic and M. Tranquille. Brisebois et Compagnie ran for nine issues from February to October 1977. The issues that I have seen do not identify the creators, but I believe that all of the issues were drawn by Henri Desclez and written by Andrée Brault. The series focuses on the adventures of the burly title character, the two children who accompany him and his dog, Diogéne. I have also seen pocket versions of Brisebois et Compagnie comics for sale, but do not know how many were released. Apparently, Diogéne would feature in its own one-shot comic too in 1977. However, I have yet to see a specimen surface and have not been able to verify that a standalone Diogéne comic actually exists.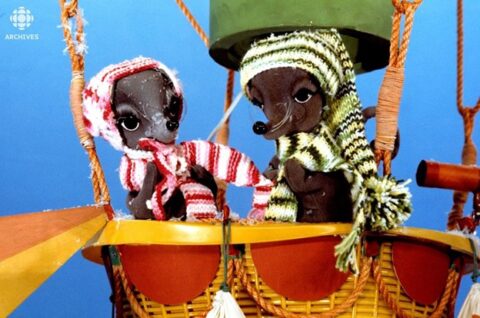 Nic et Pic was based on the popular children's television series of the same name, which ran on Radio-Canada from 1972-1977 and was dubbed into English on CBC from 1975-1977. The television series featured the adventures of two puppet mice named "Nic" and "Pic" who travelled the world in a hot air balloon. Michel Cailloux (who wrote the Bobino et Bobinette comics for Héritage) would write several children's books based on the television series, while Desclez and Brault would create the comic for Héritage. Unfortunately, the comic series was released just as the television program was ending and only lasted for six issues from 1977-1978. Despite this, the characters were extremely popular for a short period of time and had merchandise associated with them (with Radio-Canada advertising mail order Nic and Pic hand puppets in the comic books).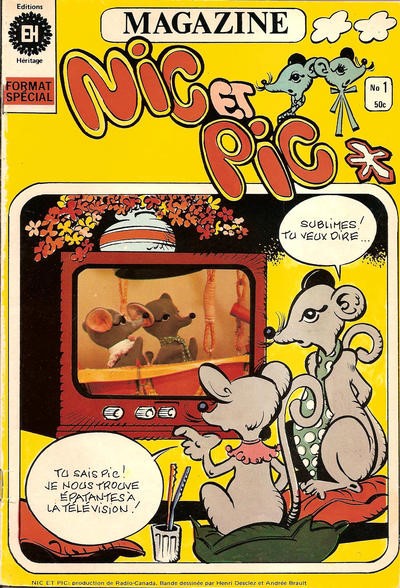 Like Nic et Pic, M. Tranquille was based on a television puppet character. Monsieur Tranquille translates to "Mr. Silent," which is a major part of what makes this character comedic. The character was originally featured in one of the Patof television programs before appearing in its own spinoff series from 1977-1978. The character was portrayed by actor-comedian Roger Giguère. During the height of its popularity, the character appeared on the cover of TV Hebdo and was featured in several disco songs such as Ma'm Thibault, which was a # 1 hit on the Quebec charts.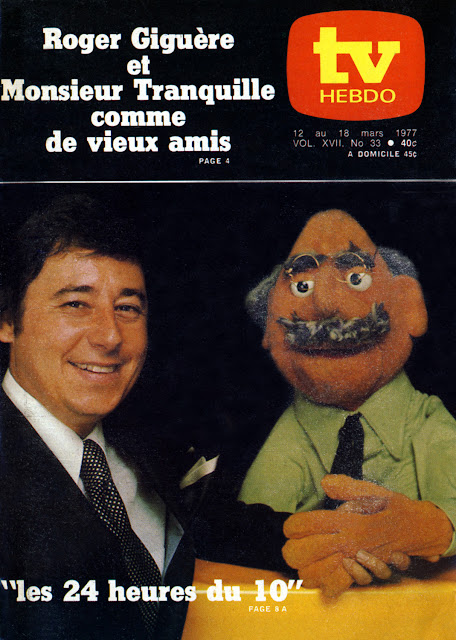 The M. Tranquille comic debuted in April 1977 and would last for eight issues until ending in June 1978. The series was drawn by Desclez with scripts by Claude Leclerc. 1978 also saw Desclez contribute to the one-shot Québec Humour for Héritage. With his series all cancelled by the middle of 1978, Héritage would bind remainder copies in issues of Comicorama (with issue # 110 being particularly coveted because it features several issues of all three series).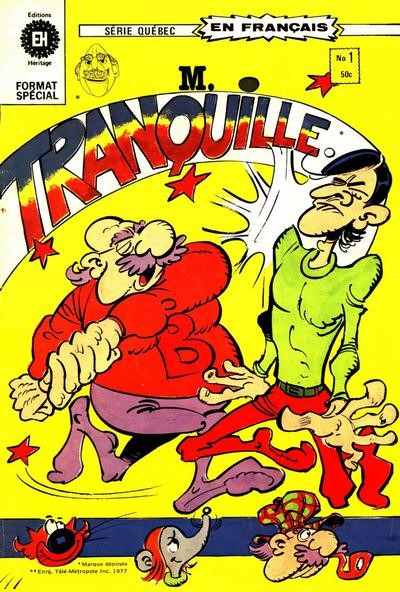 Desclez's relationship with Héritage would last until 1980 when he left the company to start his own label, PAF Loisir, which would publish comics for the Quebec market based on licensed characters such as The Smurfs, Tintin and Goldorak, as well as reprints of 2000 A.D. (as L'An 2000). Several of the series released by PAF Loisir would feature Canadian content.
After Desclez left Héritage, the company continued to release Quebecois content into the 1980s with series such as Robert Schoolcraft's Capitaine Cosmos, which presented the comic book adventures of the title character who was featured in the children's program Les Satellipopettes and was played by actor Claude Steben. Capitaine Cosmos would run for six issues from 1980-1981.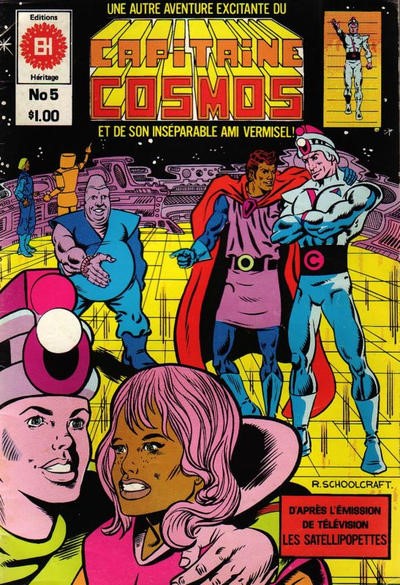 Héritage also helped aspiring young creators (like André Poliquin) learn that craft by having original content appear in some of their reprints as backup stories. Poliquin was afforded an opportunity to make his own original backup stories that would appear in reprints of American superhero comics for Héritage during the early 1980s. I have not been able to identify which comics Poliquin's original work appeared in, but he crafted two such series: "Stranox" and "Escadron Delta."
After Héritage cancelled his backup stories, he would self-publish his own series, Phoenix, beginning in 1985 using the name Anderpol Comics or Marsam Anderpol. However, this new imprint was not entirely detached from Héritage, as the comics were printed by Payette & Simms. Phoenix is like a fever dream pastiche of characters that look like mashups of major toy lines from the 1980s like Masters of the Universe and G.I. Joe: A Real American Hero. The series borders on being an example of outsider art but managed to last for five issues. He also self-translated his Escadron Delta stories into a comic called Delta Squadron for the American market. He would also two self-produced live-action films based on his comics that have become something of an urban legend. Poliquin's work has gained newfound interest in the past year due to being heavily featured by the folks at Power Comics.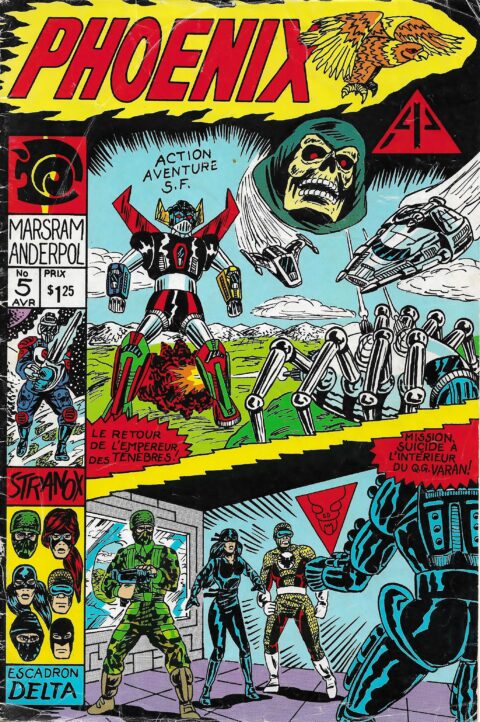 Héritage will always be remembered for reprinting thousands of American comics for the Quebec market. However, it was far more than just a reprint company. The majority of the original comics that were published by the company were based around children's programming that aired on Radio-Canada or Télé-Métropole, but Héritage also released some comics like Le Grand Silence that were for older audiences. Although these original comics only make up a minor amount of the comics that were published by the company at the time, they are part of the broader story of the emergence of BDQ during the 1970s.
These comics are not necessarily rare, but they can be hard to find outside of Quebec and specimens that come to market tend to not be in the best shape. There are a small number of comics that I have identified as being released by the company that I have yet to see in person and I suspect that there are more that I am not yet aware of. As such, this month's edition of Forgotten Silver is best thought of as an introductory look at Les Éditions Héritage. As I am able to source additional issues of these comics, I hope to be able to do a more in-depth analysis in the future.