I have a fair sized original art collection and a website I set up years ago (and never update) to showcase it, eBabble Comic Art. Since I'm a fan or comic art I started our Web Arted weekly feature in 2011 and as such monitor a large number of comic art websites. Tumblr has made this a lot easier, but is also a mix of the same thing over and over again.
Brian Michael Bendis runs one of the most watched comics Tumblr sites and I was excited and surprised to see the following piece two weeks ago.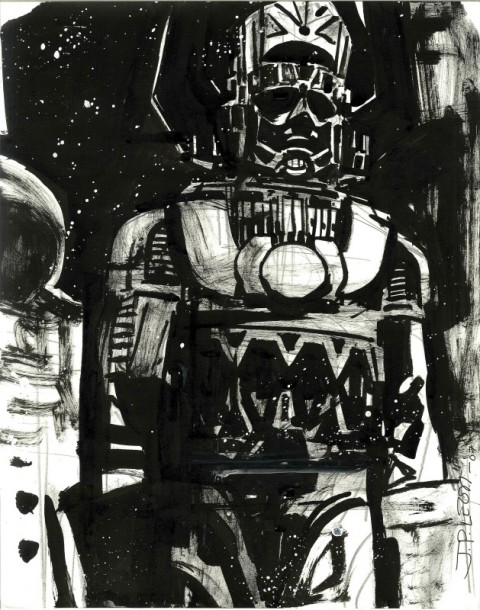 That's a sketch of Galactus I commissioned from John Paul Leon at the New York Comicon in 2007, as seen here. Bendis' Tumblr showed "Reblogged 2 weeks ago from transmissionsgeekroom (Originally from joearlikelikescomics)". There was a source link back to joearlikelikescomics, another Tumblr site, but no source or mention of where the art came from.
Back when I started Web Arted (actually the category is called l'art pour l'art, or art for art's sake, but that never got any traction) I knew listing where I was getting the art from was important. The source should be credited, and readers can click and see what else could be waiting for them down that particular rabbit hole. Now pretty much everything comes from Tumblr, Comic Art Fans and auction sites. That's not a bad thing, since the auction sites take excellent scans and mostly keep them online well after the auctions end. Tumblr seems to give the option of listing the source, but that's not always the case. Recently I decided not to show art that doesn't list a source.
Watermarking is an option, but that's like hitting a fly with a sledgehammer. If you're going to show art then let the viewer see it all.
There's no indication where Joe saw this art and used it for his Tumblr. It would have been nice if he listed his source and so on and so on until it came back to my site. I'd like to say it's all about referencing a source and giving credit where it's due but a small part of me would like the world to know that it came from my website. So now it does. Yay!