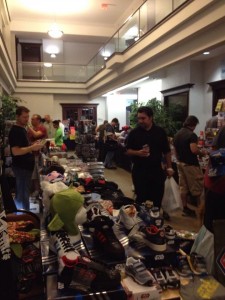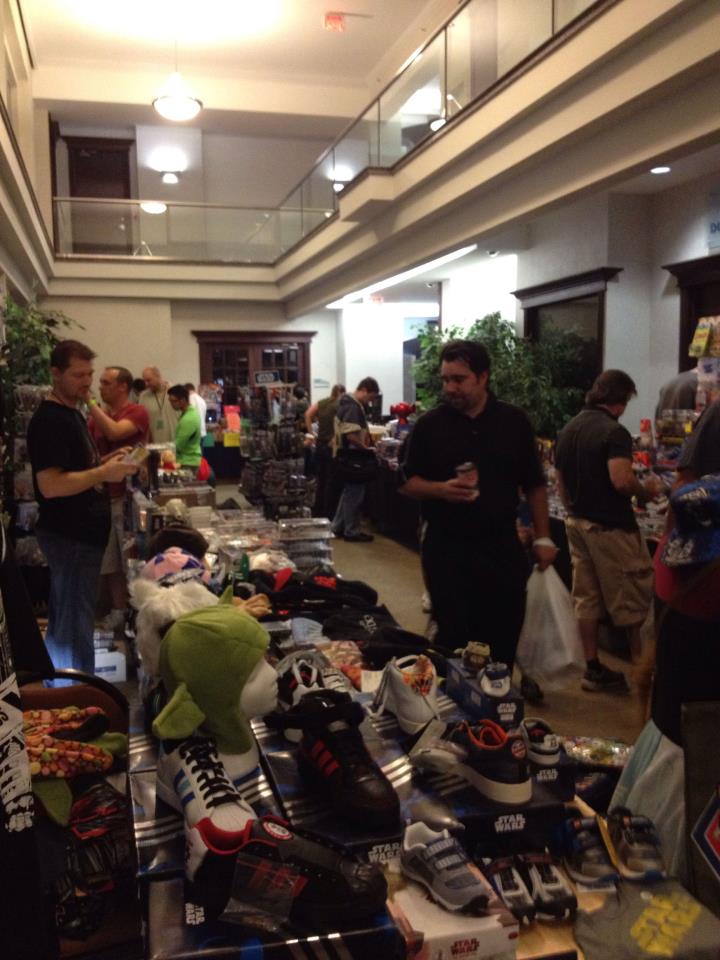 Many toy collectors know about the Burlington Toy Show, which is now known as the Burlington Toy Con.   This has been a spectacular show to find the action figures and toys you just need to get.
June 3/2012 was the most recent Burlington Toy Con, its summer edition.
The show's original location used to be at the Holiday Inn in Burlington.  That venue was very easy to get to.  The Inn had two large conference rooms which meant lots of space for vendors.  Plus it was close to other amenities like restaurants, which are a must when you need to re-fuel so you can buy more toys.
The Burlington Toy Con's spring show was at a new venue.  The Atrium Banquet & Conference Centre in Burlington.  The Atrium has two conference rooms, but they are smaller than the ones over at the Holiday Inn.  There were not as many vendors at the spring show, compared to other Burlington Toy Cons.  But all that changed with the Summer show.
Vendors were moved around and a couple of things were changed to make The Atrium really work for the Burlington Toy Con.  There was a lot of selection, and several of my favourite vendors were there selling their wares.  But more on that later.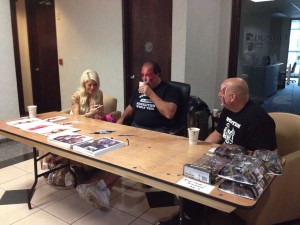 Now that the quick background of the Burlington Toy Con is out of the way, here's the real meat to the story.
COMIC BOOK DAILY INVADES BURLINGTON TOY CON.
As you've read in my articles before, there is a dedicated group of us here asscociated with Comic Book Daily that love toys.  Fellow CBD'er Brent Chittenden is one of them.  Since last summer we make a Road Trip out of going to a Toy Con/Expo.  This week's Burlington Toy Con is one of the first big ones this summer (Action Figure Expo, TF Con, Can Joe Con and Fan Expo to follow).  Burlington has always been a good show for me, so it is one I really enjoy going to.  Over the past week our little "Toy Alliance" consisting of Brent, Gen (Brent's lady), Ryan P, my Wife Angela and myself chatted back and forth and came up with a plan.
Also during many of our  messages back and forth we also had a wish list of what we wanted.  It is important to come up with a game plan before you go.  The two things on my list was the Guardians of the Galaxy set and a Black Widow Marvel Universe figure.  Everybody knew that is what I was looking for, and if they saw it before me they knew to have it on hold for me.
First thing Sunday morning Ryan P, my wife and I jumped in my truck and headed out on the highway (after our very important stop of breakfast at Timmy's…  mmmm S'mores donut).  After the big drive from Barrie to Burlington we arrived at the Atrium.  The first sight we were greeted with was a 1968 Charger, done up like the Dukes of Hazzard General Lee.  There was supposed to be a Knight Rider K.I.T.T. there, but with the threat of rain, it didn't show up (or at least I didn't see it).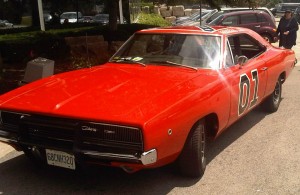 After we paid our admission we split up.  I have a very different style of checking out a show than the rest of our crew.  I like to circle the room very quickly and see what everybody has.  Then I like to head back to the vendors who have what I want.  At the last Burlington Toy Con I found exactly what I wanted within 10 minutes of getting to the show… and spent my budget during those 10 minutes as well.
After combing the aisles and tables I saw what everybody had to sell.  I ran into several people I knew and had the opportunity to chit-chat for a bit.  One of the people I ran into was Mike Heddle from Bounty Hunter Toys and the Canadian G.I. Joe Convention.  He told me things are very busy for the CanJoeCon and he was working on all the aspects of the show.  He's been booking flights, rooms, convention exclusives and a whole bunch of stuff that I can't even imagine the amount of work that goes into it.  I know this year's CanJoeCon will be a success, and all of his hard work is greatly appreciated by all us Joe Canuck's who will be attending the show.
I also got the opportunity to see my friend and fellow CBD'er Anthony Falcone.  We talked about the recent developments with G.I. Joe Retaliation and hope the movie will be successful next year (in the meantime I'm rooting for Expendables 2 to be my big movie of 2012).
There were a lot of visitors to this Con.  At times it was tough to move around the conference room floors.  After we were there a couple of hours, the crowd died down and it was easier to navigate the room.  Almost every toy you can think of was there.  And there were many deals to be had.
One of the busiest areas was a vendor selling DC Direct figures for $5.  This was an unbelievable price.  I don't buy too many DC toys, but I found myself picking up a couple just for the price alone.  The same vendor was selling t-shirts for $5 as well.  I couldn't resist picking up a Tron t-shirt.  You can never have too many Tron t-shirts.
Wrestling is also a big attraction for the Burlington Toy Con.  This year's special guest included Angelina Love of TNA and WWE Legends Tag Team Demolition.  For a very affordable price you can have an autograph or picture with these wrestling superstars.  Jimmy Hart will be the special guest for the September Burlington Toy Con.  It will be interesting to see him in person.
Burlington Toy Con also has a costume contest.  It looks like they have more participants at every Con.  It was suggested to me by Ryan P that I bring my Captain America costume.  Maybe next time.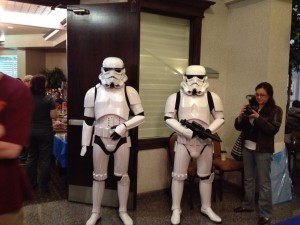 With the new venue and new name the Burlingtoy Toy Con is striving hard to be a premiere toy show.  Before it was just a place to pick up some toys from vendors.  Now with the costume contest, special guests and attractions to see it is a great show to go to.  The fall edition of the Burlington Toy Con will be September 9th.
You may be asking yourself, what did I pick up?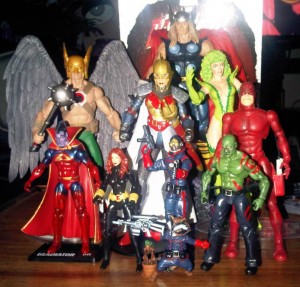 I was able to find my Guardians of the Galaxy set.  It was a set I was going to pass on originally, but after recently watching an episode of Avengers: Earth's Mightiest Heroes, I never realized how "bad-ass" Rocket Racoon is.  After watching that episode, I had to own that set.  I like collecting the Marvel figures who fit into the toyline on a galactic scale.  Galactus and Silver Surfer are two of my favourites from my collection.  The other galactic Marvel Universe figure I picked up at the show was Gladiator.  One of my favourite Gladiator stories is when he fought the Fantastic Four during John Byrne's run on the title.  He will fit in nicely with my Fantastic Four collection.
I bought several DC figures at the show.  I am not a huge DC toy fan, but I do have several figures that I find interesting.  I picked up a Brightest Day Hawkman, Flashpoint Wonder Woman and a Justice League International Fire.  They were $5 each, so you can't go wrong with that price.
Another item on my wishlist for the day was a Marvel Universe Black Widow.  I found a vendor selling the Toys R Us exclusive Black Widow with the Avengers light up base.  I've been looking for a decent Black Widow figure and this sculpt was my favourite.  That same vendor had a Marvel Legends Daredevil.  I've been looking for a good one to replace my Ben Affleck Daredevil, and this is the one I've been waiting for.  This is an older Daredevil Marvel Legend, but has the articulation I wanted for the figure.
My final purchase of the day wasn't even bought at the Burlington Toy Con.  On the trek home we stopped at the mall and checked out a Disney Store.  To my surprise they had the Disney Store exclusive Marvel Select figures.  Everything was in stock.  Captain America, Wolverine, Hulk, Hawkeye and the one I wanted most, Thor.  I quickly grabbed him for my collection.  He now sits proudly on my shelf beside my Marvel Legends Beta Ray Bill.  The size difference between then is very minimal, so these two hammer-brothers look great together on my shelf.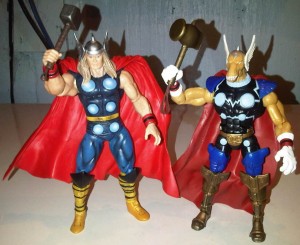 For more information on the Burlington Toy Con, please visit them at their Facebook page.  You can link to all their interweb places from there.  The photos used (where noted) are from their FB page; you can see a lot more there.