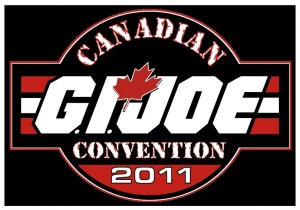 This past Saturday (July 18th), G.I. Joe fans invaded Toronto for the annual Canadian G.I. Joe Convention (CanJoeCon).  This is the highlight of the year for any "Canuck" G.I. Joe fan.  It was written on my calendar as soon as this year's event was announced, and I couldn't wait to be there.
Every CanJoeCon has special guests and this years guest list included Ron Rudat (Sr. Designer for G.I. Joe 3-3/4″ figures '82-'87), Mark Bellomo (Author – Ultimate Guide To G.I. Joe and Totally Tubular Toys), Valentine DeLandro (artist from G.I. Joe Declassified, X-Factor), Jason Edmiston (Illustrator), Jason Loo (Official Artist for CanJoeCon), James Kavanaugh Jr. (Author – R.A.H.C. A Guide to Second Generation O-Ring G.I. Joe Action Figures) and Tristan Rudat (Director – Documentary "Code Name: Blast Off").
My day started off showing up at the CanJoeCon at just after 9 am.  Last year I had to wait in line to get registered for 45 minutes.  This year the CanJoeCon committee offered Pre-Registration  on the website.  I jumped at this opportunity, because we didn't have to stand in line, and I could go straight in.  I saw a couple of friends of mine in line, and talked to them for a bit, then walked straight in.  But those loyal Joe fans in line didn't have to wait long.  The friends I talked to were on the convention floor within 10 minutes of me getting in.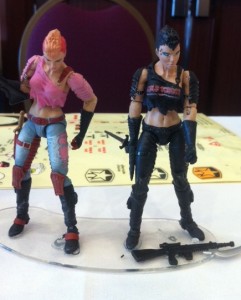 The first table I stopped at was Hasbro Canada.  They had some of the new items coming to stores this fall.  They had the re-designed Sky Striker on display as well as the new Vamp (Jeep).  I asked them about the G.I. Joe Renegades toy line that was supposed to come out this fall.  Hasbro Canada confirmed to me that the Renegades toys will be available at Canadian retail this fall.  I asked them which retailers were going to support G.I. Joe toys this year.  Hasbro Canada told me that Walmart will be stocking some items.  Toys R Us will be taking the figures and the small "Alpha" class vehicles.  The big news from Hasbro Canada was Zellers is going to fully support G.I. Joe this year.  They will stock all the figures and all the vehicles.  That will be your best place to grab the re-designed Sky Striker this fall.  The price point for this years G.I. Joe toys will be $8.99 to $59.99 (suggested retail).  This is good news for Canadian G.I. Joe fans, since it is very difficult to find G.I. Joe toys in Canada.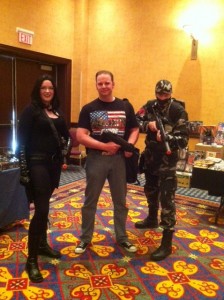 I then made my way on to the dealer floor.  The great thing about this year's Convention: there was a lot of G.I. Joe for sale.  Last year there was one retailer who didn't have anything G.I. Joe.  That is great for people wanting to go to a toy show, but for me, it is all about the Joe stuff.
I ran into a dealer who I like to deal with.  I haven't seen him in a couple of years, so it was nice to catch up.  I also talked to another dealer, who I deal with quite regularly, and like always, he didn't disappoint.  He had amazing deals and he is able to find the rare stuff that is difficult to find in Canada.  I bought a couple of figures and vehicles from the tables.  My main goal for this convention was to meet the special guests.
The first guest I met was Mark Bellomo.  He has written the Ultimate Guide To G.I. Joe.  This is a collector's guide and price guide about every G.I. Joe toy released from 1982 to 1994.  People have told me for years to pick up Mark's book.  There are other resources on the internet to find out a when a figure/vehicle was made, and what accessories come with that figure/vehicle came with (yojoe.com being the best).  The great thing about Mark's book is, it's portable.  Sure there are smart phones out there, so you can surf for what you need, Mark's book is quicker.  When you are at a toy show, sometimes the vendor doesn't know what is supposed to go with the figure.
The Ultimate Guide To G.I. Joe will help you make a good purchase.  It also tells you what pieces are easily lost as well.  I've been buying G.I. Joe for 28 years, and I even found myself flipping through Mark's book at the show, verifying one of my purchases.  Mark has written a second version to the G.I. Joe guide and Totally Tubular 80's Toys.  Which I will pick up in the future.  Mark says he like coming up to Canada for shows.  He said the crowd is very polite and enthusiastic to talk to him.  I enjoyed my conversation with Mark and you can feel the energy and enthusiasm about toys from him. I hope he will be back for next year's CanJoeCon.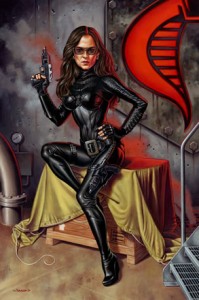 I went over to Jason Edmiston's table.  He had limited edition prints available for sale.  My wife and I went through his portfolio (which she was very excited about his Universal Monster series), his artwork is beautiful.  I didn't realize at the time he designed a Cobra Commander poster (which appears on the T Shirt I was going to wear that morning).  I bought a Baroness print from him, and my wife bought two portrait size prints of some monsters.  He will be at Fan Expo this year as well.
I got the chance to sit and talk to Valentine DeLandro.  He wanted to have a special print available for CanJoeCon, but time got away from him.  He did have some pages from G.I. Joe Declassified for sale.  I picked up a beautiful page from Declassified #3 (one of my favourite G.I. Joe items right now).  I did a quick interview with Valentine about Comics and G.I. Joe (you should go read it).  After that I just hung out with him for a bit.  He is one of the nicest, classiest people I have met in the comic business.  He will be at Fan Expo this year.  He plans to have something special ready for Fan Expo.  I watched him work on a commishioned sketch of an Alley Viper, thankfully the guy who got the sketch, posted it on the CanJoeCon forum.  I was able to see it.  It is a beautiful piece as well.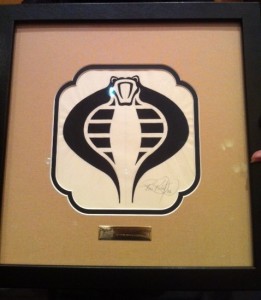 Next, my wife and I got to meet the Rudat family.  Ron, Virginia and Tristan Rudat.  Ron Rudat was the Sr. Designer for G.I. Joe 3-3/4″ figures from 1982 to 1987.   His son Tristan directed a documentary called Code Name: Blast Off.  The documentary is about the return of G.I. Joe to the toy world in 1982.  Ron and Tristan interviewed many of the designers from Hasbro.  I purchased the DVD from the Rudat's, and if you are a Joe fan you need to watch this DVD.  I learned a lot about G.I. Joe.  One thing I didn't know was the character Leatherneck's appearance was based on Ron Rudat.  The character Dusty's last name is Tadur (Rudat spelled backwards).
I talked to Tristan Rudat briefly (he had lots of people wanting to talk to him), about growing up while your Dad designs G.I. Joe.  He is the kid we all wanted to be.  My wife talked to Virginia Rudat and my wife says Virginia is the ultimate wife of a G.I. Joe fan.  My wife also said Virginia could hold a panel herself discussing – Marriage To A G.I. Joe Fan.  You can feel the passion the Rudat's have for G.I. Joe.  You can also tell they are appreciative to the fans who love G.I. Joe so much.  The Rudat's brought the original Cobra logo design with them.  This is a historic artifact.  Ron designed the Cobra logo.
Unfortunately I had to leave the convention early (prior commitments).  I didn't have the opportunity to catch any of the guest panels, but I did get the opportunity to speak to them.
There were several Joe fans in CosPlay (costume play).  I saw a Scarlett, Cobra Commander, Low Light, Firefly and Baroness (I even got my picture taken with them).
It was just a great day for all things G.I. Joe.  Every year the show is getting better and better.  This was my favourite experience by far.  I can't wait until next years CanJoeCon, which I don't doubt the organizers have already started planning.