January 20th/2013 was the latest edition of the Canadian ToyCon (formerly known as the Burlington Toy Show) held at the Royal Botanical Gardens in Burlington.  This edition of the Canadian ToyCon was different because it included the Fantasy and Gaming Expo as well as a Magic The Gathering Tournament.
Here is the description of the event from their website. "Southern Ontario's Leading 80′s Toy, Action Figure, Horror, Sci-Fi, Comic and Collectibles Convention Series!  In addition to several featured guests and attractions, our January 20th event will include over 8,000 sq ft of vintage and new toy, action figure, comic and collectible vendor booths, as well as an extensive artists alley.  Canadian ToyCon boasts the most vendors and exhibitors per sq ft of convention space in all of Southern Ontario."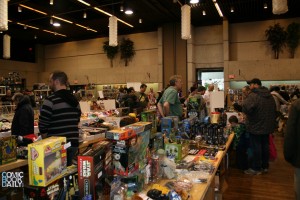 The Canadian ToyCon has become one of my favourite events on the yearly geek calendar.  There is always a great selection of toys available.  The vendors at the show offer everything from action figures to stuffed animals to lunch boxes and collectibles.
The January 20th show also had a change of venue as well.  The Royal Botanical Gardens is the new location.  This venue has more space which made it easier to navigate around the show floor.  Plus the show didn't feel congested like other shows.  There was lots of space for people to hang out and relax, and admire their purchases.  The botanical gardens also has lots of trees and plants, and it gave the toy show a different feel.  As one post on Twitter said "You gotta check out the new venue for the Burlington toy con. It's like a convention on Endor!"   With the 501st Legion in attendance, it did feel like Endor or to a lesser extent Yavin.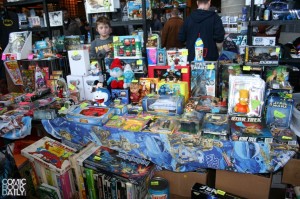 At this show the special guests and events included former WWE Diva Maria Kanellis, Ray Olubowale (Axeman from Resident Evil), Kids Craft and Cartooning Workshop, Magic: The Gathering tournament, MonsterMatt Patterson, and a costume contest just to name a few.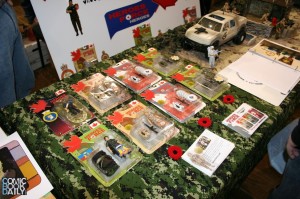 I have attended the Canadian ToyCon (formerly the Burlington Toy Show) for years.  After a while you get to know the regular vendors.  One of the newer additions to the Canadian ToyCon regulars is Shannon Thibodeau of Heroes Force.  If you have read my previous Canadian ToyCon columns, you know that Shannon is a friend of mine and we met at the movie theatres while in line to go see G.I. Joe Rise of Cobra.  His Heroes Force toyline has been a complete success.  He is almost sold out of Wave 2 and he had some Wave 3 prototypes on display.  2012 was a great year for Heroes Force.  Shannon had the opportunity to meet Canadian Icon Don Cherry.  Also he was awarded the Queen Elizabeth II Diamond Jubilee Medal for his past and ongoing contributions to the Solider On Fund.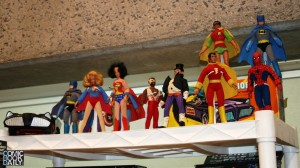 I also checked in with Mike Heddle of the Canadian G.I. Joe Convention.  We talked about the 2013 edition of the CanJoeCon and the opening of his new store in Hamilton.  2013 will be a big year for G.I. Joe.  New toys are hitting the shelves right now and G.I. Joe Retaliation will be hitting the big screens on March 29th/2013.  I can't wait for this years CanJoeCon.  It is my favourite convention, especially for being a die hard G.I. Joe fan in Canada.  More details about this years show will be announced very soon.  As soon as they are announced, you know you will read about it here at Comic Book Daily.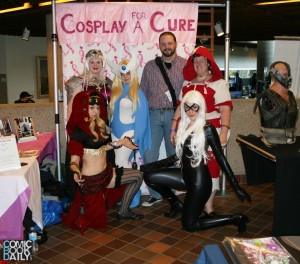 Another special attendee to the Canadian ToyCon was Cosplay For A Cure.  Cosplay For A Cure is a fundraising initiative for breast cancer research.  This group of dedicated cosplayers will pose for pictures for a small fee (it's only $1 for a picture on your own camera) and all the proceeds go towards Breast Cancer Research.  I had the opportunity to talk to them about their group.  Please check out my Cosplay For A Cure column for more details.
The costume contest is becoming a very popular event at the show.  It's taken some time to get rolling but there were many costumes at the show.  The Royal Botanical Gardens also made a great backdrop for photo ops.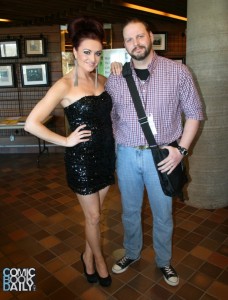 The special guest I was looking forward to meeting most was former WWE Diva and current Ring of Honor talent Maria Kanellis. Maria was one of my favourite WWE Diva's and I was excited to see she was going to be at the show when it was first announced last fall.  I talked to her for a couple of minutes about her time in WWE.  She was extremely nice and I think she really enjoyed her day at the convention.  I talked to several people and they echoed those sentiments.
The fees for autographs and photos was really affordable too.  You could get an autograph or a picture for $10.  That is a great price considering what other shows charge.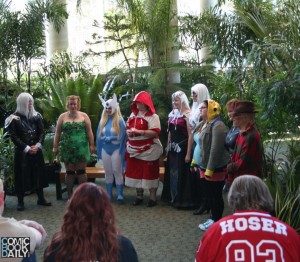 2013 is the 10th anniversary of the show.  For the 5 years I've been attending the show I've seen it change from a toy show into a full fledged convention.  The Magic The Gathering tournament added another dimension to the show, which adds more content for everybody.  It is exciting to go to a toy show/convention at the beginning of the year because it breaks up the winter.  Plus it is refreshing to go back to a convention after having a break from the very busy summer convention schedule.
The next Canadian ToyCon will be March 17th/2013 at the Royal Botanical Gardens in Burlington.  Check out their website for more details about upcoming guests and events.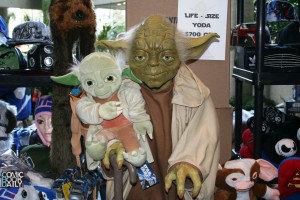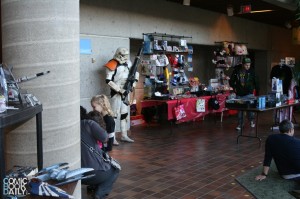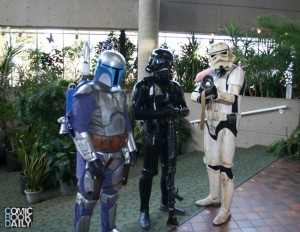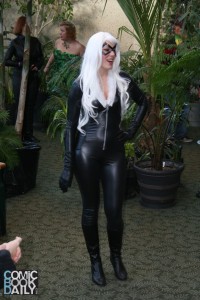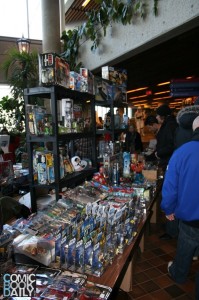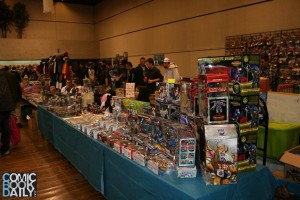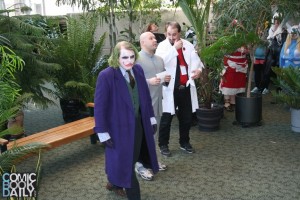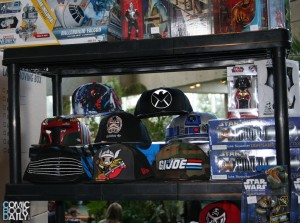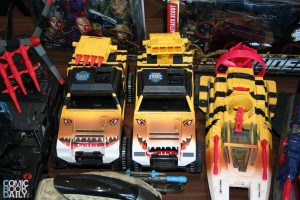 (photos by Angela Campbell for Comic Book Daily)