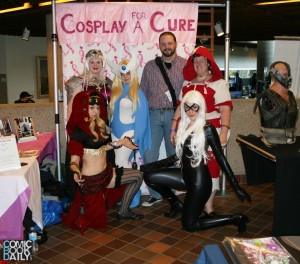 January 20th/2013 was the latest edition of the Canadian ToyCon.  A welcome addition to this show (and hopefully a permanent attraction) was Cosplay For A Cure.
This relatively new group (only formed 7 months previous to time of writing) has big dreams for the future.
Cosplay For A Cure was formed by Casey Brown and her Cosplaying friends from the GTA and Niagara Region.  They formed this organization because a friend of the group was diagnosed with Stage 3 Breast Cancer.  The group wanted to raise money for cancer research, as well as draw awareness to breast cancer in a truly unique way.  The group was already interested in cosplay, so it was only natural that costumes and cosplay would be used to help raise money.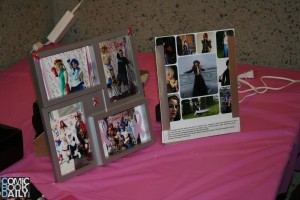 Cosplay For a Cure's first event was the 2012 edition of Con Bravo!.  Cosplay For A Cure received great reaction from the convention attendees and they were able to raise $700 for the Canadian Breast Cancer Foundation (CBCF).
Cosplay For A Cure charges $1.00 to have your picture taken with a cosplay model (with your own camera) or $2.00 to have your picture taken by their professional photographer (and you will receive a print of the picture).
Eventually Cosplay For A Cure would like to be a permanent fixture at the Southern Ontario convention circuit.  There are four major conventions they would like to focus on.  Those are Anime North, Niagara Falls Comic Convention, Con Bravo!, and Fan Expo.  They will also be attending other shows like the Canadian ToyCon in Burlington.
Cosplay For a Cure is a volunteer organization.  The costs of running their operation is covered by the volunteers.  The money that is raised from their events, is given to the CBCF.  This is a challenge for them.  It is difficult for them to attend conventions or shows if hotels need to be booked, which they pay for out of their own pocket.  Also they would like to create a new backdrop for their booth so their photos will look amazing and very professional.  To achieve this they are looking for sponsorship for their group.  With sponsorship they could attend more conventions and make it easier to focus on their cause.
In the future they hope to expand into other areas and conventions.  They know they could succeed at one of the larger American conventions.  But if they expanded into the States, then the money they raised there would have to be donated to that region's cancer foundation.  So for right now they plan on focusing on Canada, and becoming more well known here.
Cosplay For A Cure not only raises money for breast cancer research, they also use local photographers at their booth for the photo sessions.  This gives local photographers experience, especially if they are new and are trying to develop a following.  Plus the photographers get to build on their portfolio.  If Cosplay For A Cure can get a new back drop for their booth,  it will help everyone.  The photographers will have a better picture, as well as the fans who are getting their pictures taken with the models.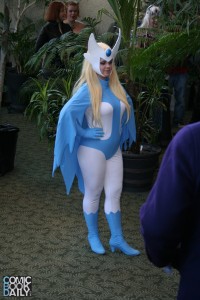 Cosplay For A Cure's model co-ordinator is Gina Greco.  She is well known within the cosplayer community.  She also has many friends within the community who she plans on bringing to future events.  As she told me, if she can bring in some of the big name models from the United States, it is a great opportunity to have your picture taken with a famous cosplayer for as little as one dollar.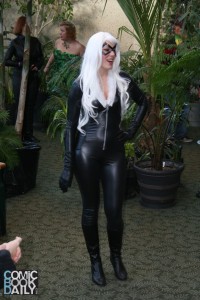 Another model who helps out Cosplay For A Cure is GeekXGirls.com's very own Gillian.  She has won multiple awards over the years for craftsmanship and presentation and is well known in local cosplaying community.
Another goal of Cosplay For A Cure is to become a regular guest at Fan Expo.  Fan Expo is the largest convention in Ontario, and if they can get a large group of models signed up as volunteers, the models could be set up at the Cosplay For A Cure booth and convention goers would be able to photograph them.  Plus at the low fee of $1.00 per picture, the group could raise a lot of money.
Their cause is an important one.  How they are raising the money is really interesting and fun.  Cosplay For A Cure will be appearing at Frostcon, January 27th/2013.  Make sure you swing by and get your picture taken.  It helps support a great cause.
For more information about the group, or if you are interested in sponsorship, please visit their Facebook page for contact details.