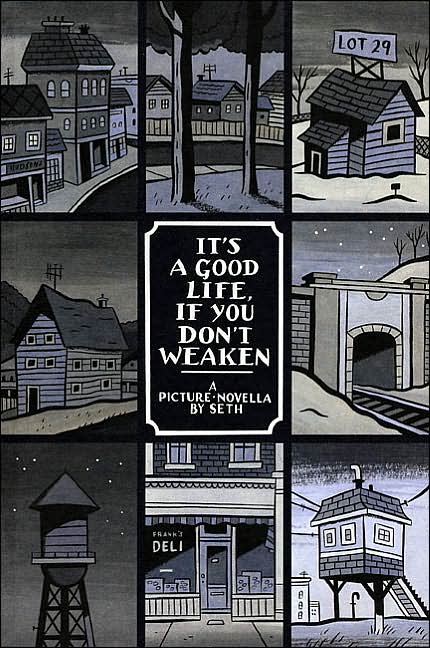 One of the unique aspects of the comic book medium is that it is completely dominated by a single genre. I cannot think of any other artistic media where this is true, for if we saw movies or music dominated in the way the superhero comics reign supreme it would seem ludicrous. Going into your local comic shop and seeing row after now of capes and stretchy pants is the equivalent of going into a music store where ninety percent of the CDs are ska music.
This domination has occurred for various historical reasons that are better described elsewhere, but things are changing and the consumer now has more choice than they ever did. However, just because there is more choice doesn't mean that people are willing to exercise this new-found expansion of opportunities. In reality we generally stick within our comfort zone and don't like to stray from the beaten path, so when we purchase our comics each month they probably are mostly superhero books (mostly Marvel or DC) with a smattering of Whedonverse or manga here and there depending on our individual tastes.
But there is so much more out there. Horror, crime noir, romance, biographies, historical fiction, ancient myths, and comedies to name but a few choices. Don't get me wrong, I love superhero books, but some of my favourite works have been found outside of, and far from, that particular genre. It took working in a comic store to really broaden my tastes. I knew that if I was going to be knowledgeable about the product I would need to have read more than the latest issue of Amazing Spider-Man. Everything else just looked so weird though. It all seemed to be ugly compared to superhero books. And the subject matter was so strange. Some of the books just looked like people talking to each other. Boring.
A friend suggested that I read Seth's It's A Good Life, If You Don't Weaken. I found the author's autobiographical tale of his search for the illusive artist Kalo to be so unique, so different that I wondered if I hadn't misjudged Indy comics. Previously I had thought them to be poorly drawn stories about penises and women with large bums, and some are, but in all honesty I hadn't really given then a chance. What drew me in was Seth's design and layout of the book. His choice of colour and panel breakdown was different from anything I had seen in Superman. And ultimately I wasn't too upset that the story contained no superpowers or fierce battles with monsters. It was just a good story.
Today I try to read a variety of works. And not only because I write for this website. I like to read and I like to watch movies and try more than one genre from those media, so why wouldn't I try more than one genre of comic book? I have been pretty interested in crime noir over the last year though (Cooke and Brubaker), and I also have enjoyed Scott Chantler's Two Generals (historical), Craig Thompson's Habibi (love story), Jason's Isle of 100,000 Graves (adventure, black comedy), and good old Uncle Scrooge.
So broaden your reading tastes. Talk to your local comic book shop, read reviews online, or chat with your hipster friends (Scottie say: read the CBD reviews of books you don't recognize). I would suggest to you that whatever type of genre movie or novel you enjoy can also be found in comic books, and beyond that try something that you don't typically enjoy. Allow yourself to get past the look or subject matter of non-superhero fare and you'll be pleasantly surprised at the results.