It's winter.  It's the holiday season.  For some that means Christmas.  But for most, it means giving gifts.
Buying for a "geek" can be difficult.  We are passionate about our collections, and sometimes we can't wait for somebody to give us what we want as a gift.  We just run out and buy it.  So to make it easy for you, I have some suggestions.  I'll try to hit various price ranges, but sometimes you have to drop some cash for the geek that you love.  (And if you are looking for something for me… anything on this list will be ok… mostly.)
For the Star Wars Geek
If you have been noticing the Star Wars shelves at your local toy store, there isn't much available these days.  Most of my local haunts have Star Wars on clearance or deep, deep discounts.  We all know that will change in 2015 when Episode VII hits theaters.
So what should you buy your favourite Star Wars geek?
Two words.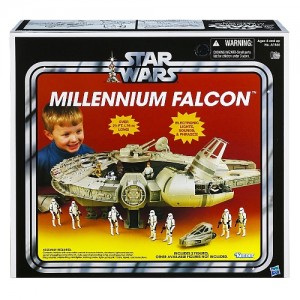 Millenium Falcon.
The Millenium Falcon is the greatest Star Wars vehicle ever!!!
Oh, you think it's the AT-AT?
Wrong.  The Falcon is the greatest.
If you have a Star Wars fan on your gift giving list, this is the toy you need to buy them.  The only downside to this, is the price.  The Canadian retail price is $269.99.  Which is pretty steep.  But this toy has everything you're looking for that the original never had.
Here are some of the features:
Electronic lights, sounds & phrases!
Over 2½ feet long!
Secret smuggling compartments!
Cockpit lights up!
Open the cockpit to put up to 4 figures (2 figures included; other figures sold separately) inside.
Auto-opening boarding ramp.
Pivoting gunner station to target Imperial fighters.
Firing missiles!
Missile-firing mini-fighter!
Illuminated DEJARIK table with holo monsters.
Training probe for LIGHTSABER practice.
It is basically my favourite toy as a kid, but updated for an adult.  If the price tag is a little bit high for your budget… then just grab a couple of single figures.  They'll like that too.
For The Monster High Geek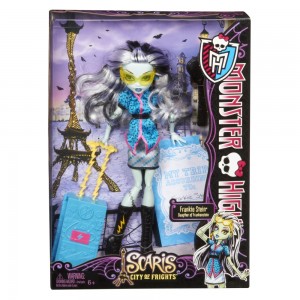 My wife is a Monster High geek.  She loves them like crazy.  So because she loves them, it is obvious that  I have to like them because I am exposed to Monster High on a daily basis.
The newest release (to hit Canadian retail) is the Monster High Scaris line.  Clawdeen, Frankie, Rochelle, and the new-comers Skellita and Jinafire see themselves in Paris, seeing the sights and shopping til they drop (told ya I'm exposed to it on a daily basis).
There are two lines to this release.  The regular release and the basic collection.  The basic collection is just the doll with less packaging and missing the doll stand.  The regular release of the doll comes with accessories, and a stand.  The price for the regular collection ranges from $29.99 to $37.99 (CDN depending on retailer).
It appears that the new Jinafire doll is going to be one of the most sought after in this release.  It is the one that we haven't been able to find.
Monster High is hot right now.  It seems like everybody is collecting them.  While we were looking for some of the latest releases, the poor associate at the toy store said that is the only question she was hearing all day.  "Do you have any Monster High?"
If you doubt how popular these dolls are, just check out eBay.  Many of the current dolls are selling for 50% to 400% higher than the original retail price.  Trust me.  Because I've been trying to find some of the ones that my wife doesn't have yet online.
For the 80's TV Geek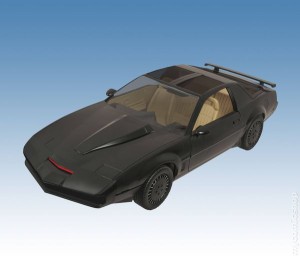 If you don't love Knight Rider, then you are no friend of mine.  Knight Rider is one of my favourite 80's TV shows (the others being A-Team, Dukes of Hazzard, T.J. Hooker and MacGyver).
I have several 1/16th scale vehicles (which fit 3-3/4″ action figures perfectly).  This K.I.T.T. needs to sit on my shelf with my DeLorean and A-Team van.
According to the toy's description it is "14 inches long and features working lights and sound effects from the show, including the distinctive voice of KITT as well as his famous Turbo Boost! "
If you doubt me on how awesome K.I.T.T. is, check out this clip from Robot Chicken.
[youtube https://www.youtube.com/watch?v=yBqOgtk1-Bo]
For the Big Bang Theory Geek
Do you have someone on your list that loves Big Bang Theory?
Get them something that will really Bazinga their Christmas tree.
A Big Bang Theory ornament.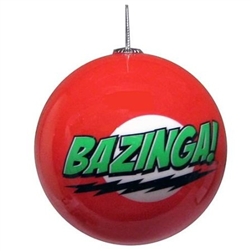 The price on this is decent too.  It sells for $6.99.
A soft kitty ornament is available too.
For the Batman Geek
My last suggestion in this column is pretty cool.  Who doesn't want to own the Batmobile?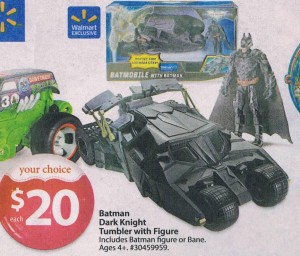 In mid-November Walmart came out with an exclusive The Dark Knight Rises Tumbler Batmobile with Batman figure.  It was priced at $20, which is a really good price.
The articulation on the figure is pretty poor by other standards (namely Hasbro's Marvel Universe toys).  But the sculpting on the figure is pretty decent.
The Batmobile itself looks great for being a 3-3/4″ scale vehicle.  Batman is able to fit inside the cockpit/driver's seat of the Batmobile.
I picked up this Walmart exclusive when it first came out.  I knew for that price it would disappear quick.  I already own the Tumbler Batmobile that came out when The Dark Knight was released, but that version was for the 6″ scaled figures.  It also had firing missles and a launching Batpod.
If you have a Batman fan on your list, pick this up.  It may be tough to find right now, but I have seen a couple of them hidden on the shelf at my local Walmart.  Maybe you will get lucky too.