Last weekend was the latest Transformers Convention (TFCon) and Canadian Collectible Toy Expo held at the Delta Meadowvale Hotel in Mississauga.  I attended the show on Sunday July 29th.
This was my second time going to TFCon/CCTE, and every year gets bigger and bigger.
This years special guests included Bob Budiansky, Scott McNeil, Neil Ross and Wally Burr to name a few.  There were panels featuring the guests (check out my coverage of the voice acting panel) and costume contests.
As I said before this show just gets bigger and bigger.  When we showed up at 11 am the show floor was packed.  At times it was tought to navigate the floor to see everything for sale.
There was a wide variety of items available for sale.  Transformers was the number one item, but that goes without saying because it was a Transformers Convention.  But you could find great deals on Marvel Universe, Marvel Legends, Star Wars, G.I. Joe, My Little Ponies, Monster High and everything in between.
Yuuup!
There was My Little Pony and Monster High at this show.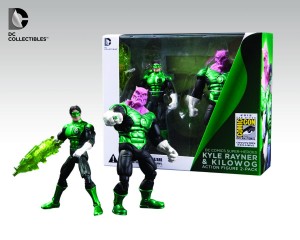 I've started to notice a trend at the toy shows recently.  There are more toys for girls (and ladies) at these shows.  At the Action Figure Expo last October, one retailer told me his fastest selling item was My Little Pony's.  He told me that he couldn't keep them in stock.  Which makes sense.  Girls like toys just as much as the guys do.  If we are buying G.I. Joe or Transformers to recapture our lost youth, then it make sense that ladies out there would buy Pony's, Care Bears or Jem and the Holograms to do the same.
With this being the first local toy show after the San Diego Comic Convention, there were lots of SDCC exclusives available for sale.  And as you'd expect the price was very high.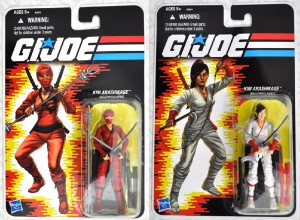 The G.I. Joe Jinx exclusive sold anywhere from $40 for the regular version, and up to $80 for the variant version.
The 3.75″ Green Lantern 2 pack exclusive was retailing for $40.
The Monster High exclusive Scarah Screams was selling anywhere from $85 to $100 (which sold on Mattycollector.com for $24.99 and sold out in under 16 minutes.)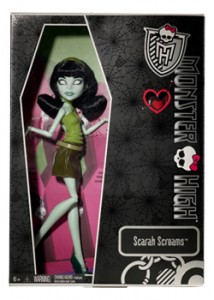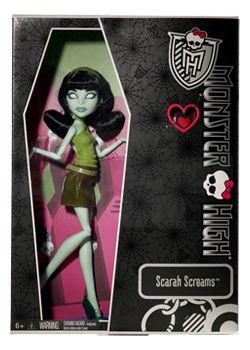 Some of the other exclusives available for retail were the Avengers Shield Helicarrier, Star Wars pack with Jar Jar in Carbonite, and G.I. Joe/Transformers Shockwave Hiss Tank just to name a few.  I didn't get the chance to see what the selling price was on these items, but I imagine they were quite pricey.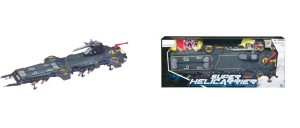 I talked to several retailers about their sales on the day.  Many said that sales were down in general, but there were people buying stuff.  Saturday was the busiest day in the way of sales.
I know for my self I didn't spend too much money at the show.  I was interested in the SDCC Jinx figure, but I couldn't justify spending $40 on the figure.  I paid $40 for last year's exclusive Zarana figure, but I have always been partial to the Dreadnoks and had to have her for my collection.  This year I decided I would pass.  I'm not saying I'll never buy the figure.  I'm just going to bide my time and get it for the price I want to pay.
So, what did I buy? (thanks for asking)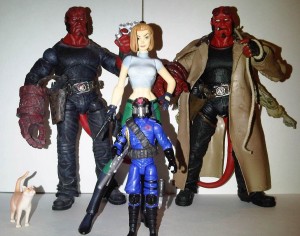 There wasn't much at the show I was interested in.  I did pick up a couple Hellboy movie figures, which lead into a discussion about Hellboy III.  The general consensus of the discussion is, Hellboy III NEEDS to be made.  I also found a Danger Girl Abbey Chase figure from the late 90's.  It was still in the packaging and I got a great deal on it.  It's strange looking at the figure now.  Back in the late 90's this figure would have been a top quality figure.  But by today's standards it is really limited by its poor articulation and lack of detail.  But I love Danger Girl and I had to have it for my collection.
I also picked up G.I. Joe Monopoly.  I've wanted this game for a long time and had to do some heavy negotiations to get it for the price I want.  Now I have to teach my kids how to play Monopoly and help Cobra take over the world (insert evil laugh here).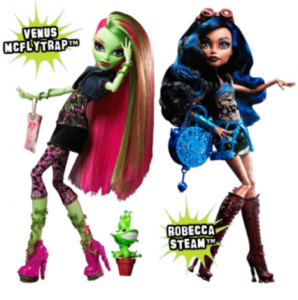 My wife was the big winner on the day.  In last weeks column I told you she is a huge Monster High fan.  One of her favourite retailers was there and he had the two new Monster High figures, Robecca Steam and Venus McFlytrap.  He has a couple of each of these figures available and she got such a great price on them, I really can't tell you here how much she paid.  But it was a ridiculously great deal.
She ran into a couple other Monster High fans at the show and got talking about their collections.  It is insane, how popular Monster High is right now.  This toy is almost guaranteed to sell off the shelf and the collector's are definitely hard core.  Stay out of their way, it could get nasty (just kidding).
Your next opportunity to get some great deals on toys will be at Fan Expo August 23-26 in Toronto.  And you know for sure Comic Book Daily will be there.