This past weekend was very busy on the comic and geek themed calendar.  Con Bravo was this past weekend in Hamilton, and TFCon (Transformers Convention) in conjunction with the Collectible Toy Expo was in Mississauga.  These were two shows I really wanted to attend.  Guess how many I did go to?


That's right.  DONUT.  Zero.
I just didn't have time.
It's not just time.  Money was the other big factor.  I just didn't have any extra cash to spend at a show.  Also taking into consideration money for gas and food, it becomes an expensive day.
I'd love to attend every show that comes along in Southern Ontario, but it just isn't possible.  And new shows are popping up all the time.  Niagara Falls Comic Con was a big event this year (sadly I missed it).  Burlington Toy Show has added more shows to their schedule (sadly I missed the last one too).  Hamilton Comic Con (Hammer Town Con) is gaining some notoriety as well, and I hope to make it that show this year too.
Ooops… I forgot about FrostCon.  I wanted to be there too.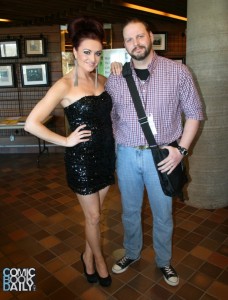 With all these shows on the schedule, do we really need any more?
A few shows have dropped of the schedule, Wizard World and Canadian G.I. Joe Convention for example, but it feels like a "baker's dozen" more have jumped up to take their place.
The simple answer is… I don't have to go.  But it's not that easy.  I really enjoy going to conventions and shows.
I've been doing this thing I call writing for over two years now for Comic Book Daily.  It has opened a lot of doors for me.  I have met some great people in my travels, and a few of those have become my favourite people on the planet.  So when I miss a show, I'm not just missing out on finding a rare comic book, or a kick-ass action figure.  I'm missing hanging out with my friends.
Would having less shows on the schedule make my life easier?
Yes.
Does the world revolve around me?
No it doesn't.
Since I can't be every where, all the time.  I have to choose the events that will mean the most to me.  It may be a certain action figure that I need to pick up, or a special guest I would really like to meet.  If my friends are there, I will definitely have to try and make it.
Speaking about events… the one I can't wait for is Fan Expo.  I plan on being there all four days.  A couple of days I will be working at a booth, the others I'll be wandering the floors hoping to talk to as many convention goers as possible.  I am even planning on trying Cosplay for the first time.  I'm not going to tell you who I'm dressing up as yet… that will come later.  It's going to be something special.
I know conventions are not everybody's cup of tea, but do you have this problem too?  Do you not have enough time to make it to every event that happens on the calendar?