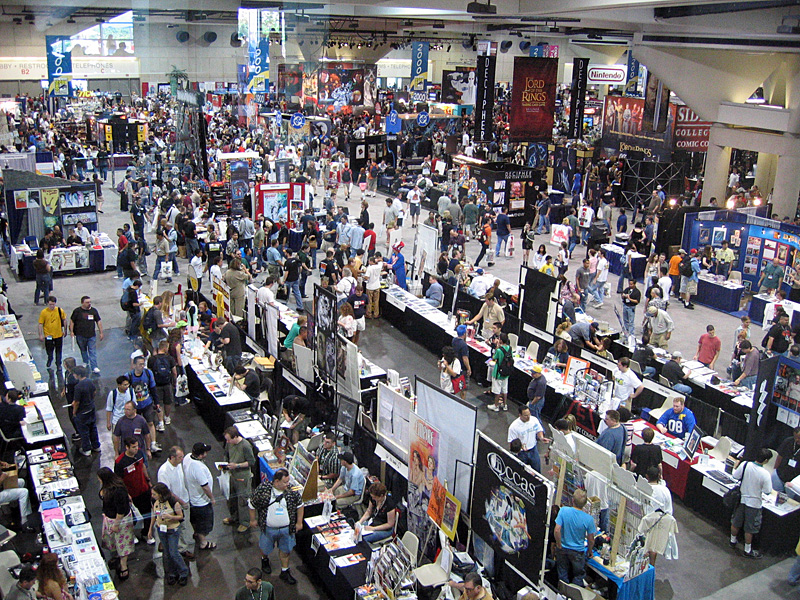 One of the most positive aspects of the comic book industry is that conventions and events allow a continual opportunity for fans to meet and interact with their favourite creators. It can be somewhat of a surreal experience to hold in your hand your favourite comic book and be talking to the person who turned that blank page into a beloved work of art. Comic books are part of the entertainment industry, and these creators are stars in their own right. You might think that this would cause them to prideful, full of themselves, and have very little time for fans; however, I have continually found the opposite when I meet creators in person. Sure, some might be jerks, but a certain percentage of all people are jerks, and the comic book industry doesn't have a monopoly on jerkdom.
Creators are happy to talk with fans, sign autographs, and sketch. Yes, I know that many artists charge for sketches, but they would make far more money doing straight commission work. In short, creators don't need to do any of this. Yes, they get to promote themselves and their work so the motive is not completely altruistic, but mostly artists and writers attend conventions because they love the industry, they love their work, and they love their fans.
At the recent Wizard World Convention in Toronto I had the privilege to moderate a Q&A panel with Francis Manapul, Ken Lashley, Marcus To, and Marco Rudy. Being the diligent moderator that I am, I did my research and ensured that I was familiar with their latest work. I also waited in line with the rest of their fans in order to introduce myself before the Q&A. This allowed me the opportunity to see how they dealt with their fans and I was blown away by their kindness, humour, and professionalism when interacting with the masses.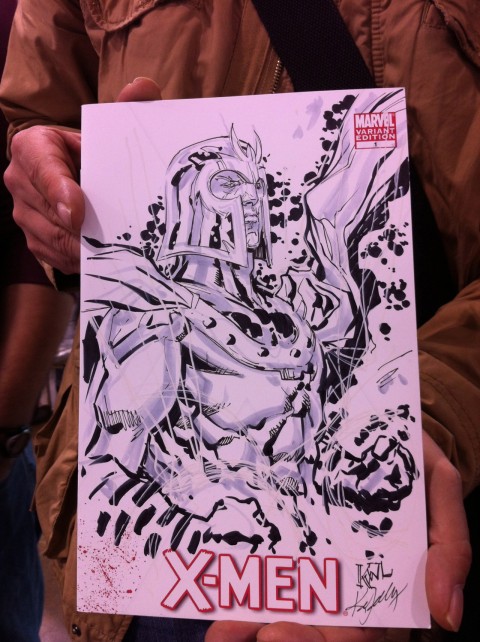 It was amazing to watch them sketch for their fans. They used different materials and have different styles, but they all start from the same place: a blank piece of paper. It was fascinating to see the white page become something else and the look of joy on the face of the fan who got to take away a new, original piece of work. While they are sketching they chat with fans, answering questions, continually going above and beyond. In the short period of time I saw Marcus To answer questions for a podcast, Marco Rudy provide advice for someone trying to break into the business, Ken keeping the entire line in laughter with jokes and stories, and Francis pausing from sketching to take a photo with happy fans. And I was only watching these guys for 10 minutes each. They did this for hours. Have you ever tried to talk and draw for hours? It isn't easy.
When I introduced myself to Francis he apologized and mentioned that he would not be able to attend the Q&A due to some deadlines. This happens and he spent hours at the convention sketching and talking to fans. His colleagues carried his apology to the crowd in the Q&A and provided first hand stories on how hard Francis works. In a day when some artists are struggling doing a page per day Francis is writing, pencilling, and doing the covers for The Flash. It is quite possible that Manapul is some sort of comic book creating robot sent back from the future. He has indelibly left his mark on the character and will go down in the annals as one of the greatest to ever work on the Flash. He loves the character and he loves what he does, and it shows.
I have met Ken several times over the years and the more I meet him the more I like him. Ken Lashley always has amazing stories for the crowd and his years in the business provide amazing insight and sage advice. Ken does incredible design work for Lucasfilm and Hasbro, and is completely upfront with the fact that he works as much as he is able to in comic books, but he will not take on any job that he cannot commit to 100%. If that means that he will do design work, or a few issues, and now a series (of amazing) covers then that is the work he will do. I asked him what was his favorite project for Lucasfilm and he related a touching moment when the company announced the name of the 3rd prequel in front of one of his works. Talking about Star Wars makes Ken's face light up, and he is happy to share his passion with his fans. He loves what he does, and it shows.
Marco Rudy let everyone know that we can expect some great things from Swamp Thing in 2012 including the return of a major villain. Completely candid about how working in the business can be tough and how one needs thick skin to survive, he shared great personal stories with the fans. Growing up in Mozambique, comic books were not very popular. He got comic books from his cousins and loved the work of David Mack. After friending him on Facebook David mentioned to Marco that his stuff was good. And Marco said that he was excited to meet David at the convention that day! Here is an artist that has worked on Final Crisis, Swamp Thing, and Superboy and he is still excited about meeting artists. He loves what he does, and it shows.
I'll remember Marcus To's answers to the audience for a long time. Especially when he was asked what was the strangest thing he had ever seen at a convention. He wryly, and politely, explained that having worked on both Superboy and Robin he is often requested to draw them…together. Marcus told everyone to watch for Batwing becoming even more intwined with the Bat-books. He loves working on the Bat-books, and had nothing but praise for editor Mark Marts (his colleagues concurred). He speaks with such passion about getting to work on Red Robin and Batwing that it is impossible not to be excited about the work. He loves what he does and it shows.
Why did I write this column? It is very easy to write about some of the negative aspects of the industry. It is easy to talk about the sad state this or that. A negative article kind of writes itself. It isn't that I don't think we should write negative articles, I do (as long as they are honest), but I also think that everyone should know about the great artists we have right here in Toronto. Sometimes we take for granted the fantastic talent that we have in the Great White North. These four artists are part of a great Canadian tradition in the industry that goes back to Joe Shuster. So buy their books, write to the companies and let them know you want to see more of their work, and be sure to say hello to them at a convention.
I'm sure that some will read this column and I'll be accused of pandering, but I do not care. These artists have shown that they are best that the industry has to offer in more ways than one, and for that they deserve to be thanked.