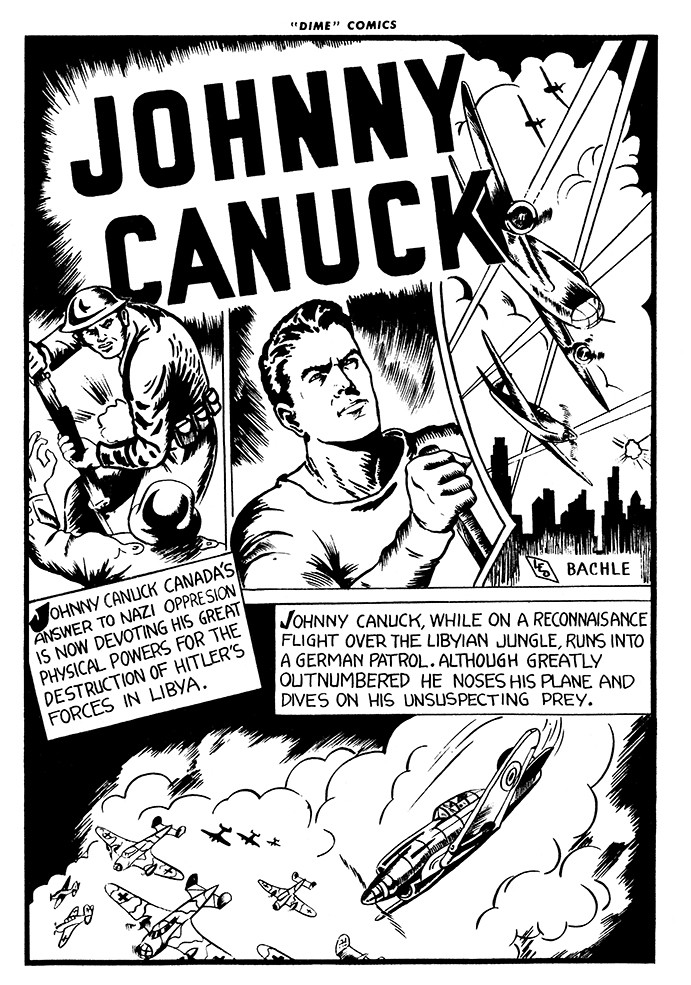 Longtime readers know that we love us some Golden Age Canadian comics at CBD, and over the weekend I got a chance to sit down with Comics Historian and Publisher Rachel Richey to talk about her latest project, bringing back Canadian Hero and icon Johnny Canuck!
Q. So you've just come off your very successful Nelvana campaign and you dive right into bringing Johnny Canuck to the masses. Tell me a bit about Johnny.
A. Johnny is a true hero, unafraid to walk into dangerous situations or take drastic measures to get out of trouble! He's jumped out of planes and windows, punched Hitler and attacked leopards, and has traveled all over the world. He's been beaten, shot and betrayed. And the best part about Leo Bachle's storytelling is that all the stories are like this!
Q. He sounds a lot like our Captain America.
A. He is! He's always making references to Canadian ability, with nothing short of pride. The only difference is that he doesn't have super strength. He is really strong, though!
Q. What sets Johnny Canuck apart? Why is he different?
A. I would say, first and foremost, Leo Bachle's story telling sets him apart. Johnny is by no means a boring comic book, and for just 28 issues, there is a breadth of styles. On top of that, Johnny Canuck is one of the first of its kind to do story arcs. In the series there are 7, and continuing characters throughout the book!
Q. What can fans hope to see from the Kickstarter campaign?
A. The Kickstarter campaign collects all the issues of Johnny Canuck, which have been out of print since they originally came out in the 40s. I currently have all the scans and I'm about halfway through cleaning them up, so, although the book is scheduled to come out in February, I'm pretty sure it will be before that!
Q. You are working with a lot of great industry talent on this project, how did that come about?
A. Many artists are just as passionate about old Canadian heroes as you guys are! Leonard Kirk, Marco Rudy, Cary Nord, Andy Belanger, Francis Manapul, Scott Hepburn, Ramon Perez, Jeff Lemire, Scott Chantler and many others were gracious enough to contribute to this project. The big surprise was Darwyn Cooke! I mean, I can't image how mind blowing that art is going to be!
Q. People like you and Ivan are so passionate about Golden Age Canadian Comics, what would you say to folks who have never had a chance to enjoy them?
A. You have to read them, they are ahead of their time! On top of being genuinely good comics, Canada has such a rich comics industry, now and then. We need to know and value all of it as genuine comics fans!
Q. There are still a lot of Canadian superheroes that the public knows very little about. Do you have plans to bring anymore reprints to our bookshelves?
A. I have the reprint rights for all Bell Features comics, but my first plans are to bring back The Penguin, Rex Baxter, Doc Stearn/Mr. Monster, Thunderfist, Polka Dot Pirate, The Wing, Speed Savage with Ivan, and those just to start! I also have a fondness for Penny's Diary, which is like Archie comics. I also have some exciting stuff in store with modern heroes as well! That's all I'll say for now!
You can support Rachel's Kickstarter campaign here, and if you want to learn more about our Canadian comic book heritage you should be reading Ivan's weekly column here.