New York Comicon 2011 just passed and here are my top five announcements.
5. Return of Shaolin Cowboy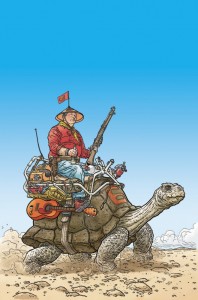 "Geof Darrow's relationship with Dark Horse goes back to the early days of the company. I can't tell you how excited I am to again be publishing his amazing work" said Mike Richardson, Dark Horse president, in a press release. "Geof's art literally stopped me in my tracks when I first met him more than two decades ago and his work is every bit as stunning today. Geof has influenced a generation of artists and I am proud and excited to have him back partnered with Dark Horse."  Source.
Shaolin Cowboy is a crazy series but it's incredibly engaging.  Looks like Darrow is moving away from self publishing and coming back to Dark Horse.
4. Shazam returns to the DCU
Shazam is coming to DC COMICS-THE NEW 52. Written by NEW YORK TIMES bestselling author Geoff Johns and illustrated by acclaimed artist Gary Frank, THE CURSE OF SHAZAM will unfold as a back-up adventure that will appear in JUSTICE LEAGUE – also written by Johns. What manner of adventure is in store for Billy Batson and his big, red alter ego?  Source.
Captain Marvel is one of the best characters going if he's written well; Kingdom Come showed us that even if it was a supporting role.
3. Justice League: Doom animated announced
Mark Waid and Howard Porter's "Tower of Babel" storyline in the Justice League of America comic, where Batman becomes concerned about the possibility that the super-powerful Justice League might somehow turn evil, and compiles detailed dossiers about how to defeat them as a last-ditch contingency plan.
"He's the only superhero that doesn't have superpowers. He's mortal. he only has his wits to get him through," Conroy explained. "How could he handle any of these superheroes if anything went wrong? So he comes up with a dossier on each one, on how to take them out."
Naturally, this information falls into the wrong hands — the villainous Legion of Doom— thanks to what Timm joked was a lack of digital security on Batman's part. "[Batman] left [the dossiers] in his iPhone," said Timm. "Damn that iPhone," said Conroy in his famous Batman voice. Source.
Not sure about this one but I have yet to watch a DC animated movie I didn't enjoy.
2. PulpHope2012 coming from Legendary
"It's been announced that we're putting 60% more material," said Pope. "It looks like it's going to be a lot more than that which is exciting."
"We're looking at doing it in LP format. 12×12, totally analogue." Pope also specifically referenced vinyl album art that helped to influence the collection. "I wanted to bring a bit of that into comics. Since the first edition came out, I've done so much work with fashion companies, movie companies, more screen printing — a pretty wide array of material."
"PulpHope2012" is planned for a November or December release in 2012, while another Paul Pope book from Legendary Comics is set for release in April or May. "We are collecting in color, for the first time, the book that we first worked on called 'The One Trick Rip-Off,'" said Schreck. The project has a new cover and includes over 100 pages of new material with 300 pages colored by "All-Star Superman" colorist Jamie Grant.  Source.
Paul Pope is a force or artistic nature and this new art book will be a welcome addition to my shelf, as long as Legendary doesn't it print it on the cheap like Holy Terror.
1. Fatale from Brubaker and Phillips
"I've been wanting for a while to do something with a more supernatural element to it," Brubaker told CBR News. "So 'Fatale' mixes what we do and all the ways we've poked fun at the noir genre. If 'Incognito' was us doing 'What if Doc Savage, Dashiell Hammet and Raymond Chandler had all existed in the same universe?' then this is a weird combo of James M. Cain and Lovecraft. It's got a real horror element to it — the first time I've really tried to do anything with horror — but it's also got this really epic story to it.  Source.
The creative team that brings the best crime stories being published moves to Image next year for a horror book.  Looking great.