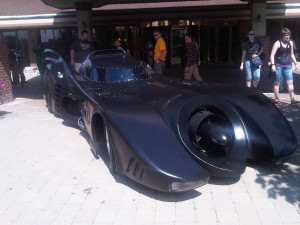 This past Sunday, I (and a couple CBD'ers) went to the 80's Toy Expo in Mississauga.  It was held in conjuction with TFcon (Canada's Annual Transformer Convention), and it was a very busy convention.
Some of the special guests included Simon Furman (writer for several Transformers comics); Paul Eiding (voice of Perceptor on Transformers Cartoon, Roy Campbell on Metal Gear Solid, and Grandpa Tennyson on Ben 10); Garry Chalk (various voice roles on Transformers and G.I. Joe, also was in The Watchmen); Alex Milne (Toronto area Transformer artist); 501st Canadian Legion; Ontario Ghostbusters; and more.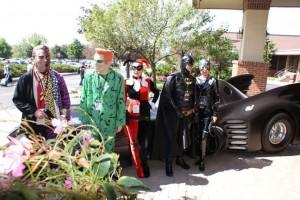 My goal for the weekend was to find some of the San Diego Comic-Con exclusives that were available in San Diego last week.  Since this was the first convention or toy expo after SDCC, it was a very good chance I would find something (with Rocket Boosters).
When we (Me, Brent Chittenden and the rest of our crew), showed up at the Delta Meadowvale in Mississauga, the first thing we saw was the Batmobile.  And in my opinion the best Batmobile.  It was a replica of the Batmobile from the 1989 movie.  There were also several Batman Cos-Players there as well, getting their pictures taken in front of the Batmobile.  This Batmobile replica looked great.  I would've loved to get behind the wheel and take it for a spin.
After paying my admission to the show, there was Barricade and Bumblebee on display.  I took a quick look at them, then rushed into the show.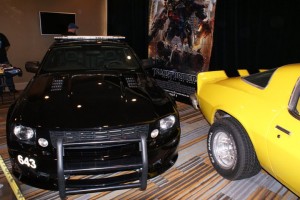 The first table I came to (to my immense excitement), had all the SDCC Hasbro stuff.  The G.I. Joe Zaranas were there.  The Revenge of the Jedi 10 figure set.  The Marvel Universe Sentinel.  Everything.  One stop you could get it all.  Only one problem… it was very expensive.  When I asked about the SDCC Zarana Cold Slither variant (the black shirt one, to those of you who don't know Joe), he would sell it to me for $125, but I had to buy both versions.  One hundred and twenty five dollars… that is pretty expensive considering it was selling at SDCC for $14.99 USD.  Sure I know about supply and demand, but I also have all the time in the world to wait.  I've only been collecting G.I. Joe for close to thirty years.  I can wait a year or two to find Zarana, at a price I am willing to pay.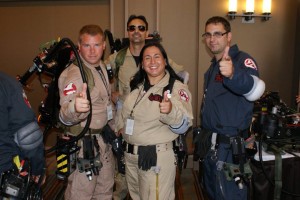 I did find an amazing deal at that first table though.  I have been scouring all the toy shows for the A-Team movie toys.  I did track down a A-Team van (with the help of a friend) for $15 on clearance in the States.  I have been looking for the figures.  I ended up buying a Hannibal Smith and an Agent Linch figure (with another G.I. Joe figure) for $5.00 for all three.  This was a great deal.  Later on in the day, I found a Murdock figure.  The best price I could get for him was $15.  Now I am just looking for a Face and B.A.  So if any of you loyal readers out there have one….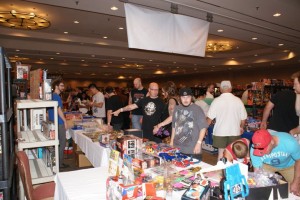 I then did a quick run around the room.  Looking to see if there were any more SDCC figures or new G.I. Joe items available.  I didn't see any, so then I took my time looking at each table to see what I could find.
And it was busy.  There was a lot of people.  At times it was difficult to get around.
I walked down the artist alley.  Alex Milne was selling some prints there.  I paused to look at his work.  His booth was set up across from the CBD booth at Toronto ComiCon Fan Appreciation Day, so I was familiar with his work.
Smith Hart, the first son of wrestling legend Stu Hart, was set up in the "alley" as well.  He greeted fans, signed autographs and sold some wrestling memorabilia.
Unfortunately I didn't get the chance to catch any of the panels.  There were several going on during the day.  My focus for the show was toys.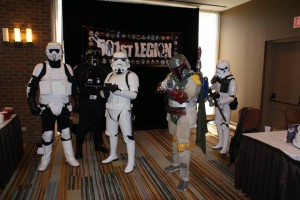 So what did I get?
I picked up the A-Team toys, as I mentioned earlier.
I picked up a Cold Slither T-shirt.  On the G.I. Joe cartoon, Cold Slither was the name of the Dreadnoks rock band.  I didn't get a Cold Slither Zarana, but I got the T-shirt.
I bought a Thor movie figure for $5, and I picked up 2 Captain America movie Hydra soldiers.  I found a regular version and the variant version.  They are from the third wave of Captain America figures.  They haven't hit Canadian retail shelves yet.
I picked up a couple Marvel Universe figures for a friend, who couldn't make it to the show.  They were the new releases for Marvel Universe.  I grabbed a Falcon and Skaar (Hulk's son).
I didn't spend too much money at this years show.  There were many deals to be had (like Brent… curse you Chittenden!!!).  And some items were ridiculously over priced.  The next chance to buy toys at a show like this, will be Fan Expo (which CBD will have complete coverage for… just make us your homepage now, it will save time later).  After that there will be a toy show in October.  Which there will be no doubt, I will be covering that show as well.
If you were at TFCon, leave a comment below.  What was your favourite moment?  What were some of the treasures you found?
(big thanks to Ryan P for the photos and Ryan S for being our driver for the day… "speed up… get out!")