2014's convention circuit is underway, and one of the first shows of the year was the Burlington Toy Show on January 19th.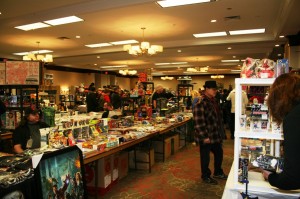 This edition of the Burlington Toy Show returned to its roots and was a "straight-up" toy show.  Previous editions of the Burlington Toy Show have had celebrities and special guests, but this show was all about the toys.  This show returned to the Holiday Inn in Burlington which has two large conference rooms, but only one room was used at this show. This cut down on the amount of vendors, but even with less vendors there was a lot of selection of toys.
The selection of toys varied from Transformers, G.I. Joe, Teenage Mutant Ninja Turtles, WWE figures, Barbies, Monster High, My Little Ponies and a variety of collectibles and other toys.
One of the most sought after items at the Burlington Toy Show was the Mego Museum limited edition Rocket Robin Hood figure.  In case you are not familiar, or may have just forgot about it, Rocket Robin Hood was a Canadian animated series that was produced from 1966 to 1969.  Rocket Robin Hood is a new futuristic take on the legendary character, as he fights the evil Prince John on Sherwood Asteroid.
Rocket Robin Hood has a huge cult following, and is one of the animated series that helped launch the career of animation legend Ralph Bakshi.  Many of us probably grew up watching Rocket Robin Hood on Sunday morning on syndicated television; I know I did.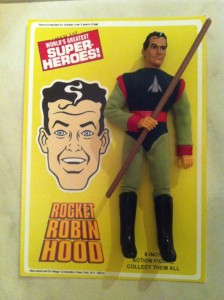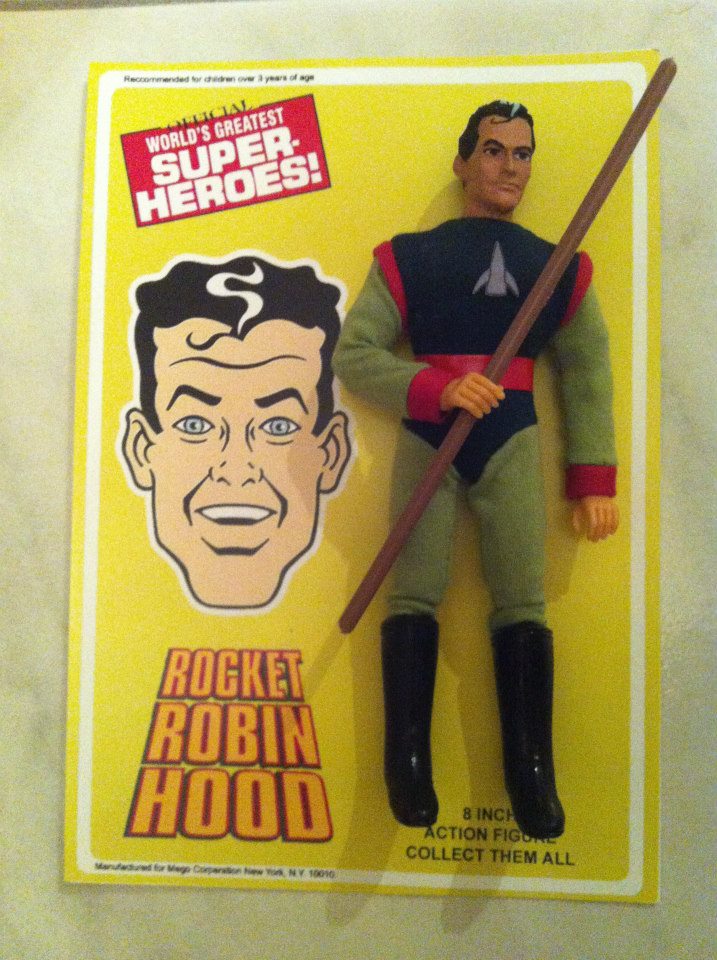 This Mego figure was the hit of the show, and sold out very quickly.  Hopefully the Mego Museum will produce a second run of these figures, or perhaps produce a follow-up line featuring another popular animated series… The Mighty Hercules?
Costumes were everywhere at the Burlington Toy Show.  Cosplay For A Cure was on hand with their photo booth, and they were raising money for breast cancer research.  The costume contest was held at the show as well.  This was the second in a five part series.  Competitors in the costume contest will earn points over the 5 toy shows held from November 2013 to November 2014.  The competitor with the most points will be crowned the overall winner at the November 2014 show.  I thought I would try entering the contest and donned my Thor costume.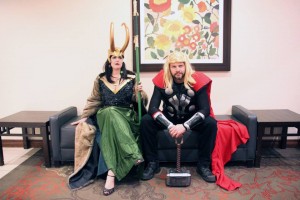 It was a lot of fun walking around the toy show dressed as Thor.  Stephanie (who made my Thor costume for me) made an amazing Lady Loki costume. She won first place in the costume contest, and we also got some great photos.  I am working on another costume for a future show, and there is now doubt you will see the results once it is ready.
The next Burlington Toy Show will be June 1st/2014 at the Holiday Inn in Burlington.