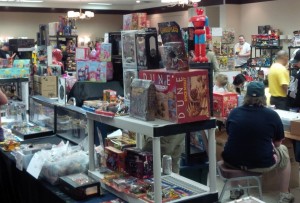 Yesterday I attended the summer edition of the Burlington Toy Show (presented by RPG Events).
This edition of the BTS featured a wide variety vendors selling all sorts of toys and collectibles from new to vintage classic toys.
Actually… a lot of vintage and classic toys.  There seems to be a trend at the local toy show circuit of late 80's/early 90's toys making an appearance.  I have been finding more and more C.O.P.S., Dick Tracy and MASK toys.  Dick Tracy wasn't as popular as expected in the 90's, but the toys are very stylistic and cool.  Plus you can collect the complete series of figures right now at various shows, for as little as $5 each.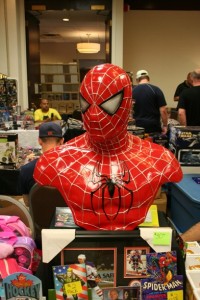 This show was smaller than previous Burlington Toy Shows, and only used half the convention space available.  The room that was used was filled to capacity at times.  The layout also changed and it helped maximize the space available.  The new floor plan really changed how you made your way around the show and was refreshing and new.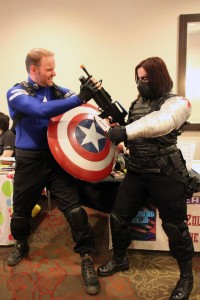 The costume contest continued at this show as well.  Competitors in the costume contest earn points towards the final show in November.  At that show a grand costume champion will be crowned.  The field was leaner compared to the massive costume contest at GTA Con in April.  But there were some great costumes including Winter Soldier, Team Rocket and an amazing Lego Boba Fett.
One of the "must-buys" for me at the show was the BTS Exclusive Daredevil Action Figure.  It is another in the line of Exclusive figures made for the toy shows this season.  Some of the previous figures (that I missed out on) were cult favourites Rocket Robin Hood and The Mighty Hercules.  The figures are produced in association with Sam Noir, Mego Museum and Plaid Stallions.  They are also working on another Action Figure project that I am very excited for.  I even got an exclusive sneak peek at what the finished project will look like… but I have to keep my lips sealed for now.  But trust me you will be very excited for what's coming, and you know you will read about it here on CBD first!
One of the things I love about Toy Shows is you never know what you are going to find.  There is a Beta Ray Bill figure from the Silver Surfer line in the 90's.  I have seen the figure for sale, but I have always missed out on it.  But I was in luck yesterday.  I finally found one (in the package even) so now it's crossed off my wish list.  If you are looking for something, just ask the vendors.  Many of them have warehouses or storage areas filled with toys they can't bring to the show.  They just can't bring everything.  But if you let them know what you want, you can co-ordinate with them to get exactly what you want at a future show.  Sometimes you can also find out some cool stories about how the vendors got their stuff.  For example I found out about a vendor buying a bunch of Playskool G.I. Joe figures in India back in the 80's, and how he made a nice profit selling them in the 90's.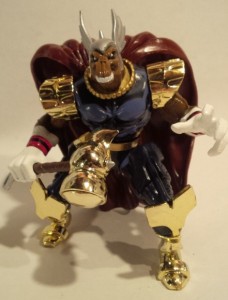 The next Burlington Toy Show will be September 7th/2014 at the Holiday Inn & Conference Centre in Burlington.