Comic book collectors have, in a stark mercenary fashion, transformed the old adage "You can't judge a book by its cover" into "You can value a comic book by its cover". This assertion doesn't carry with it any aesthetic or literary gravity, but instead receives its charge from the evolution, over the last half-century, of the hobby of comic collecting into a commodity-based marketplace governed by speculation and investment concerns.
In addition to factors such as the first issue of a title, the first appearances of a character, and an artist's first comic book work, covers themselves have become a major factor in determining the desirability and market value of any trophy comic you might choose to collect or make an investment in. Comic books with covers that have the first, or even an early cover appearance of a character have added value. Certain "themed" comic book covers such as those exhibiting good girl art (GGA), bondage, skulls, severed heads, injury to the eye, atomic bomb explosion, and generally lurid or grotesque images, have added value among collectors. Covers by specific artists such as Will Eisner, Frank Frazetta, Alex Schomburg, Matt Baker, Jim Steranko, and Neal Adams, just to name the first that come to mind, also figure in the overall value of a comic. In a smaller way variant (multiple versions of covers for a given issue or editions of a comic published in a different country), sketch covers (blank white covers that allow for original art sketches by related artists), and even double (or multiple covers) can also provide some added value to a comic.
I initiate this discussion of comic book covers because I'm progressing well on my proposed Gerber-style Photo-Journal of Canadian War Time (or WECA) comics. I now have high-quality scans of 590 of the 788 or so covers of Canadian wartime comic books issued between 1941 and the end of 1946. That amounts to about 75% of them and I have to thank collectors such as Jim Finlay, Walter Durajlija, Eddy Smet, Stephen Lipson, and Robert MacMillan for making their collections available to me as I approach the completion of this project and finally find out how many of these 788 comic book covers we can capture for the volume. I'm hoping for at least 95%, or over 750 of them, maybe more.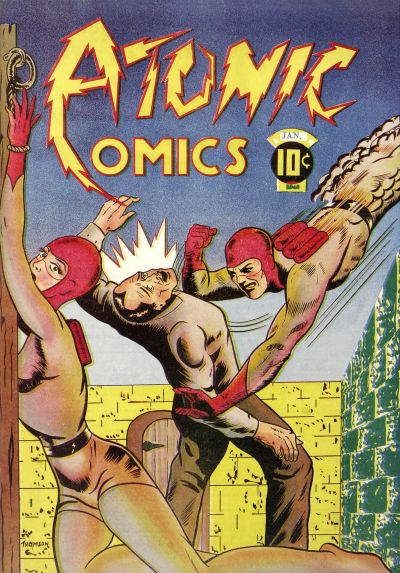 RAID Press has expressed a solid interest in helping this proposed publication come to fruition by taking on the crowdfunding, design, and distribution of the book as part of what they would call their "Heritage" line (which would be an extrapolation of their two current properties of the Johnny Canuck compilation and the Mr. Monster book – RAID's heritage line may also be a place for a second and updated edition of my Heroes of the Home Front book). The format of the book would be a 9" x 12" hardback, much in the same fashion as my Heroes book, which would allow for four cover reproductions on each page as well as a number (50?, 100?, …) of select covers reproduced full-sized, one to a page. The sequence of covers presented would follow the alphabetic order used in my WECA Comic Book Price Guide, beginning with Action Stories of the Mounties and finishing with Zor the Mighty. Each cover reproduction will be accompanied by two or three lines of text underneath it that will provide information such as title, issue number, date, and artist. In discussions with RAID, the plan would be to have this book of Canadian World War II comic covers out by March of next year. I'm confident that, with the professionalism of the RAID Studio team, this can and will happen.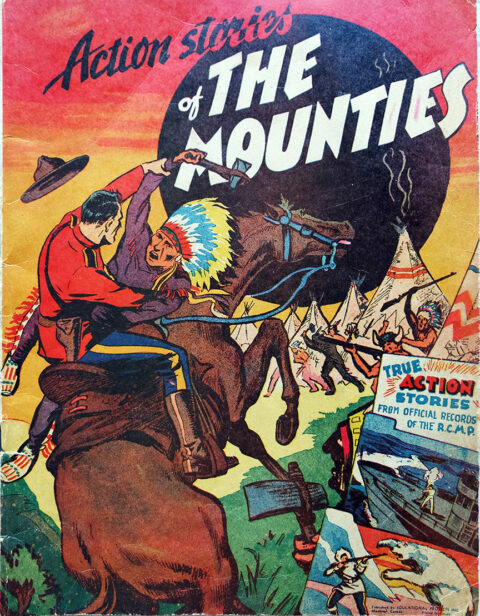 The big question, of course, is how many and which covers should get the full-page treatment? In fact, were there any more than a handful of great covers from this six-year first run of Canadian comics during the war? I think there were. We must remember that the ratio of great covers to the whole run is not of the order of, say, what EC comics produced. Though Gaines' company only produced about 460 issues during its ten-year run (1946-56), its stable of creators and the cultural attitudes and capacities of the times allowed for much more to happen in terms of themes and covers.
In Canada, it was four major publishers (Maple Leaf in Vancouver, Anglo-American and Bell Features in Toronto, and Educational Projects later on the scene in Montreal) that thrived because of and through a world war in a cooler climate of mores and attitudes than was prevalent in precode America a decade later. Each one of these publishers had its own Art Director who, besides overseeing the art input into their comics, ended up drawing most of their titles' covers. For Maple Leaf it was Vernon Miller and then Jon Stables; for Anglo-American it was probably Ed Furness (though Ed has said that June Banfield also did a lot of work on Freelance including covers); Bell Features started with Edmund Legault, moved to Edmond Good, and then to Adrian Dingle; Educational Projects had George Menendez Rae.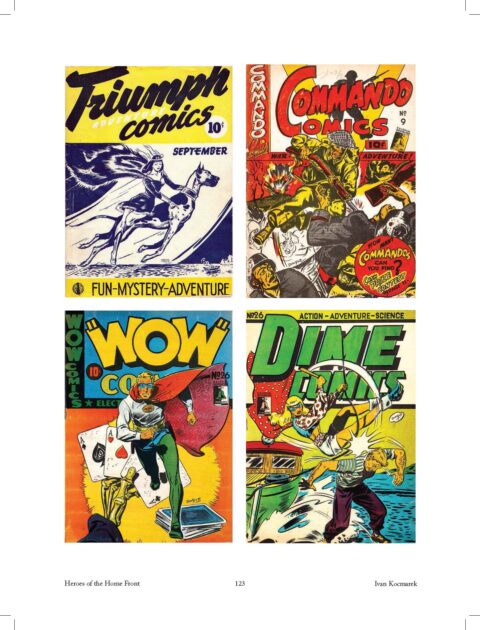 Though this run of Canada's first comic books might not approach the cachet that those EC covers command, they are all far rarer than any EC and have a genuine quality that stands on its own, especially for Canadians. As whole comics, the rarest and most desirable are the west coast Maple Leafs and Adrian Dingle's Hillborough books. Count yourself very lucky if you can add any of these to your collection. The most common appear to be the Anglo-American full-colour books that started to come out in the summer of 1945 and had some distribution in the US. It would probably be impractical, even futile, to attempt a Gerber-type rarity scale though we can safely say that none of the WECA books in the CGC Census has more than 10 copies and many have none. Of course, if we have to leave any blank spaces in our array of covers, then you know that no copies could be located and that these books would have a Gerber Scarcity Index value of 11.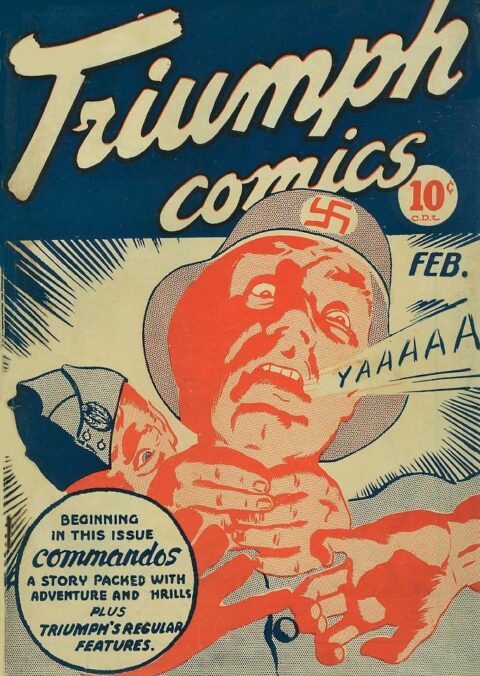 The books that have so far been the hardest to get solid grade copies, with little damage to the covers, were the black-and-white Anglo-Americans because their covers were of an inferior, non-glossy stock which was more susceptible to deterioration (brittleness, tearing, chipping, creasing, and staining) than the regular glossy stock covers of the other Canadian companies. However, I am happy with the overall quality of the scans we have been able to get. Also included will be just over a dozen coverless comics put out by Century Publications in 1946 that seem to show up most commonly in the UK. These will have their first splash pages included just for completeness.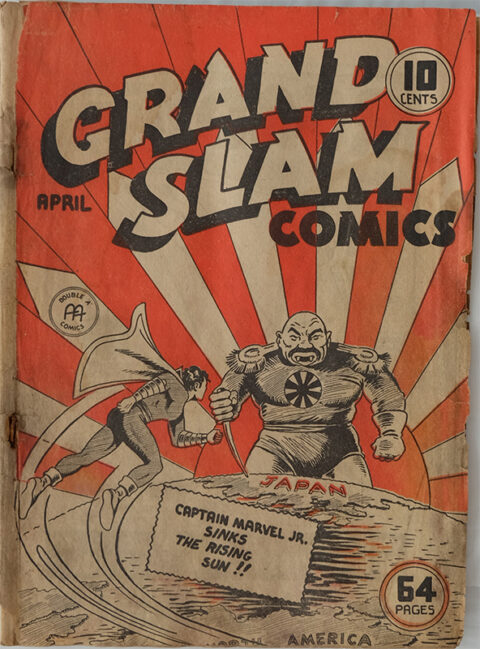 A couple of questions now arise. First, which coves should get the full-page treatment? For example, I wrote a column about some of the ones I chose as the best example of covers from this first Canadian era back before the pandemic. You can see them here. Second, what should be on the cover of the book itself? Should it simply be an array of some of the best cover images or should it be a new commissioned illustration by a contemporary Canadian comic artist, or a combination of the two, or even something else? I would readily welcome any preferences or suggestions from readers on either of these points or anything to do with the proposed book at all.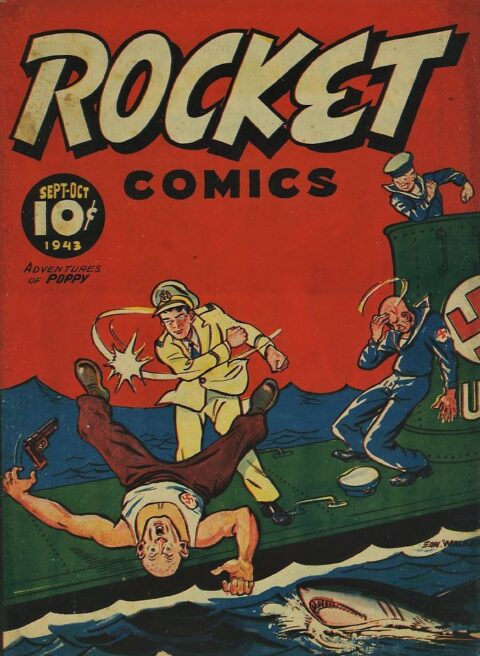 In the end, I think having a volume like this of good-quality pictures of as many of the Canadian wartime comic covers as possible would be very attractive to collectors of these books and possibly to school and civic libraries.