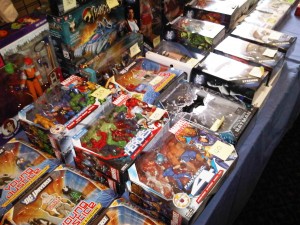 November 4th/2012 was the most recent Canadian ToyCon (formerly known as the Burlington Toy Show). It was at its new home, The Atrium Banquet and Conference Centre in Burlington.
The November 4th edition of the CanToyCon felt like the biggest edition yet. Some of the special guests included Roger Sweet (Creator of He-Man), Shantel Knight (Cosplay model), Nerd Girl Burlesque, Toronto Justice League and Marvin Law (artist) to name a few.
One of this show's special guests was supposed to be Casper Von Dien, but unfortunately he had to cancel. But there is good news for all you Starship Troopers fans: Casper will be in attendance at the CanToyCon/Burlington Toy Show's 10th Anniversary on March 17th.
The November show was a great show. There was a great mix of different types of vendors. And the toys offered were from a wide variety of genres. There were the usuals like Transformers, Star Wars, G.I. Joe, Marvel and DC toys. But there were also stuffed animals, Hot Wheels, model kits, wrestling toys and all kinds of collectible memorabilia. With a wide mix of toy selection, there is something for everyone.
There were comic books available as well. And with the addition of an "artists alley" there is the opportunity to pick up some great sketches from local artists.
CanToyCon features a costume at each of its shows. I was unable to attend the September 9th show, but the November show featured more costumes than ever. The addition of Nerd Girl Burlesque and the Toronto Justice League helped the "Cosplay" presence at the show. There were some great costumes walking around the show during the day, and the Toronto Justice League were doing "Cosplay for the Cure" and they were raising money for cancer research.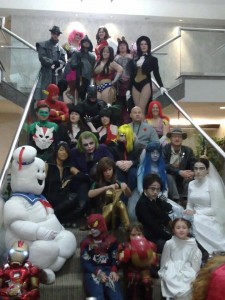 I saw a lot of deals at this show. I also found quite a few older toys for sale as well. I came across a lot of Marvel Legends figures from 2004 to 2008. These figures usually sell for a high price at other shows, but at this show they were selling in the $10 to $25 range. Which is really reasonable. I have seen those same figures sell for $35 to $60.
There was a huge crowd when I showed up at 11 am. The doors opened to the general public at 10 am (early bird admission at 9 am). At 11 am it was tough walking around the floor, because of the amount of people. By 12:30 pm the crowd died down a bit, and it was easier to move around the show floor.
Another addition to this show, which I thought was great was a food truck. The Atrium is within driving distance of restaurants, but there is nothing close by. There was a food truck parked out front, and you could smell food (especially french fries) around the show room floor. By 2 pm, the smell of food took over and it was time to wrap up our day, and head to get something to eat (and to grab a beer).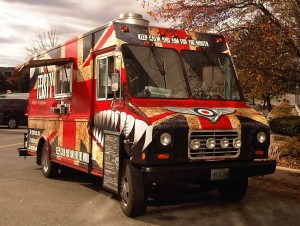 A new addition to this years CanToyCon was Heroes Force. I have mentioned Heroes Force before in my Canadian G.I. Joe Convention column. Heroes Force is a line of Canadian Military Action Figures that were designed by Shannon Thibodeau. He is a friend of mine from Barrie and he gained national acclaim from his toy line.
He was selling some of his figures at the show. As well he was handing out poppies to everyone walking by. I am glad he was there, and I walked around the toy show all day proudly displaying my poppy. You can visit his website for more details on how to get your hands on these awesome action figures. He also told me that Wave 3 is in the design stage, and will be on the toy shelves very soon.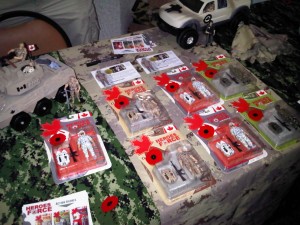 I found some cool stuff at this show. One of my main goals for the show was to find a Marvel Universe Spider-Man in Future Foundations colours. One of my favourite vendors had it available for sale. The other Marvel Universe figures coming out in that wave are Kang, She-Hulk, Scarlett Witch and a redesigned Punisher. I passed on the other figures for now. I want them, but I thought I'd wait until they hit regular retail.
I also found a Fantastic Four Marvel Legends set from 2004. I have been wanting a Dr. Doom figure for a while. This set includes the Richard's family with H.E.R.B.I.E. and Doom, who has a removable face mask. I picked up the complete set for $40, which the vendor said was below cost. Later in the day I found it on another table for $100. So I have no doubt that I got a deal on that purchase.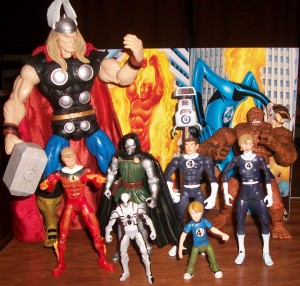 The final item I picked up was a Marvel Legends Icon Thor figure. The Legends Icon line was the large-scale figures that came out in 2008 by Hasbro. They were expensive when they first came out, but they weren't very popular. I already own Punisher and Daredevil from that series. When I saw Thor I had to have it, because Thor is one of my favourite characters now. I know there is a Dr. Doom in that series as well. I have seen it for sale before, so I need to track it down someday.
The next Canadian ToyCon in Burlington will be January 20th, 2013. I hope to see you there.