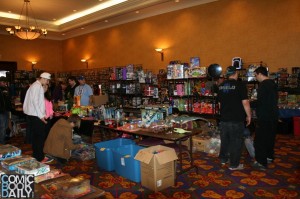 The latest edition of the Canadian ToyCon took place recently on November 3rd, 2013 at the Sheraton Hotel in Toronto.  This show returned to its roots of being a straight up toy show.  Earlier shows this year featured special guests Casper Van Dien, former WWE Diva Maria Kanellis and The Big Bang Theory's "Barry Kripke" and "Captain Sweatpants".  Without special guests at this show, the focus was on the toys, and there was a lot of selection.
The biggest change to this show was the location.  Canadian ToyCon (formerly the Burlington Toy Show) has floated around the Burlington area with shows at various hotels and convention centres.  Two shows were at the Royal Botanical Gardens which added a different feel and flair to the traditional toy show.
The convention ball room was filled with many vendors selling all types of toys.  There were the latest releases of your favourite toys like Star Wars, G.I. Joe, TMNT, Transformers, My Little Pony and Monster High.  Also there was a huge selection of vintage toys like Mego, Hot Wheels, Barbie, WWF/WWE and DC Super Powers.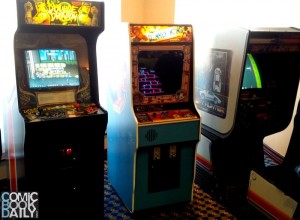 Upon entering the ToyCon we were greeted by vintage arcade games.  You could toss your quarters into your vintage favourites like Pole Position, Double Dragon or Donkey Kong.  I enjoyed this addition to ToyCon.  It is rare to see vintage stand up arcades these days, and Double Dragon used to suck up my allowance when I was a kid, so I was happy to see it still kicking around.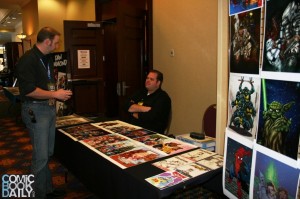 There was more to this show than toys.  There were lots of comics too.  One vendor had a large selection of back issues which was great to see.  There were artists as well.  I spoke to one of them.  His name is Dan Hammond.  He is a new artist who is trying to break onto the scene.  He will be appearing at a couple of the local conventions selling prints and sketches.  He told me that he is also working on a kid's book right now as well.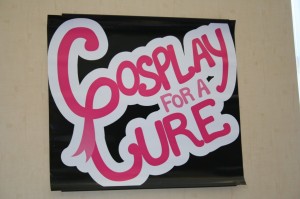 One of my favourite organizations returned to ToyCon as well: Cosplay For a Cure.  I first met Cosplay For a Cure at the January 2013 ToyCon.  The organization has been attending more and more conventions, and they continue to raise money for Breast Cancer Research.  Like most volunteer organizations, they have some challenges.  Finances is one of their biggest ones.  It is very expensive to attend every show in Southern Ontario.  They are looking for sponsorship so they can upgrade their equipment, pay for travel and hotels for conventions and fabricate new costumes for the booth.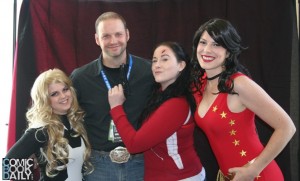 It is easy for you to help.  When you see Cosplay For a Cure at a future convention, it only costs a few dollars to have your picture taken with some amazing ladies (and gents) in costume.  All of the proceeds go to Canadian Breast Cancer Research and you get to take home a copy of the picture, or a CD with different shots (if you go for the deluxe package).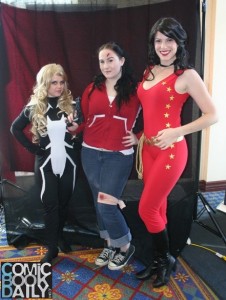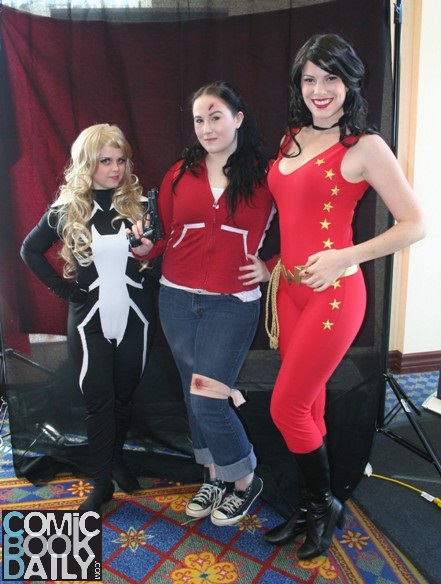 Roxy Lee, Gillian and Gina G. were in attendance for Geek X Girls.  They are a group of amazing ladies who are passionate about all things geeky.  They love comics books, video games and movies.  You can see some of their work over at Geek X Girls.  I will be writing more about our conversation in a future article.
They were also the judges in the ToyCon costume contest.  The costumes came in all sorts of themes, designs and ages.  One of the creepiest costumes was a guy dressed up as WWE Legend Mankind.  He had the character mastered, and it was very creepy indeed.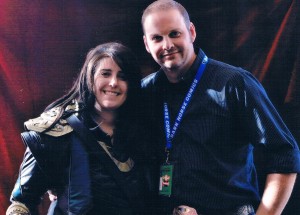 The winner of the costume contest was Loki… you may remember  who she is from my experience as Thor at Fan Expo.
The next Burlington ToyCon will be January 19, 2014 at the Holiday Inn in Burlington.
Photo credits – Angela Campbell, unless noted otherwise.